You spend a lot of money on a phone, but you need to spend more money on a case and screen protector if you want to protect your investment. When you go to make your purchase though you're going to want something that is from a company that is well known for making quality products like Otterbox. The Samsung Galaxy S Captivate is my new phone, my new favorite phone actually and I've recently received the new Impact Series case from Otterbox that offers a good deal of protection from minor bumps or drops. Included with the case is a screen protector as well, so the Impact offers good all-around protection for your Captivate, which is something I know I want.

Otterbox was kind enough to send me a sticker with the Impact.
When you open the box you'll find the case, and underneath that a folded cardboard insert.
Inside the insert is the screen protector, cleaning cloth and a plastic card used to apply the protector and of course brief instructions.
The case itself is a rather thick silicone skin. It's patterned inside, and the Otterbox logo is there.
On the back it's textured as well for grip and there are cutouts for the camera and speaker.
On the top are cutouts for the USB, speaker, audio and sensors.
On the left and right side are buttons for the power and volume.
On the bottom of the case is a hole for the microphone.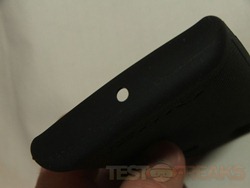 Specifications:
Samsung Captivate Impact Series Case
Your life just got a whole lot brighter. With The Samsung Captivate, you have a Super AMOLED touch screen, social network integration, Swype text input technology and so much more. Why risk a damaging bump or scratch to your new device?
The OtterBox Impact Series for Samsung Captivate offers simple protection in an innovative, surprisingly tough skin case.
Features:
* Inner coring for added protection
* Self-adhering clear protective film included
* Access to all buttons and features
Material:
* Self-adhering clear screen protector
* Durable silicone skin with inner-coring
Price: $19.95

So I put my phone in the Impact:
The spaces on the back are larger than they need to be, which is a good thing as the camera or sound isn't impeded by the case.
The holes are nice and large around the ports offering easy access to them.
The case isn't exactly a tight fit, but your phone won't come out of it, I trust my phone in it surely.
The screen protector I actually easy to apply, it's thick and stiff so it will offer good protection for the screen.
The Impact case itself is thick and should offer good protection for the Captivate, I know I will fell better knowing my phone is safe inside of it.
The downside of being thick is that it adds bulk to the phone, but not that much, personally I don't mind it as I know it's protecting my case.
Silicone is great for protection, but it has an inherent flaw and that's the fact that it attracts lint.
Conclusion:
The Otterbox Impact Series case for the Samsung Captivate is a great choice if you're looking for an inexpensive way to protect your phone.
The included screen protector is easy to apply and it's thick so it will do a good job of protecting the screen and keeping it looking good.
Pros:
+Seems to offer good protection
+Comes with heavy screen protector
+Easy to put on and take off
Cons:
-Lint magnet
-Adds bulk
| | |
| --- | --- |
| Grades: | |
| Overall | |
| Design | |
| Performance | |
To learn more about our review policy please visit this page HERE.