I review a lot of things, and lights are one of those things I don't review a lot of in particular, there's just not many requests for them honestly. I don't know why as they're something that we all need and the technology is changing all the time and this should be something that's noteworthy, or review-worthy. Today for review though I do have a light, it's from a company called OxyLED and it's the T-02, yes not a fancy name but it's something that I've come to be very happy with. The T-02 has 10 LEDs in it, and a motion sensor that only turns it on when it notices motion and will stay on as long as there is motion, but then it will turn itself off automatically. The price is about $16, and it's very well made of mostly aluminum and it runs on AAA batteries which should last for quite sometime. Read on to learn more..

Specifications and Features
OxyLED T-02 DIY Stick-on Anywhere Portable 10-LED Wireless Motion Sensing Closet Cabinet LED Night Light / Stairs Light / Step Light Bar with Magnetic Strip (Battery Operated) – Silver
OxyLED – Natural Life, Natural Lights
– Using passive infrared (PIR) technology to sense human motion (within 3m) by accepting the body's radiant heat, OxyLED Wireless Motion Sensor Light turns on or off based on room occupancy and ambient light level. It is designed to be a substitute for a standard light in a more convenient package.
– It is a perfect light source for every room in the home or workplace.
Specifications:
– Sensitivity > 3 meter Distance
– Sensor Range: 120 degrees
– LED Qty: 10 LED
– Light color: Pure White
– LED life: 50,000 hours or more
– Size: 7.5″ x 1.2″ (L x W)
– Material: Aluminum + ABS
– Light weight: 114g/4.0oz
Package includes:
– 1 x 10 LED IR Sensor Closet light
– 1 x User Manual
Warranty:
– 12 Months Warranty & 30 Days Money Back Guarantee
Price: $15.99
The Review
The packaging for the OxyLED T-02 is plain, but there's nothing wrong with that, it's just plain white box with minimal information on it.
Inside you'll find the T-02 wrapped in plastic and some basic instructions.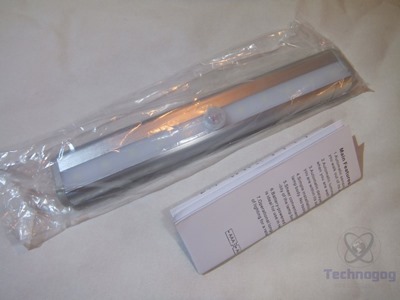 The T-02 itself is made from aluminum and plastic, it's mostly aluminum so it's much heavier than it looks. I was very much surprised really by the weight of it honestly. On the top or front you'll see a white strip that goes along the length which is where the 10 LED light are. There is a small dome shaped part in the center of the T-02 which is the motion sensor, but it's different than you might think, it's an infrared sensor that works with your body heat that has a working distance of about 3 meters. You can't see it but there's also a luminance sensor built-in to detect ambient light levels so it doesn't come on when it doesn't need to.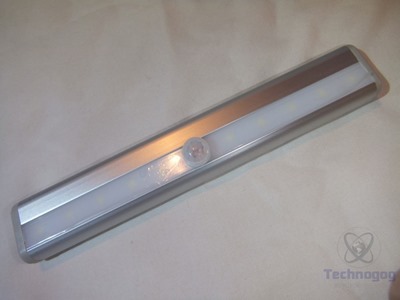 I grabbed a screenshot of the product details, it's a diagram that shows where everything is. The T-02 is fairly simple but the main thing I wanted to point out was the Luminance sensor that you really can't see on the actual product. The sensor is very sensitive so you have to watch where you put the light as it might not work like you want it to. I first mounted it in my closet and it seems there was too much ambient light for the T-02 to work correctly so I had to figure out where else I might need it.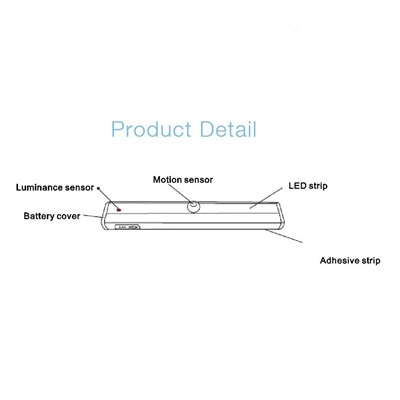 On the back or the bottom you'll find what looks like a white strip, this is actually an adhesive strip attached to a magnet. The idea here is that you attach the magnet to wherever you need to mount it and then you can easily remove the T-02 to change the batteries and put it back up. The magnet is very strong and so is the adhesive. I originally wanted to use the T-02 in my closest as it needs a bit more light, so I stuck it to the wall and I found it didn't work as I wanted it to, there was too much light coming from the room so the sensor wouldn't work correctly. I had to take the light down which involved removing the adhesive strip but part of the wall came off. The adhesive is very strong so you need to figure out exactly where you want to mount it before you mount it as it's basically permanent. I have double sided tape so I used some of that to remount the light elsewhere.
The T-02 uses four AAA batteries. The battery cover or door is located on the side and you just slide the batteries in and then lock the door closed.
Here's a couple pictures of the T-02 powered on, it doesn't look that bright as my camera adjusts the light levels automatically to compensate for bright light but it is very bright.
I mentioned I tried to install the T-02 in my closet and it didn't quite work out for me as there was too much ambient light coming from the room. I needed a better light in my entry way so I thought I would try it there. I have a small lamp there but it's not quite bright enough really so more light is something that's very much needed.
It took me a few tries to find the perfect spot for the light but I found it and it works great, there's now more than enough light to make sure we can see everything on the floor. My kids have a habit of leaving their shoes and book bags just wherever and in the dark it's not fun tripping over them.
I mounted the T-02 and it now provides more than enough light to see everything just fine as the 10 LEDs are very bright.
The sensor works very well. It says it works with humans but my dogs and cats also set it off which isn't a bad thing I guess. I found the sensor is actually more sensitive than the specs state, it comes on even farther than the 3 meters it says it works from. The light comes on coming down the steps to light up the steps and the area below, it also comes on if you walk into the hallway from the sides and when you come into the house which is exactly what I needed it to do.
The sensor also has an auto off feature so that if it doesn't sense anyone there it will turn off within 15 seconds. The good thing about the sensor is that if you're there moving around and doing things it will stay on until you move out of range.
The adhesive is very powerful but they only include one adhesive strip so when you mount it you need to make sure it's exactly where you want it and where it will work. I would have liked it better if they included an extra adhesive strip as if you make a mistake you'll need to either have double sided tape or go and buy some so you can remount the T-02.
As far as battery life, I'm not sure about it, Amazon mentions they should last about six months with little use, or a month with a lot of use. I haven't had it installed that long and wouldn't want to wait six months before posting the review to test it out either.
Conclusion
The OxyLED T-02 has ten LEDs in it that provide a lot of light, much more than I thought they would as they do have a white cover over them. It provides more than enough light for us to see everything we need to.
The T-02 is made mostly from aluminum but it's also plastic, I have to say it's very well made overall. The price is $16 currently on Amazon and the build quality is just excellent for that price. I'll be honest, for that price I wasn't expecting such a quality product and one that works so well.
The motion sensor works very well, the distance is actually farther than the specs state which for me is a good thing as it's exactly what I need. The sensor can be a bit over sensitive though as I found that it wouldn't work in my closest where I originally wanted it. The T-02 will not come on if it senses what it thinks is too much light. My definition of too much light and its definition of too much light differ. I did have another place where I needed extra light and it worked fine there.
We have a regular ceiling light in the hallway/entryway but the problem is that the light switch is only downstairs and to add another switch upstairs will require quite a bit of work and ripping walls open which I don't want to do. The T-02 is the perfect solution for my problem where extra light is needed and adding a wired light just isn't feasible.
This might not be the most exciting product out there, but it's one that I can highly recommend if you need some extra light.
(Edit – 3/12/15 – I just wanted to edit this and let you know that I liked these so much and found them so useful that I went and bought two more of them to light up some other areas around the house!)
Pros:
+Simple to use
+Very well made
+Easy to change batteries
+Motion sensor works very well
+Very bright
+Very strong adhesive
Cons:
-Only one adhesive strip included
-Light sensor can be a bit over sensitive
| | |
| --- | --- |
| Grading | Scores Out of 10 |
| Overall | |
| Design / Aesthetic | |
| Value / Price | |
| Performance / Usage | |
To learn more about our review policy please visit this page HERE.