It's about time I upgraded my Blu-Ray player I think, and Geeks.com has come through for me by sending a very nice Panasonic unit for review.  My current Blu-Ray player is an older model from Sony with not many features at all, and with very slow load times. Today for review I've got the Panasonic model DMP-BD655 Blu-Ray player that features fast boot and load times along with Viera Cast online features like Twitter, Netflix and even Amazon Video to just name a few. The unit is small and lightweight and I'm happy with it overall, but there are a few tweaks I'd like to see done to it.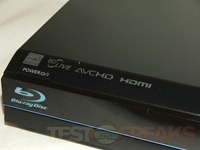 The Panasonic DMP-BD655 is a refurbished product so it comes in a plain brown box but it's packaged well.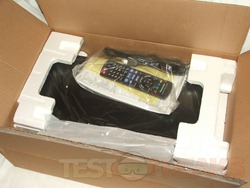 Inside you'll find a bag with cables, remote, and user manuals inside. Composite and HDMI cables are what's included, no component cables included.
The player is rather small, at least in compared to my other one which was a Sony BDP-S301. It has dimensions of 1.94 x 16.94 x 8.16-inches (H x W x D) and it weigh about 4lbs total.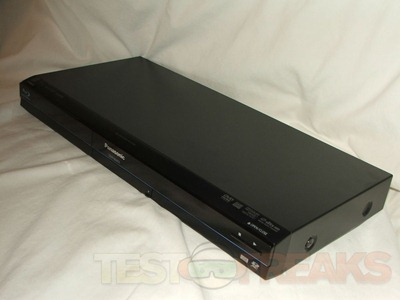 The power button is on the left side which is also where the DVD tray is which is hidden to blend in.
In the middle is a fold down door that opens to reveal the SD card slot and USB port.
Then off to the right is the open/close button and below that are two button for play and stop.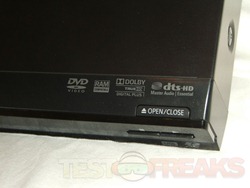 On the back you'll find all of your connections for HDMI, composite, component, optical and ethernet.
The remote is small when compared to my other one, but it's arranged oddly, I'm accustomed to have the control pad in the middle of the remote. It's the same arrangement for other remotes that I have as well. The back is shaped weird as well, I guess it's supposed to be ergonomic.
Specifications:
Panasonic DMP-BD655 1080p Upconversion Blu-ray Disc DVD Player w/HDMI, LAN, SD Card Slot, USB, BD-Live & VIERA Cast
The Panasonic DMP-BD655 is ready to change your entertainment experience. The DMP-BD655 features support for nearly any optical media you can throw at it, from Blu-ray with BD-Live w/BONUSVIEW to DVD-ROM, DVD±R, & DVD-RAM as well as CD, CD-R, and CD-RW discs. With its built-in USB 2.0 slot and SD card slot, you can playback content from flash media, too.
The DMP-BD655 also boasts VIERA Cast with 10/100 Fast Ethernet connectivity to let you watch streaming content from Netflix and Amazon Video on Demand. It also allows for photo browsing on Picasa, watching videos from YouTube, and much more. With a separate Wi-Fi adapter (not included), you can even do all of this over a wireless network!
Connect the DMP-BD655 to your display via HDMI and enjoy the PHL Reference Chroma Processor Plus's precise pixel processing that delivers twice the color data accuracy than that of conventional systems. It also supports connection via Component and Composite A/V interfaces.
General Features:
– Ultra-fast half-second quick start
– View original movie quality in your living room
– Enjoy YouTube, Picasa, Netflix, & Amazon Video on Demand and various content via Internet
– VIERA CAST so you can enjoy web entertainment on your HDTV
– VIERA Link Eco Function provides smart energy saving
– PHL Reference Chroma Processor Plus
– BD-Live and BONUSVIEW lets you connect to the Internet to access bonus features, games and movie studio extras
– Supports SD card, (8 MB to 2 GB), SDHC card (4 GB to 32 GB), SDXC card (48 GB to 64 GB)
– Supports AVCHD, MPEG2 and JPEG (HD) formats for SD card
– Supports MP3 & JPEG for USB devices (up to 128 GB)
– Java Powered
– Wi-Fi Ready: Supports wireless connection with adapter (not included)
– Remote control included
– EnergyStar compliant
Supported Media:
– BD-ROM: BD-Live, BONUSVIEW
– BD-RE / BD-RE DL: BD-MV(BD-RE version 3), JPEG
– BD-R/BD-R DL: BD-MV (BD-R version 2)
– DVD-RAM Playback: DVD-VR, JPEG, AVCHD
– DVD-ROM: DVD Video
– DVD-R/-RW/-R(DL) Playback: DVD Video, DVD-VR, AVCHD, JPEG/MP3 (DVD-R/ DVD-R DL )
– DVD+R/+R(DL)/+RW Playback: Video, AVCHD
– CD, CD-R/-RW Playback: CD-DA, MP3, JPEG
– SD/SDHC/SDXC including miniSD & microSD/SDHC/SDXC Memory Card: AVCHD, MPEG2, JPEG
– USB: MP3, JPEG
Video Support:
– Signal System: NTSC
– PHL Reference Chroma Processor Plus
– High Precision 4:4:4
– P4HD (Pixel Precision Progressive Processing for HD)
– Precise Pixel Generation
– 16-Level Motion Detection w/ Pixel-Based Motion Adaptive
– Diagonal Processing
– 3:2/2:2 Pull-Down Progressive Processing
– i/p Conversion for 1080p Playback
– Up-conversion to 1080p Playback
– Video D/A Converter: 148.5 MHz/12-bit
– Digital Noise Reduction: 3D-NR, Integrated NR
– 1080/24p Playback
– Deep Color
– x.v.Color
– Picture Mode: Normal/Soft/Fine/Cinema/User
– Picture Adjustment: Yes
Audio Support:
– DTS-HD Master Audio Essential/ DTS-HD High Resolution Audio: Decode and Bitstream output
– Audio D/A Converter: 192 kHz/24-bit
– Audio S/N: 100 dB
– Dynamic range: 100 dB
– Dolby Digital Plus: Decode and Bitstream output
– Dolby TrueHD: Decode and Bitstream output
– 96 kHz Surround Re-Master
– Night Surround Mode
– Dialogue Enhancer
– Dynamic Range Compression
I/O Features:
– HDMI Output: supports DeepColor, x.v.Color, High Bit rate audio
– One (1) USB 2.0 slot on front
– 2-Channel Analog Audio Out
– Component Video Out (YPbPr)
– Video Out
– Digital Audio Out (PCM/Bitstream)
– SD Card slot
– Ethernet for network: for BD-Live, VIERA CAST, & firmware updates
Power Specifications:
– AC Input: 120V, 60 Hz
– Consumption: 19W, normal; 0.1W standby; 7W quick start
Dimensions:
– 1.94 x 16.94 x 8.16-inches (H x W x D)
– Weight: ~4.2 lbs.
Price: $94.99

The first thing I noticed when I turned it on was the speed at which is started, just seconds and I was at the main menu. My old Sony Blu-ray player was one of the first so it was slow and I mean slow, like 2 minutes to boot it up. It worked though, and still does, just very slowly. The DMP-BD655 is internet connected so it automatically checks for firmware updates. In the two weeks I've had it I've actually updated it twice. This I consider to be a good thing as that means Panasonic is actively supporting their products.
Going to Other Functions takes you to the Setup menu with choices for Disc, Video, Audio, Display, TV/Device Connections, Network and Others.
Here's the menus expanded if you want to see all of the options:
Besides playing Blu-Rays and DVDs the DMP-BD655 features Viera Cast which is Panasonic's internet channel system. As of now there are two pages of things to select.
On the first page you'll find weather, Netflix, Fox (coming soon), YouTube, Picassa, Amazon Video and even Twitter.
Netflix works well, but it only shows your instant queue and nothing else. The load times are slow, I run a 25/35 fiber optic connection for internet so I know it's not that, it has to be the unit itself that's taking so long to load everything.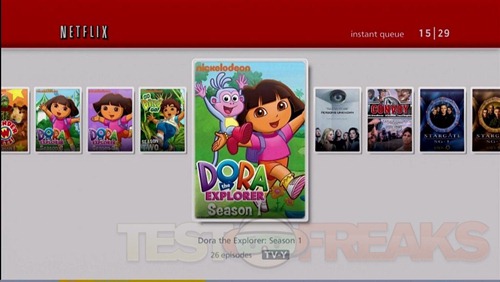 YouTube lets you find videos by categories or you can even log in to your own account.
Amazon Video allows you to access rentals and your library among other things.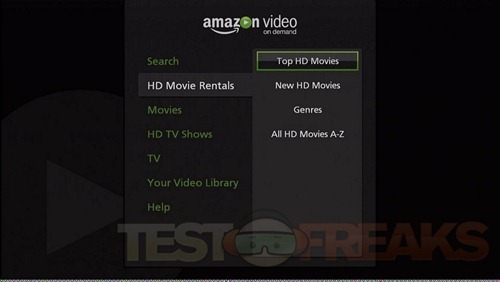 On the second page you'll only see four things as of now, more to come later I guess. Pandora is music, Vudu is another option for movies, Bloomberg, and Tagesschau which is a German news channel?!
To test it out I had to watch a Blu-Ray of course and the picture was beautiful.
The DMP-DB655 is internet enabled so you can use BD-Live if it's available on the disc.
You can use both USB drives and SD cards it, but sadly you can only view pictures and listen to music that's on a USB drive. You can view them as a slideshow and change some settings if need be.
On the SD card you can do videos but you're rather limited as the formats only AVCHD and MPEG2 sadly. I don't know why they would limit the playback to only memory cards, that makes no sense to me when you can purchase high capacity USB drive for much cheaper prices.
The DMP-BD655 is quiet when running and it's fast to boot. Boot times on the actual discs vary as you might expect though.
The remote works well, no problems there are all, I just don't like the button arrangement myself. I find I have to hold it rather uncomfortably in my hand to access the D-Pad easily, I guess though with time I'll get accustomed to it like I did with my other remotes.
The player does a good job of up scaling regular DVDs, they look much better, but not exactly what I would call blu-ray quality, still they look much better than stand definition.
Conclusion:
I've spent a bit of time with the Panasonic DMP-BD655 Blu-Ray player and I'm impressed overall, but it's far from perfect sadly. This Blu-ray player has the potential to replace most everything as a great all-in-one unit truly if only they would tweak it just a little. I'm sure it's possible with a firmware update they could address the issue of USB playing videos and adding more to Netflix than just your instant queue. Hopefully in the future we can expect more from it. I'd like to see more types or formats of video being supported as well.
There's empty spaces in the Viera Cast section so we can expect more from that, and if what I'm seeing from firmware updates then I see that Panasonic does a very good job of supporting their devices, which is a very good thing on their part.
Pros:
+Fast boot time
+Simple to use
+Quiet
+USB and SD Card compatible
+Includes internet enabled features
+Excellent picture
Cons:
-Only use SD card for video
-USB only for pictures
-Netflix only shows Instant Queue
-Odd button arrangement on remote
| | |
| --- | --- |
| Grades: | |
| Overall | |
| Design | |
| Performance | |
To learn more about our review policy please visit this page HERE.