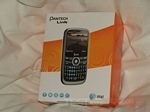 Today for review I've got another phone for AT&T from Pantech called the Link. This phone is a decent phone overall truly, it's very inexpensive, it can be had for only $10 on contract with AT&T. It features a full QWERTY keyboard along with Bluetooth 2.0 for wireless stereo so you can listen to your music on the go. It does feature an HTML browser, but the screen is a bit small, but it works in a pinch. overall the call quality is decent, and I didn't really have any issues there. So read on to checkout the latest phone form Pantech and AT&T…

We'll start off with the video unboxing:
Not much comes with the Link, just the phone, charger and battery along with assorted documentation.
The phone itself surprised me honestly, it's small and very lightweight, normally I like phones with a little weight to them, but the larger size of the larger size of the Link makes it fit nicely in your hand, but being thin it fits right in your pocket.
It does seem well made, it's plastic yes, but it feels durable and should be safe in your pocket.
The Link does have a full QWERTY keyboard with function button for characters and numbers. You can just dial the phone without hitting the function key which is nice.
There's not much in the way of buttons or ports, just volume, camera, charging/headphone and microSD. The phone can be used as a USB mass storage device to transfer files to and from, but it doesn't come with a USB cable to do it..
On the back of the phone we find the camera with self-portrait mirror and a speaker next to it. Removing the back cover reveals the battery and sim card slot. Yes there is no flash on this phone sadly..
Specifications:
Link. Pantech's sleek new way to keep up with all you have going on.
3G enabled. Ultra-slim – under 10mm. Full QWERTY keypad. Extra-large 2.4″ LCD screen. Messaging is its specialty, complete with full text, multimedia, email, and instant messaging. Just like the name says, Link uses the latest features of AT&T's network to connect you to all that's important. Quickly view and update your online profiles with one hub – Social Net.SM Store, view, and share pictures and video using the Online Locker tool. Pantech Link is the slimmest way to slide your whole life into your back pocket.
MULTIMEDIA
* – Mobile Share – upload photos to your favorite social networking sites
* – Music Player for MP3, MIDI, iMelody, WAV, MMF, WMA, 3GPA
* – Equalizer
* – Sync Music from PC to Phone (Napster & eMusic)
* – Create & Manage Playlists
* – AT&T Music – music services, communities & apps.
* – MusicID – music recognition service†
* – Billboard Mobile – music news & ringtone catalog
* – CV – fast, on-demand access to video clips
* – microSD Memory Port – up to 32GB
* – USB Mass Storage – transfer files between phone & PC
CAMERA/VIDEO
* – Integrated 1.3MP CMOS Camera
* – Resolution up to 1280 x 1024
* – Self-Timer Function (5 or 10 seconds)
* – Mpeg4 Video Recording/Playing up to 15f/s (QVGA size)
* – Video Share: share a live or recorded video during a call
* – Customizable Resolution, Brightness, White Balance, Color Effects, Quality, Self-Timer
Tech Specs
* – Frequency: GPRS/EDGE Quad-Band, UMTS/HSDPA Dual-Band
* – Dimensions: 4.5″ (H) x 2.4″ (W) x 0.39″ (D)
* – Weight: 3.2 oz. (with standard battery)
* – Display: 2.4″ – 262K TFT LCD, 320 x 240 Resolution
* – Battery Type: Standard Lithium-Ion (Li-Ion)
* – Talk Time: Up to 3 Hours*
* – Standby Time: Up to 10 Days*
* – HAC Hearing Aid Compatible (M3/T3-Rating)
*Certain features may use more power and cause actual standby and talk time to vary.
Price:  $9.99 (2yr contract, $159.99 off contract -AT&T)

The Link looks like most other Pantech phones out there in terms of the interface, you can of course change backgrounds if you like. On the home screen are two buttons for Shortcuts and Menu.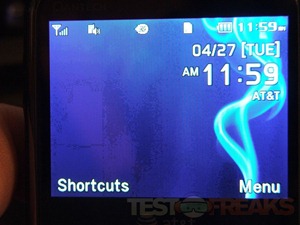 The Shortcuts takes you to most often used things like Bluetooth, Camera, My Account etc, and it has spaces for you to fill in your own as well.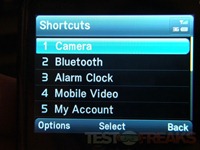 The menu is a grid style that is graphical and animated, the icons aren't too bad, they are a bit pixellated, but then again the Link only has a 320×240 screen. There are 21 choices on the menu, and that's it, everything is right there for you.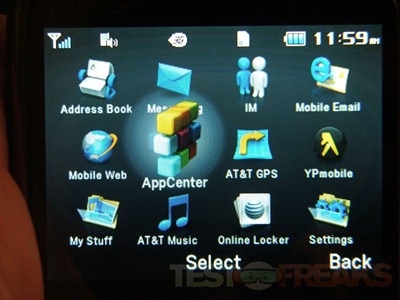 The link comes with Applications like MobiTV, AT&T Social Net, Mobile Banking, Online Locker, Mobile Video, Fun Screenz, PicDial and Mobile Web. The Online Locker is what you can use to store photos and videos on AT&T servers, though you only get 250mb of storage. The Link also features the ability to back up your contacts online to your AT&T address book. It's what AT&T is calling their cloud services.
There's a few games that come with it, but they're mostly trials as is expected.
Under the Tools section you've got many choices like Alarm Clock, Timer, Media Player, Voice Memo, Notepad, Calendar, Calculator, World Time, Stop Watch, Tip Calculator, and a Converter. So they're put plenty of useful tools in there for you.
Here's the settings, it's basically self-explanatory:
Browsing the internet with this phone is fairly fast, and it opens to the AT&T/Yahoo screen where you can search web, locally or see what's popular. Yes it's Yahoo, blah, give me Google and I'm happy.. The screen is small, a bit too small for easy browsing, but it works.
There is of course AT&T Music section and the media player in there, it works well for music, but sadly there's no 3.5mm audio jack. To listen to music you'll have to get a USB adapter or use the speaker, or I guess you could possibly listen via Bluetooth. The Link does Bluetooth 2.0 that supports stereo headsets.
Making calls was fine of the most part, one of the reasons I'm on AT&T in Pittsburgh PA is for the fact I can get a phone call in my house so the signal for me is fine. Actual call quality is decent but not perfect, kind of sounds hollow through the earpiece, and the speakerphone is a bit on the tinny side. Using it though my Jawbone2 though call quality was much better. I was told when talking to people they could hear and understand me but again it was a bit hollow and sometimes there are a crackle or two.
The camera is only 1.3Mp sound I didn't expect much and I didn't get much. There's no flash so right there pictures indoors aren't going to be that good, but they weren't that bad either, at least form a distance.
Here's several pictures taken from a few feet away to a few inches. They were taken indoors in a brightly lit room.
Battery life seems decent, I did get the rated 3 hours talk time and 10 hours standby. The battery is small so we shouldn't expect much in terms of battery life and we don't get much really, about what we would see on a smart phone really.
It's nice to have a full QWERTY keyboard, but it's bit small really, the buttons are very small, but they're raised kind of like little triangles that stop you from hitting other buttons near the one you want. it works fine yes, but it just feels a bit cramped.
Conclusion:
The Pantech Link is a decent phone for the price truly, without contract it's only $160, with contract it's $10. You can't beat that price really, for that price it's well worth it.
Call quality is decent for the most part, as is web browsing. The display is a bit small though for enjoyable browsing.
The media player actually works quite well, but there's no 3.5mm jack, but the link does have Bluetooth 2.0 so you can use a wireless stereo headset with it for music.
The Link is a thin and sleek looking phone that's honestly well made, for the price you can't beat this phone.
Pros:
+Decent call quality with a couple small issues
+Bluetooth stereo
+Gets rated battery life
Cons:
-Camera not the greatest
-Web browsing could be better, screen a bit too small
-Interface is fairly plain
| | |
| --- | --- |
| Grades: | |
| Overall | |
| Design | |
| Performance | |
To learn more about our review policy please visit this page HERE.