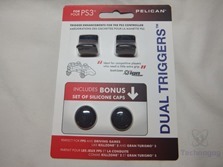 Yes the PlayStation 4 is out but the PS3 is still a viable console with plenty of life left in it, I still use mine often. I recently ran across a deal on PDP Pelican triggers and silicone caps for the PS3 controller. It's a simple product that just works really. Read on to learn more….

Specifications and Features
PDP Pelican PS3 Dual Triggers with Bonus Silicone Caps
Add a little extra grip and comfort to your gameplay with the Dual Triggers and Bonus Silicone Caps for the PS3 controller. The triggers add just a bit of height and are concave enough to keep your fingers from slipping. Along with the silicone caps, you'll have the extra leverage and precision you crave.
-The Dual Triggers for the PS3 Sixaxis controller provides extra grip, comfort and leverage for gamers.
-We know that things can get intense in the heat of battle. These triggers add just a bit of height and are concave enough to keep your fingers from slipping.
-Adding more control the triggers snap right on to the controller, no glue, no mess.
-The triggers are a simple addition that can help increase your accuracy in racing, flight, and shooting games. With this added precision you can go on to become a gaming champion.
Price: $6.98 (from Amazon at time of review)
The Review

The triggers and caps come in a sealed cardboard pack with plastic sealed inside of it and you literally have to tear the packaging in pieces to get at the triggers and caps. It just seems like a lot of work to get to four little things, much harder than it needs to be really.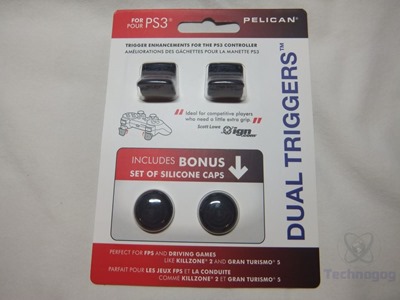 Once you get them out of the package you'll find two triggers and two round silicone caps. The triggers do have a 2 on them and the caps have a circular pattern for grip.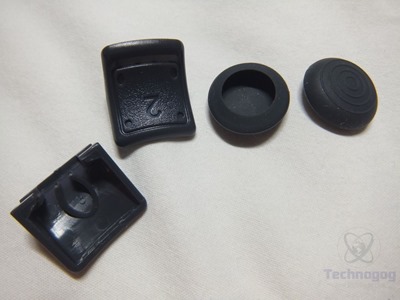 To use them you just install them on your controller. The silicone caps were a bit difficult to get on, they're very tight and I really had to stretch and pull them on and they fell off a few times before I got them on. Once on though the caps are a very tight fit and stay in place.
The triggers just snap in place on the buttons, you kind of have to angle it on and then push until it snaps and locks onto the button on the controller. You really do have to make sure they snap in place or they won't stay on.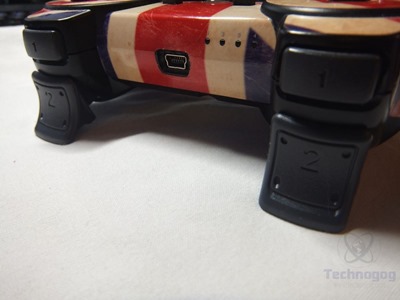 Conclusion
For the price I like these very much, they work well, the triggers really do make the buttons feel like triggers and they're more comfortable to use. You can sort of rest your fingers on the triggers, before you couldn't do that as the buttons are rounded.
The triggers can be tricky to get on yes, but you just have to make sure they snap in place to lock them on and they will stay.
The silicone caps are a bit more difficult to get installed, they're a very tight fit, but once on they don't move.
All in all these aren't bad especially for the price.
Pros:
+Inexpensive
+Really do work well
+Makes buttons feel like triggers
Cons:
-Horrible packaging
-Silicone caps hard to get on
| | |
| --- | --- |
| Grading | Scores Out of 10 |
| Overall | |
| Design / Aesthetic | |
| Value / Price | |
| Performance / Usage | |
Disclosure: I purchased this product for my personal use and thought a review would benefit other consumers in making an informed purchasing decision.
To learn more about our review policy please visit this page HERE.