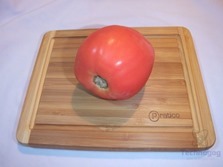 Today we're back in the kitchen for a small review of a small but useful product. I have numerous cutting boards of varying sizes, sometimes you just don't need a large cutting board for a small job. Today for review I've got the Pratico Small Bamboo cutting board and it's about 8×6 inches in size which is perfect for cutting a tomato, or cheese or just other small things. The board also has a juice or liquid groove in it and it's nice enough to be used as a serving tray. Read on to learn more..

Specifications and Features
Pratico Small Premium Bamboo Cutting Board and Serving Tray with Juice Groove – 8 x 6 inches
-GREAT FOR FOOD SAFETY – High quality small cutting board * serving tray made from 100% premium bamboo with no added dyes or stains which is toxin free and has natural anti-bacterial properties
-EASY TO STORE & DURABLE – Measures 8 in x 6 in x 3/4 in provides space for preparing and serving cheese, crackers, fruits, & small kitchen cutting jobs. High quality bamboo resists knife scaring and warping
-GENTLE ON KNIVES – Bamboo is strong and dense as hardwoods, but unlike glass or plastic cutting boards, won't dull your kitchen knives
-VERSATILE & NO MESS – Compact size and reversible makes for a great small cutting board, cheese board, or epicurean cutting board. Large juice and drip groove keeps liquids on the board and not all over your counter
-EASY TO CLEAN & LIFETIME WARRANTY – Less work to clean than wood cutting boards simply wash with warm water and soap and air dry. Peace of mind with no-hassle lifetime warranty
Price: $9.89 (from Amazon at time of review)
The Review
The Pratico cutting board comes wrapped in plastic for protection and there's a cardboard label or band around it with a bit of info on it for you.
The  cutting board is small at 8 x 6 x 3/4 inches but sometimes you just don't need a large cutting board. It's made of 100% natural bamboo making it anti-bacterial and gentle on knives.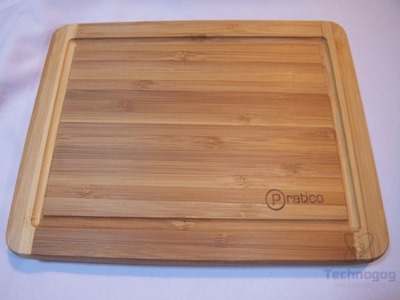 There is a juice or liquid groove all the way around the outside edge of the board and the Pratico logo is burned into the bottom right corner. I should note the groove is only on the front or top of the board.
The bottom of the board is just plain, but it looks very nice and of course since there's no groove here on this side it gives you a little bit more space to work on.
This size of a cutting board is perfect for small jobs really as you don't always need a large cutting board, or you might need another board for something else in your recipe.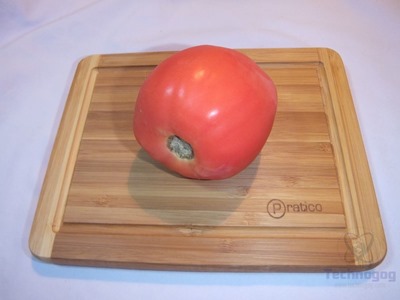 Conclusion
The Pratico small bamboo cutting is great for small jobs and it looks great so it can also be used as a serving tray.
The board is made from bamboo which is soft and gentle on your knives, it's easy to clean and it even comes with a lifetime warranty.
I could find nothing wrong with this product at all, it is what it is, it's useful, it's handy and it's very well made.
Pros:
+Well made
+Durable
+Gentle on knives
Cons:
-None really
| | |
| --- | --- |
| Grading | Scores Out of 10 |
| Overall | |
| Design / Aesthetic | |
| Value / Price | |
| Performance / Usage | |

Disclosure: This product was given to us for review by the company for review purposes only, and is not considered by us as payment for the review.
To learn more about our review policy please visit this page HERE.