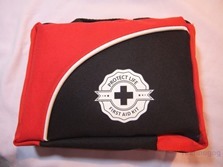 Outdoors, travel, camping, hiking, whatever you might be doing it's always good to have a first aid kit with you, I know I keep one in my car and so does my wife just in case. Up for review today I've got a nice starter first aid kit from a company called Protect Life and in my opinion it's more for the outdoors as it has things like a whistle and compass in it. This would be a great product to take camping or hiking I think as it's small and lightweight and it has a nice carrying case to keep everything in place. Sure there are things missing like medications but every first aid kit has things missing from it, you can't have everything in there and still be portable. This kit is a nice starter kit, just add what you need and go. Read on to learn more..
Specifications and Features
First Aid Kit Durable Bag, fully stocked with high quality medical supplies (Emergency and Survival) for Car, Travel, Home, Office, Camping or Sports
Never Be Caught Off Guard
Life is unpredictable, accidents happen and being prepared is a must in a world that changes as fast as ours.
Make sure you have a First Aid Kit at your fingertips in case of unexpected situations !
COMPLETE KIT, fully stocked with valuable medical supplies and designed by a team with emergency safety service background.
HIGHEST STANDARDS. Manufactured in a modern FDA registered facility, which provides products for Lifeguard Agencies, Fire Departments, Hospitals, Schools, CPR Instructors.
LIGHT & EASY TO CARRY. Fits anywhere, in your glove box, trunk or under the seat.
DURABLE BAG, crafted with high quality 600D Canvas and practical, clear compartments to keep things organized and easily find what you need.
What you'll find inside:
Antiseptic cleansing wipes (6 pcs), Alcohol prep pad (10 pcs), Butterfly closure strips (2 pcs), Extra large adhesive bandage (1 pc), Adhesive bandages (20 pcs), Knuckle adhesive bandage (2 pcs), Fingertip adhesive bandage (2 pcs), Gauze swab (3 pcs), 1 disposable cold compress, First aid tape (1 roll), Cotton tip applicator (10 pcs), Abdominal pad (1 pc), Disposable vinyl gloves (1 pair), Slim rescue howler whistle (1 pc), Button Compass Liquid filled (1pc), Moleskin blister relief (1 pc), Triangular bandage (1 pc), Emergency blanket (1 pc), 1 Glow stick, Disposable raincoat (1 pc), Scissor (1 pc), PBT conforming bandage 5 x 3.6 cm (1 roll), CPR face mask (1 pc), Plastic tweezers (1 pc).
Price: $24.85 (from Amazon at time of review)
The Review
Let's start with a video unpacking so you can see everything that's inside and then continue on:
The kit comes packed in just a plastic bag which is fine as it's not exactly fragile.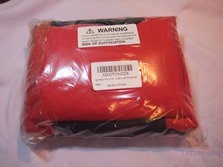 The bag is about 8 inches by 5 inches and maybe 2 inches thick, it's made of a nylon material that's red and black with the protect Life logo on the front. The case seems fairly durable to me, it's nice and small to be very portable to just throw in your bag and go or leave in your car.
The bag has two nylon handles and it features dual zippers to make it easier to open.
When you open it up you're greeted with two sides that are secured closed with velcro that have clear pockets to see everything inside at a glance.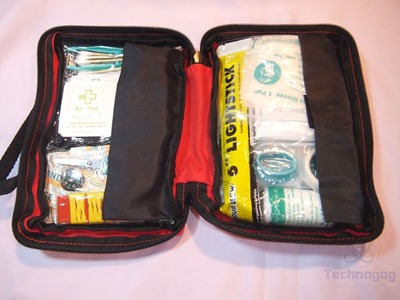 On one side you'll find poncho, emergency blanket, gauze pads, whistle, compass, tweezers, scissors, bandages, cotton swabs, alcohol pads, antiseptic wipes and a sheet of moleskin blister covers.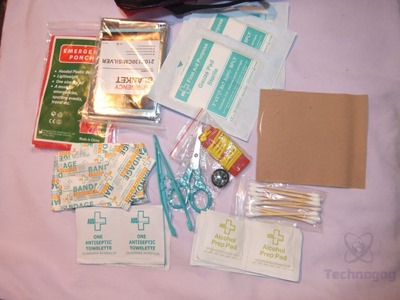 On the other side you'll find a lightstick, cold compress, tape, silicone gloves, gauze pads, large bandage, CPR mask and  a roll of gauze.  The specs list everything in more detail, but that's just a basic list of everything included.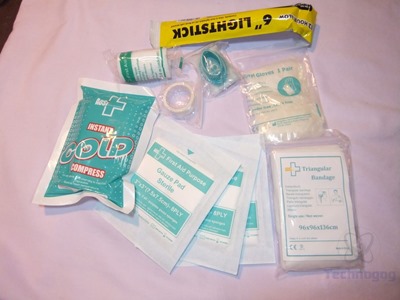 This is the first time I've seen a light stick, compass and whistle in a first aid kit, but then again most of the kits I've bought have been more for home use. This one would be great to take hiking or camping as it's nice and small and of course the compass and whistle might come in handy along with the blister patches too surely.
Conclusion
I could complain about stuff missing from this kit, but I won't as this is a decent basic kit and if there's something you need specifically you can add it for yourself. Every first aid kit is different in what it contains and I kind of like the fact that it doesn't really contain stuff that will expire like medications. Every kit has things missing from it really, no kit like this is going to contain everything you might need as then it wouldn't be very portable.
I think of this as a base or starter first aid kit and it seems it's certainly aimed at for use outdoors for camping, hiking etc. It's small and lightweight so it shouldn't add much to your carry weight or take up much space.
This can be a great addition to your car or even home, but it's best suited for an outdoor setting.
All in all I like it, it's got everything you need to get started, the basics as it were, just add whatever else you might need and you're ready to go.
Pros:
+Everything you need to get started
+Very small and lightweight
+Nice carrying bag
Cons:
-None really
| | |
| --- | --- |
| Grading | Scores Out of 10 |
| Overall | |
| Design / Aesthetic | |
| Value / Price | |
| Performance / Usage | |

Disclosure: This product was given to us for review by the company for review purposes only, and is not considered by us as payment for the review.
To learn more about our review policy please visit this page HERE.