It's been along time since I've had a laser printer, I used to have an old HP one that served me well, but the cartridges were just too costly so I ended up giving it away. For the most part ink jets have replaced laser printers, but they still have their place as ink jets really can't produce the same quality text as a laser printer can.  They do come close, but haven't reached that level just yet. If you're looking for excellent quality text then you can't beat a laser printer truly.
Today for review I've got the Samsung ML-2525W laser printer that is actually rather inexpensive coming in at under $100 most places online. The ML-2525W is a basic printer for sure, it's meant for business use, but you can use it in your home of course, especially with such a low price. The ML-2525W does feature three types of connections, USB, Ethernet and wireless so you've got choices. It's quick and easy to setup, within minutes I was up and running and producing high quality prints with a very high print speed.

The ML-22525W comes packaged very well.
In the box you'll find the printer, manuals, software/driver CD, USB cable and power cord.
The size of the printer is actually fairly small, at least small for a laser printer with dimensions of 14.2″ x 15.3″ x 7.8″, but it does weigh in at a little over 16 lbs.
On the front of the printer is slot for loading single pieces of paper, and on the top you'll find the buttons and the paper comes out the top.
The paper tray is located on the bottom of the printer, and it can hold  a whopping 250 sheets of paper. It's adjustable of course so you can use varying paper sizes if need be.
The paper tray is as large as the printer in terms of depth, from the back view you can see the back of the tray. On the back you'll also find USB, ethernet and power connections along with a door to access paper jams etc.
To access the ink or toner cartridge you just open the front of the unit. Like all laser printer the cartridge is rather large.
Overall the ML-2525W seems well made, it's actually built like a little tank. It's small size will let you put it most anywhere really.
Specifications:
What you see is what you print. Samsung ML-2525W mono laser printer features Samsung's AnyWeb Print software. It lets you select, drag and drop content from different web pages into a new blank page on your screen without any other resizing or editing required, making it easy to print what's on your screen. The Samsung ML-2525W ensures reliable, high-performance printing for your home or small business. You get print speeds of up to 24 ppm, a 12,000 page monthly duty cycle and the ML-2525W gives you Ethernet and wireless connectivity.
Wireless Printing
The Samsung ML-2525W has a compact design which provides you with a simple, fast and wireless connection. Users can adapt to their workspace without compromising on print quality. For stress-free installation to a wireless connection, the Samsung ML-2525W offers complete convenience. Previously, installation could take up to 30 minutes, however, the Samsung ML-2525W utilizes a high speed connection offering users a 5-minute, single-step installation process. Such easy installation lets users set up the wireless printer quickly and efficiently.
Robust Performance
The Samsung ML-2525W is uncompromised when it comes to high levels of performance. Designed to adjust to any small office environment, the ML-2525W has a First Page Out Time (FPOT) of 9 seconds and up to a 24 page per minute (ppm) print speed. The compact and sleek design includes a 250 sheet input capacity so less time is spent on replenishing paper; and with a monthly duty cycle of 12,000 sheets the Samsung ML-2525W is ideal for the small office and home environment.
Print:
First Print Out Time (Mono): Less than 9 s (From Ready Mode)
Emulation: SPL (Samsung Printer Language)
Duplex: Manual
Speed (Mono): 24 ppm in Letter (Up to 24 ppm in A4)
Resolution: Up to 1,200 x 1,200 dpi effective output
Paper Handling:
Input Capacity and Types: 250 – sheet Cassette, 1 – sheet Manual Tray
Media Size: A4, A5, A6, ISO B5, JIS B5, Executive, Letter, Oficio, Folio, Legal, Custom
Media Type: Plain, Thin, Bond, Punched, Pre – printed, Recycled, Envelope, Transparency, Label, Cardstock, Postcard, Letterhead, Thick, Cotton, Colored, Archive
General:
Processor: 360 MHz
Memory / Storage: 64 MB
OS Compatibility:
-Windows 2000 / XP / Vista / 2003 Server / 2008 Server / 7
-Mac OS X 10.3 ~ 10.6
-Various Linux OS
Interface: High speed USB 2.0, Ethernet 10 / 100 base Tx, Wireless 802.11 b / g
Noise Level: Less than 50 dBA (Printing) / Less than 26 dBA (Standby)
Duty Cycle, Monthly: Up to 12,000 pages
Net Dimensions: 14.2″ x 15.3″ x 7.8″
Weight: 16.09 lbs
Consumables:
Yield: Standard : Average Cartridge Yield 1,500 standard pages
High yield : Average Cartridge Yield 2,500 standard pages (Ships with 1,000 pages Starter Toner Cartridge)
Type: 1 – piece Cartridge
Price: $99.99 (From Amazon at time of review)

The buttons and indicators light up when powered on.
Installation is very simple, just pop in the disc and follow the prompts, it took me less than 5 minutes to install it on my Windows 7 machine.
One you're installed you'll have a little status box with some options on the side.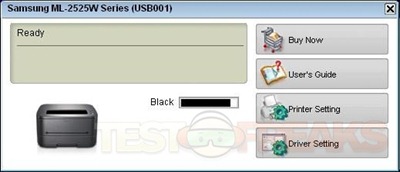 The Buy Now and User's Guides are self-explanatory. Under Printer Settings you'll find several options or settings actually, it's more of an overview of everything.
The Driver Settings opens to give you five more tabs to work with on configuring the printer.
Since this is a monochrome or black and white printer there's really not much to look at in terms of quality of the printing except the text printing. So what I did was print out one of my reviews with both text and graphics in it to test it.
It will print pictures but they're black and white and not that great, but that's to be expected.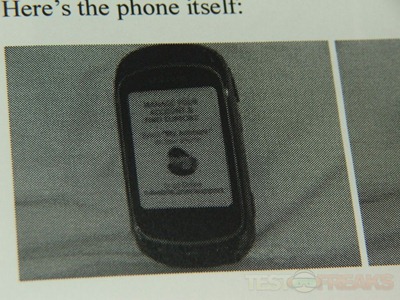 Let's check out the print quality, here's several samples taken with a couple different Macro lenses, so it's very close up:
The test printing quality is beautiful really, it's new perfect with no bleeding at all. it should be noted though that I am using Hammermill laser print paper, so you're results may very with the type of paper you use.
The print speed is fast, very fast actually in less than half a minute I had printed 15 pages of text and graphic.
Using the printer on my network I had no problems, to use the wireless connection you've got to connect it via USB first, set all of the settings for your network like the ID and key, and then disconnect the USB cable to continue using it wirelessly. No issues there, once I input my network settings I was up and running in no time wirelessly.
For most of my testing I had the printer set up about two feet from me, and I have to say at that distance it's loud and it generates quite a bit of heat. i did move it to another room to test it wirelessly and the sound was of course lower. This is a business printer, so in a business situation it will be set up somewhere other than right next to you I'm sure.
The cost of this printer is one of it's best features, I found it at Amazon for $99. The downside of this printer is the cost of the toner cartridge which run about $75 but you should get a couple thousand high quality prints from it.
Conclusion:
The Samsung ML-2525W printer is a low cost laser printer that offers excellent quality prints and network connections.
The ML-2525W prints very fast, if you're looking for a low-cost, high volume printer then this might suit your needs just fine.
It's a basic printer yes, but it works great for what it needs to do.
Pros:
+Very fast printing for everything
+Excellent quality text printing
+Quick and easy setup
Cons:
-Cartridge costs almost as much as printer
-Runs hot
-A bit on the loud side
| | |
| --- | --- |
| Grades: | |
| Overall | |
| Design | |
| Performance | |
To learn more about our review policy please visit this page HERE.