Up for review today I have a combination product from Satechi called the SCH-121 which is a dual mount for both phones and tablet for your car that fits into most any size and shape cup holder in your car. It comes with an arm style mount and then two holders, one for the phone and one for a tablet and they can fit most any size phone or tablet safely and securely. It's a neat little product for sure, but is it really useful or safe? Read on to learn more…

The Satechi SCH-121 comes in just a plain white box, nothing special at all.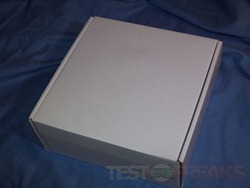 Opening the box you'll find the parts all nestled together.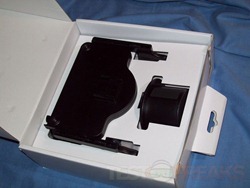 When you get everything unpacked you'll find three things, the arm, tablet holder and the cellphone holder. Yep, no instruction in there, but you really don't need them as it's fairly easy to figure out.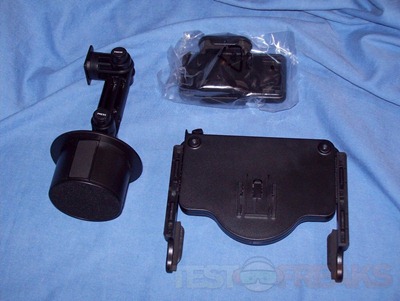 The main piece is the arm which goes into your cup holder. It has two sections that move with locking buttons on them and then the head piece that you attach the holders to. It's mostly plastic so it's lightweight, but yet feels strong.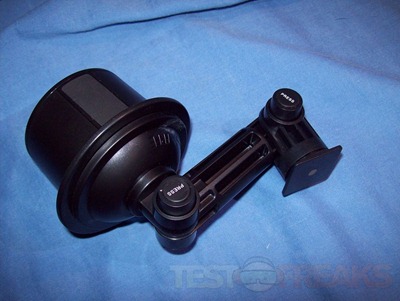 The bottom of the arm is round but has three sections that extend out so it can fit any size cup holder. The sections are rubberized to get a good grip and keep things stable.
The tablet mount has arms on the sides that can extend outward and then back in to adjust and lock to the size of your tablet.  The arms have a slight padding on the insides for grip and protection.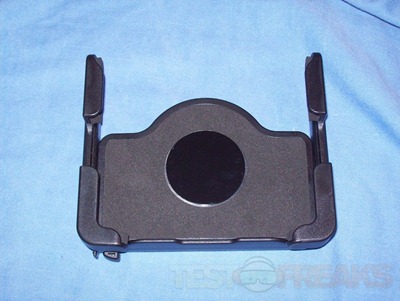 There is a small button that you press to extend the arms, they literally pop out as they are spring loaded. Then you push them back in and they lock to the size your need.
The back just really has the slots for attaching to the main arm base. it just slides onto the square part of the arm and locks into place.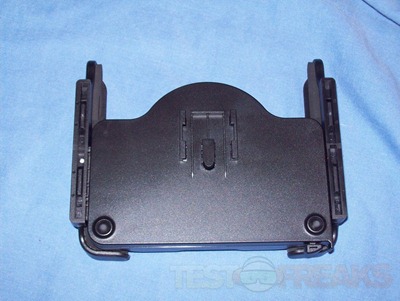 Here's my tablet in the holder to give you an idea:
I found that my tablet, the TouchtTab 10 would only fit in portrait mode. It's a 10" tablet so it's big and if the arms extended like a half an inch more it would have worked in landscape mode. I'm sure smaller tablets will work fine though in both portrait and landscape modes in the holder.
The cellphone holder should fit any size phone easily. It has padded arms and a back for grip and protection of your phone.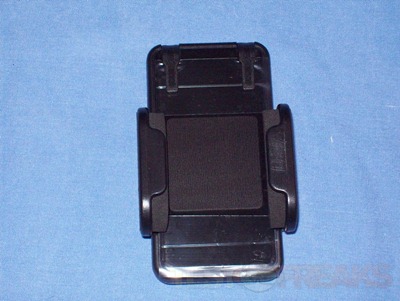 On the back of it is the same square locking mechanism to attach to the arm.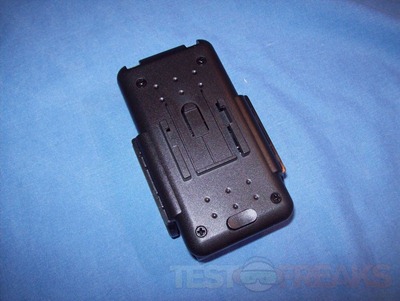 Also on the back is a button to release the spring loaded arms. They pop out and then you puch them back in tot eh size of your phone and they lock into place holding your phone tightly.
The holder also has arms that come out on the bottom to make sure your phone doesn't slide down and out.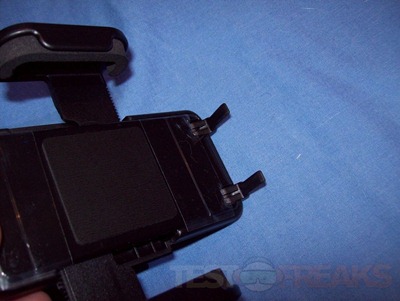 Here's the phone and tablet holder on the stand: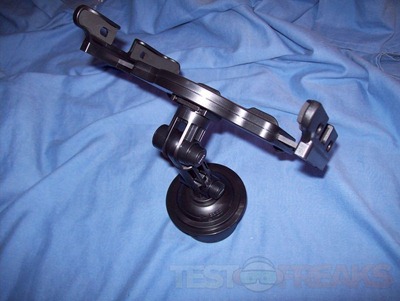 Specifications:

Satechi SCH-121 Cup Holder Mount for Smartphones & Tablets
Satechi SCH-121 mount and holder for smart phones and tablets is the ideal solution for drivers seeking a hands-free solution in their vehicle. The Satechi SCH-121 is always within easy reach, safe and convenient. It features an extra secure mount that has adjustable pivoting action: up and down, left and right. The Satechi SCR-31 Cradle (1) is designed to fit 7″-10.1″ tablets, allowing stable and secure mounting and full access to all buttons and functions. Wilth Cradle (2), you can mount iPhones with cases and other mobile phones. You can switch between the cradles depending on your usage of tablet or smart phone.
Package includes: Cup Holder Mount, Cradle (1), Cradle (2)
Cradle (1): Universal holder design which is available for 7″-10.1″ tablets like iPad 2, Samsung Galaxy Tab, etc.
Cradle (2): All iPhone models with cases and other smart phones like Blackberry, Samsung, HTC, Motorola, etc.
Heavy duty screw type mount includes square connector for 360 degree adjustment.
Adjustable pivoting action hinges for 180 degree vertical and horizontal adjustment.
Product Dimensions:
-Normal: 6 x 2.5 x 8 inches
-Expanded: 10.5 x 3.25 x 8 inches
Product Weight: 11.4 oz
Price: $29.95
I have a 2011 Subaru Forester and it has these funky and rather large square cup holders. Last time I checked cups and bottles were round, and the whole round peg and square whole thing…but anyway they work for the most part. One thing I don't like about the square holders is that if I don't close my coffee it spills as the square holes don't exactly hold cups that well.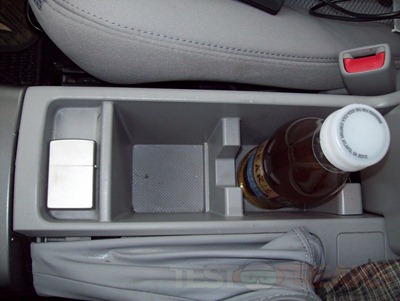 As I mentioned the bottom has three extensions that come out to fit any size cup holder. To get them out your just turn the base and they slowly extend. I did this and it fit tightly into the square holder. Once it's in place is seems very sturdy and it shouldn't go anywhere as long as you got it tight enough in there.
The first thing I used was my HTC Titan cellphone. You can move the the holder to various positions and angles so you can find whatever works best for you. This setup was find with my phone, everything was held in place securely and within easy reach.
Next up was the tablet holder.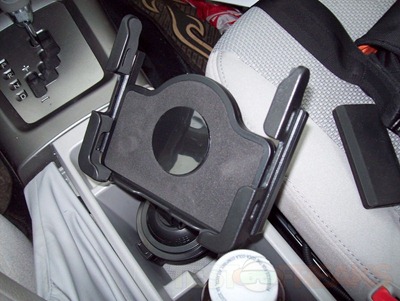 I forgot to mention the center of the tablet holder has a removable clear cover that when taken off reveals a semi-tacky rubbery base to help hold your tablet in place.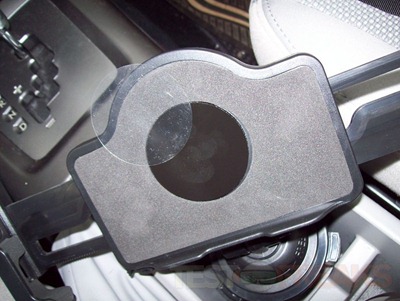 Then here's my tablet in the holder: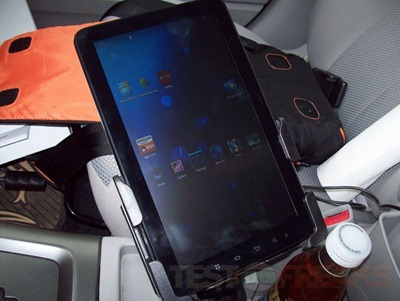 I already mentioned that my tablet doesn't fit in landscape mode sadly. When you have the tablet in the holder it does seem a slightly top heavy and a bit wobbly honestly but it didn't fall out and the holder and arm held it in place very well. As long as you have the holder and arm secured correctly I think your tablet should stay safe.
I'm not sure about having the tablet in this place while driving as it kind of gets in the way, but with the phone it's fine.
I'm not too sure about the placement, at least in my car. I have another phone holder that puts the phone up closer to the windshield  and I think that's safer really as I don't have to look down at the phone and away from the road while I'm driving. I do use my phone as a GPS sometimes and having it down in the Satechi holder isn't exactly the best for viewing safely I think.
Conclusion:
The Satechi SCH-121 Cup Holder Mount for Smartphones & Tablets is certainly an interesting and useful little gadget. I was surprised by the price, only $30 and you get mounts for both tablets and phones for that price. Using it in my car I found that it works well to hold your phone or tablet in place safely and securely. So yes it works well from my testing.
The only thing I do question though is how safe is it to use while driving? In my car it's positioned down low so to look at the phone or tablet I've got to take my eyes fully off of the road and that's not exactly safe at all. It's not a bad product to hold your phone or tablet but I'm not sure I'd use it often while driving really. It could be fine with a passenger using it or maybe even letting the people in the back seat view a movie on it, but not using it while actually driving.
Pros:
+Inexpensive for what you get
+Works with most any phones or tablet
+Easy to use
+Works with most any style cup holder
+Seems well made
Cons:
-Depending on size of tablet, only works in portrait mode
-Doesn't quite move every which way
-A bit wobbly with tablets
| | |
| --- | --- |
| Grades: | |
| Overall | |
| Design | |
| Performance | |
To learn more about our review policy please visit this page HERE.