Seagate just released what is probably the largest  external hard drive on the market today, a 3TB desktop drive called the FreeAgent GoFlex Desk. Like other GoFlex products it's, for lack of a better word, flexible. The GoFlex comes with USB 2.0 connection but your can purchase USB 3.0 or FireWire if you prefer. It works on PC or Mac and comes with several programs from Memeo for Backup, Syncing, Sharing and transferring large files. So read on to learn more..

So let's start with a video unboxing:
The packaging is nicely done of course, it's just like other Seagate boxes. There's a ton of information on it.
Inside the box you'll find the drive, USB cable, documentation and the power supply.
The drive itself comes with the stand on it. It's a black in color and textured.
The stand comes off to reveal an SATA connection.
On the back side of the dock is the power and USB connections, while on the front side you'll find LED indicators.
Specifications:
FreeAgent GoFlex Desk External Drive
The high–capacity desktop hard drive that's easy to use and easy to upgrade.
* Features USB 2.0 plug–and–play connectivity
* Ensures automatic continuous backup and protects your privacy with powerful encryption software
* Lets you upgrade to a faster interface to increase your transfer speeds when paired with another GoFlex Desk desktop adapter
* Includes an illuminated capacity gauge
The GoFlex Desk external drive gives you plenty of storage capacity and it's easy to upgrade to any interface you choose. Simply pair the desktop hard drive with a GoFlex USB 3.0 or FireWire 800/USB 2.0 adapter to increase your performance by up to 10 times. Works interchangeably between a PC or a Mac computer.
Safe, secure, easy to use
With the GoFlex Desk, it's easy to backup, secure and access your content.
* Ensures automatic continuous backup of your data
* Secures your backed up files and protects your privacy with powerful encryption software
* Includes the Seagate Dashboard management tool for easy management of backup schedules and file encryption, and viewing drive statistics
* Includes the GoFlex Desk USB 2.0 desktop adapter with illuminated capacity gauge
* Offers vertical or horizontal orientation to fit in any desktop environment
The world's most upgradable desktop hard drive
The GoFlex Desk external drive lets you upgrade to faster transfer speeds, and customize your experience to suit your digital life.
* Offers upgrade cables and kits that make it easy to move up from USB 2.0 to USB 3.0 or FireWire 800 for up to 10x faster transfer speeds for your large files and HD movies
Specifications:
Model Number: STAC3000100
Interface: USB 2.0
Capacity: 3TB
PHYSICAL
Height: 158mm (6.22 in)
Width: 124mm (4.88 in)
Length: 44mm (1.73 in)
Weight (typical): 1080g (2.38 lb)
Features: Automatic Backup Software PC & Mac
Warranty: 2 years
Encryption: 192-bit Triple DES
Price:
Reg. $249.99
-On Sale!$229.99

On the dock section is a power and activity light along with lines that are capacity meters.
The GoFlex I got for review is the USB 2.0 version, you can purchase USB 3.0 and FireWire interfaces as well.
I tested the drive on both USB 2 and USB 3 just because I was curious as sometimes there is a slight increase in speed using a USB 2 connection on the USB 3 interface.
I ran both Atto and HDTune. First up is Atto:
As you can see, even though the connection on the GoFlex is USB 2.0 it's a bit faster on the USB 3.0 interface.
Here's HDTune, the results are similar:
Ok, we know it has has decent speeds, at least comparable to what USB 2.0 should be.
The drive does come with Memeo software  which includes Instant Backup, Sync, Share and Send and you'll also find the Seagate Dashboard. On the drive you'll see the software and USB 3.0 drivers.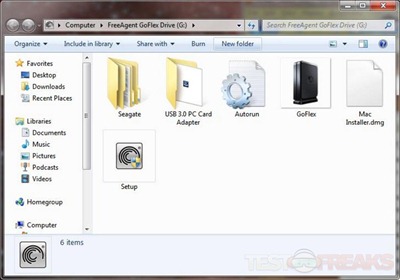 Click Setup and in a few seconds or so you'll be done.
The Seagate Dashboard is where you can launch the programs from and get status along with change some drive settings like turn the LEDs off and on or test the drive.
When you start the the backup it will scan your computer for information, but it only scanned the 'C' drive and not my 2TB drive. Not sure why.
Once it's done scanning you can begin and then just let it run.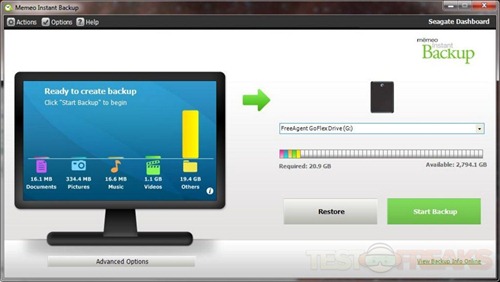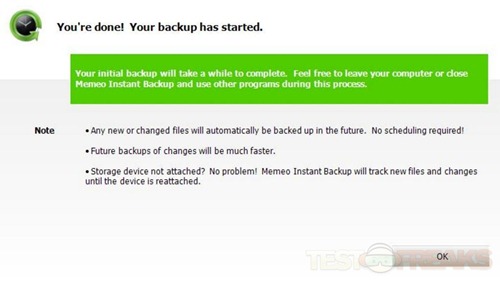 The first backup will take a long time, but the backups after will be shorter as it only backs things up that change on your computer.
Memeo Sync allows you to sync folders, and changes between them.
"A simple one time setup is all it takes to begin syncing your files between multiple computers, USB devices, portable hard drives, your iPod and more. Within minutes you'll have your latest work, most current photos and favorite music on all your computers and storage devices."
With Memso Share you'll need to create an account, the idea here is to share with family and friends.
Memeo Send is a way to send files privately or encrypted. It's free for up to 100Mb in size, or it's $4.95 per package or $19.95 per month for unlimited.
"Today large file sharing is more important than ever before. Businesses can no longer email large files like they once did. Taking the time to email them is costly in terms of business productivity but when your business tries to email them, it places a heavy burden on its servers and it's not secure. Even trying to send large files via FTP solutions is complex and time consuming. How to send large files has never been a bigger problem. Businesses must now rely on sending large files thru premium services that specialize in the large file transfer of important data and documents. That's where Memeo Send comes in. Memeo Send is the simple way to send large files."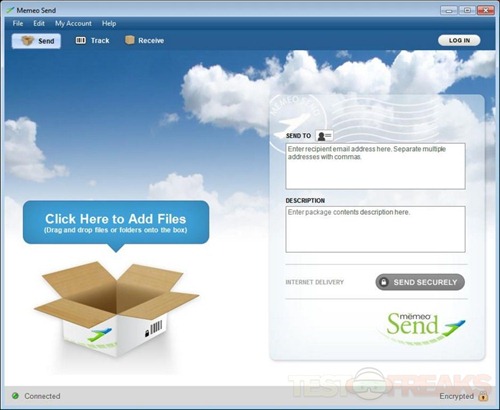 The drive itself is very quiet, I really couldn't hear it running and it was sitting about one foot from me. As far as temperature it gets very slightly warm to the touch, nothing to complain about.
Sure it only comes with a USB 2.0 connection, but at this point in time I think that's good enough for most people out there really. USB 3.0 is here but it hasn't exactly been widely adopted yet.  Once you do get USB 3.0 on your computer you can just get the new interface and you'll be set.
The only small complaint I could have is the stand, it's rather small and it can fall over easily if you bump it accidentally. Personally I'd have the drive out of the way especially sitting on my desk, it would be sitting behind my monitor most likely so it wouldn't ever get bumped.
Conclusion:
The Seagate 3TB FreeAgent GoFlex Desk External Drive is the ultimate storage and backup device surely. 3TB should be more than enough for most people and the included software is very easy to use and can be useful as well.
Sure it's only UBS 2.0 but that's not a problem I think as most computers don't have USB 3.0 yet, and you could just upgrade if need be to USB 3.0 or even FireWire.
The stand is a small issue, but not a deal breaker at all really, for me it's not an issue at all but to some it might be.
Pros:
+Lots of storage space
+Easy to use
+PC or Mac
+Seems well made
+Comes with easy to use backup software
+Upgradeable and interchangeable interface
Cons:
-Small base
-Only comes with USB 2.0
| | |
| --- | --- |
| Grades: | |
| Overall | |
| Design | |
| Performance | |
To learn more about our review policy please visit this page HERE.