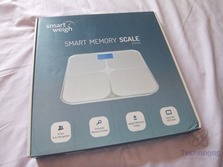 Today we're back with another fitness or health related product or one for the home and health category, it's another scale but this one is kind of basic but not. It's not a smart scale like the last one I reviewed but it is smart in it's own way. Today I have the Smart Weigh SMS500 digital bathroom scale that also saves your weight and can compare it to the last time you weighed yourself and let you know the difference, good or bad. Overall it's a good scale, it's accurate and it's very well made, read on to learn more…
Specifications and Features
Smart Weigh SMS500 Digital Bathroom Scale, High Accuracy, Dual Color Weight Change Detection and Smart Step-On Auto Recognition for 8 Users, Silver
-Advanced memory for ease of use, Stores up to eight user profiles with auto recognition technology, Step-on technology triggers power upon impact
-Increased functionality Recalls prior weight readings and displays the difference between current and previous Readings Track loss or gain easily
-Stay motivated Easy-to-read dual color screen lights up green when weight decreases and red when weight increases from prior weight measurements
-Sleek, modern and durable, This contemporary design features a tempered glass platform for added durability Backlit LCD provides easy visibility
-Use of precision mechanics and components that will alert you if your scale has been moved or needs to be recalibrated
The Smart Weigh SMS500 is the perfect match for what you have been seeking in a memory scale and its advanced step-on technology makes using a scale easier than ever before. Simply step on and receive your precise readings immediately. No set up is needed and you can be on your way to tracking your weight in no time.
Why the SMS500? That's easy, because it knows you! In addition to its ease of use, it features an incredible auto recognition functionality that utilizes memory to store and recall the information of up to eight user profiles. That's right, eight users!
This is the decisive solution for health, wellness tracking and weight loss, as it differentiates between measurements every time you step on this scale.
It will tell you whether you have gained weight or lost it and its large LED display will light up with a color in accordance. Red if you've gained weight and green if you have lost weight, or seen no weight gain.
Tracking your results could not be simpler. What sets Smart Weigh apart from everyone else is the advanced sensor technology featured in this scale. It's our way of ensuring our scales are one of the most accurate on the market. We use precision mechanics and components that will alert you if your scale has been moved or needs to be recalibrated. This further enforces the benefit of the innovation and accuracy found within a Smart Weigh scale.
The SMS500 records measurements in lbs. and oz. and has a very high capacity, 440 lbs.! It uses 4 AAA batteries and includes a two-year manufacturer's warranty.
Product Dimensions: 12.5 x 12.5 x 1 inches ; 4.4 pounds
Price: $39.64 (from Amazon at time of review)
The Review
Let's start with a video unboxing:
The packaging for the Smart Weigh scale is attractive with information on the front and back.  When you open the box you'll find the scale protected by cardboard and wrapped in a soft plastic to keep it clean and safe during shipment.
Once you get everything unpacked you'll only find the scale, user guide and four AAA batteries.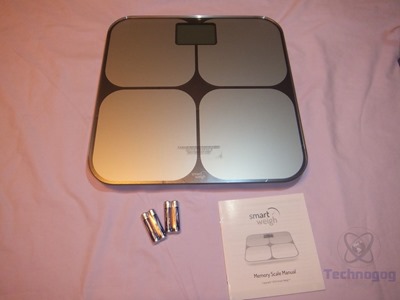 The scale has a tempered glass top and it's silver in color. The display is located at the top center and it's nice and large. The scale is 12.5×12.5×1 inches in size and it weighs about 4.4lbs.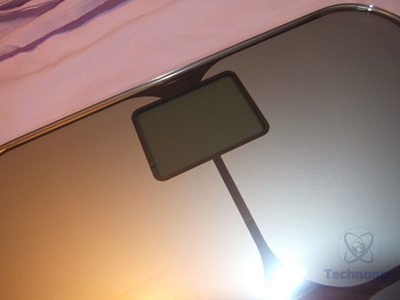 On the bottom you'll find your rubber non-slip feet and the battery cover. Above the cover is a small button that is used to clear the memory and to change the units from pounds to kilograms or stone. The bottom of the scale is white plastic and overall the scale feels very well made and it looks really nice.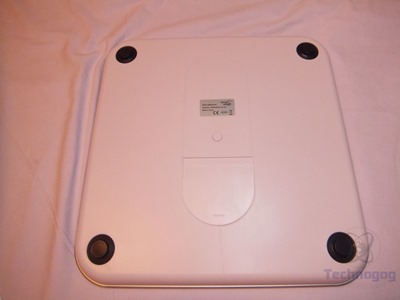 The display is easy to read, it's a bright light blue background with nice large black lettering and the unit underneath.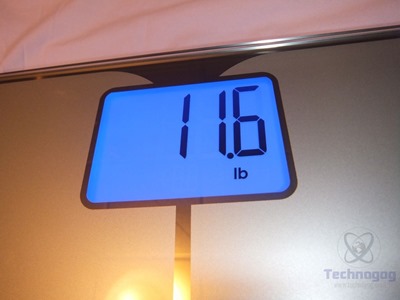 When you step on the scale it's not immediate, the weight will blink three times and then will go solid letting you know what your weight is.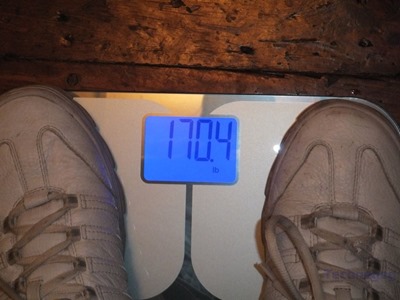 I recently reviewed the Taylor Smart Scale and it said I weighed 170.8lbs and that was almost two weeks ago, so 170.4lbs that the Smart Weigh scale reports sounds accurate to me.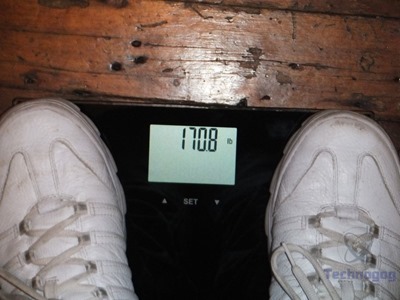 The Smart Weigh scale can actually display colors besides the blue, as the display can turn green or red. The scale turns green if your weight has stayed the same or you lost weight but it turns red if you've gained weight. The scale is smart in that it knows who is on the scale and it remembers, it will display the your current weight and then below it the difference so you know. The scale can record and remember up to eight users at one time.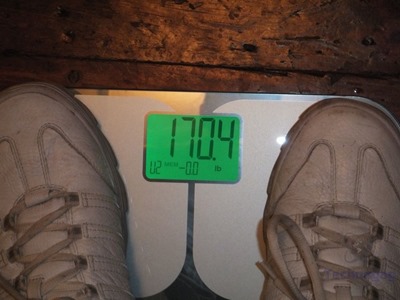 Conclusion
The Smart Weigh SMS500 digital bathroom scale is very nice looking, I love the silver and mirror finish. The scale is made of tempered glass and plastic and it seems accurate.
The SMS500 can let you know if you've lot or gained weight by remembering who is on the scale and it can remember up to eight people so everyone in your house and a few friends can use it.
All in all I like this scale a lot, it looks great and from my testing it's accurate and useful.
Pros:
+Accurate
+Inexpensive
+Bright, easy to read display
+Well made and looks great
Cons:
-None that I found
| | |
| --- | --- |
| Grading | Scores Out of 10 |
| Overall | |
| Design / Aesthetic | |
| Value / Price | |
| Performance / Usage | |

Disclosure: This product was given to us for review by the company for review purposes only, and is not considered by us as payment for the review.
To learn more about our review policy please visit this page HERE.