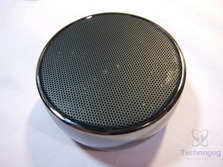 Up for review today I've got a Bluetooth speaker that's not only Bluetooth, but it has a 3.5mm jack along with micro SD card slot so it can be used like an MP3 player. The speaker is just called the SmartBB Hi-Fi Bluetooth speaker and it's very well made with a mirrored stainless steel covering that makes it look great. The sound is very good and overall it's a great little speaker. Read on to learn more…
Specifications and Features
SmartBB Hi-Fi Bluetooth Speaker Portable Mini Wireless Speaker Support Hands-free Function TF Card
-With this device, you no longer have to have headphone wires in the way of listening to music from your portable devices at home or outdoor. Simply turn on your Bluetooth and pair the devices, and in no time at all you have a portable speaker that sounds great. Also, if your device does not have Bluetooth don??t worry! Included on this device is a 3.5mm jack that allows you to plug in any device and have it play through the speaker. Even more, you can ply music by TF card ONLY.
-Super Bass Speaker; Built-in lithium battery; With micro SD TF card slot, you can play mp3 / mp4 format files in the TF card; Support A2DP, AVRCP, handsfree profile; Mini Bluetooth stereo speaker system; Saves you from the hassle of tangled wires;
-How to phone or receive a call When you need to call someone, dial the number on your phone directly(it will choose the Bluetooth speaker as the audio source if you do not pick others for 2 seconds).2When coming a call, you can only receive it on your phone, or short press the "answer key" button to receive it, then you may hear others by this speaker and talk with others with the MIC on the speaker, no need to hand the phone. If you want to reject a call, long press the answer key button.
-If you need to connect to this speaker,Three kinds of playback mode: firstly by Bluetooth mode,one key open and into pairing , Secondly TF card speaker , third you use a 3.5mm cable to play music on this speaker
-High-density seamless steel case material, Processing CNC Polishing, electroplating gunmetal black, Mirror face, 1.5 inch 3.2W super bass,loudspeaker diaphragm handsfree, 3.5mm Audio in, play music 6 hours
Specification:
Bluetooth Version:2.1+EDR
Power Rating:3.2W
Frequency response:80Hz-20KHz
Speaker Size:1.5 inch
SNR:90dB
Sensitivity:400mV
Distortion:0.10%
Communication distance:10m /30 feet
IF card:Max 32G
AUX:3.5MM audio in
Battery Capacity:600mAh
Play time:6 Hour
Dimension:78*34mm
Net weight:260g/9.17oz
HD Microphone:Built in
G.W:370g
Price: $21.99 (from Amazon at time of review)
The Review
Let's start with a video unboxing and then move on:
The speaker ships in a small white box with information on the bottom. When you open the box you'll find a piece of foam on top of the speaker and then the speaker wrapped in plastic for protection and then more foam on the bottom and finally cardboard beneath that.
Once you get everything unpacked you'll find the speaker, USB cable, 3.5mm audio cable and user guide.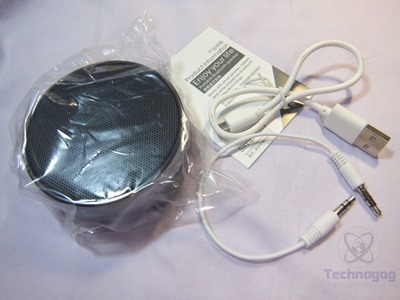 The SmartBB speaker is very well made, this thing is heavy at over half pound, I mean you could do some damage if you threw it at someone for sure. Specs say it weighs in at a little over nine ounces, but it feels heavier than that to me and it's very solid. The outside is a mirror like stainless steel and the top is a metal grill over the speaker. The speaker looks sort of like a hockey puck to me, at least that's what I first thought of, but it's not flat on the sides it bulges out a bit. The dimensions are about 3 inches across and about 1.25 inches high.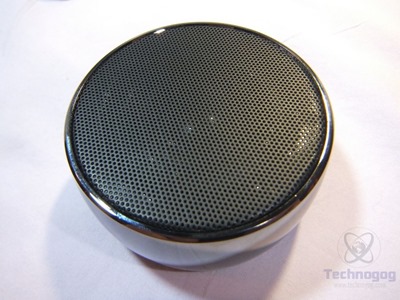 On the bottom you'll find an large rubber non-slip ring surrounding four buttons for volume control, play/pause and power/mode.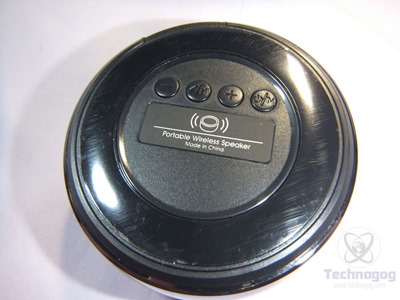 On the back edge of the speaker is the micro USB port for charging, micro SD slot for playing MP3 files and a 3.5mm audio jack so you can plug other non-Bluetooth devices into it. There's also a small hole on the right side which is the microphone and then another small hole on the left side which is actually an LED to indicate charging and Bluetooth status.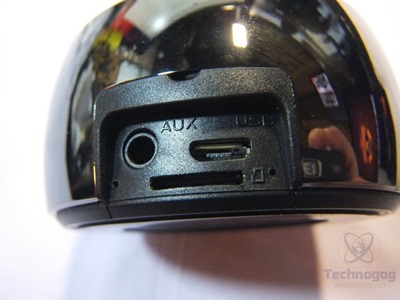 The LED lights up red to indicate charging and charge time varies on the battery charge, but you should get about six hours of play time from a fully charged batter which should last most people all day I would think unless of course you're playing it for six hours non-stop which is doubtful in most circumstances. The LED also lights up blue for Bluetooth.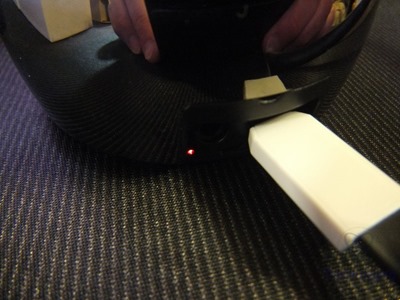 For testing I used the SmartBB speaker with my Samsung Galaxy S6 Android phone and my PS Vita.
Pairing was easy, no issues at all with either device. You just hold in the power button and the speaker enters pairing mode. I should also note the speaker talks to you in a sort of English, it's not perfectly clear, but you can understand it for the most part. The volume or + and – buttons are also for skipping forward and back tracks. Press it once and it will skips tracks, hold it in and it will change the volume and these worked fine with my Android phone.
The sound is very good, but not perfect, but it is very clear. There is treble in the music but I would prefer a little bit more, it's just slightly light on the high end of music, but not overly so, at least for my personal preference. There is a lot of bass, if you play bass heavy music it will vibrate your desk. Yes it's only one speaker so it's not stereo sound but it is full and overall not bad at all.
You can play your music very high and there is little to no distortion unless you play very bass heavy music where you will get a little distortion, but surprisingly not a lot. I wasn't expecting much from a speaker that cost just a little over twenty dollars, so it very much surprised me in the sound quality.
Conclusion
The SmartBB Bluetooth speaker sounds great, it's not perfect no, but for the price it's well worth it, you'll be surprised by how good it sounds really.
The speaker is very well made, this little speaker is built like a tank and weighs about as much, no not really but it is much heavier than it looks that's for sure. It's extremely well made overall.
Battery life is decent, it should last you all day surely and you can easily charge it thanks to a standard micro USB port on the back.
You can use this speaker over Bluetooth or with the included 3.5mm cable or you could even use it like an MP3 player and just put your music on a microSD card and slip it into the slot.
All in all this is a great little speaker.
Pros:
+Little to no distortion at high volume levels for most music
+Very well made
+Clear, great sounding
+Lots of bass and decent treble
+Decent battery life
+Can use micro SD card for MP3 files
Cons:
-Heavy bass does create slight distortion
-Voice prompts could be better
-Single speaker only
| | |
| --- | --- |
| Grading | Scores Out of 10 |
| Overall | |
| Design / Aesthetic | |
| Value / Price | |
| Performance / Usage | |
To learn more about our review policy please visit this page HERE.