I've reviewed many phones here on technogog and I've got many more to come I'm sure, but none quite like the one I have today called the Snapf?n ez ONE. This phone is unlike any others out there, and there's a reason for that, it's made to be a simple to use phone with a very limited feature set.  It's sold as something geared toward senior citizens or the elderly, but I'm sure there's others that could make use of this phone like children or even those with eyesight issues. The Snapf?n ez ONE features an FM Radio built in, not even many smartphones have that, large displayed numbers, a speaking keypad and an SOS button that send out a siren and then it texts first then calls up to four people in an emergency. The phone itself seems well made and very easy to use and offers a battery life of up to 5 hours talk and up to 120 hours standby time. It even comes with a nice carrying case, lanyard and a set of headphones to round things off. So Read on..

I think this one deserves an unboxing video, so here it is:
The Snapfon comes in a nice little brightly colored box.
Inside you'll find a few extras with the phone.  You'll get headphones, a nice cloth carrying case, AC charger and some documentation.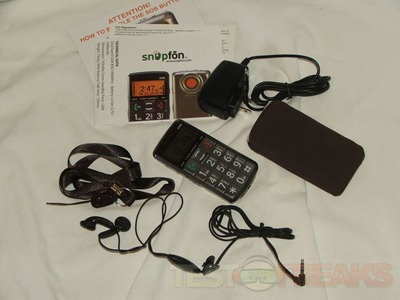 The phone is basic, about as basic as you can get, but it's supposed to be that way. There's a small screen above the very large number keys.
On the back you'll see the speaker and an orange button that is recessed into the phone. The button is the emergency or S.O.S. button that you can program to call certain numbers.
On the top of the phone is the LED light and a place for the lanyard to attach to.
On the right side of the phone are two sliders, one for lock and unlock and the other is to turn the LED light on and off.
On the left side you'll see the volume up/down buttons and the FM radio on/off slider.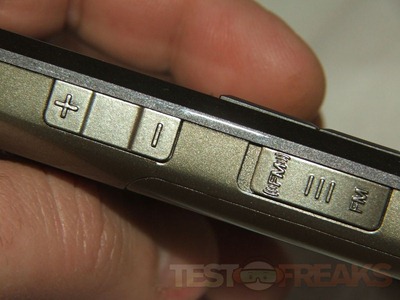 On the bottom is the headphone and power jacks.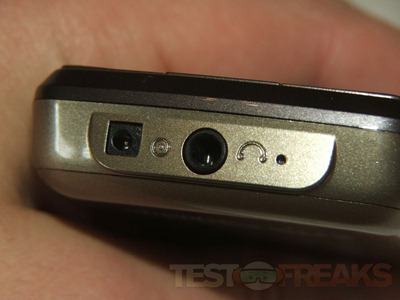 Take of the back cover and you'll find the battery and SIM card slot. The battery is 1000mAh and should provide 3-5 hours talk time and standby of up to 120hours.
Yes there is no microSD card, there isn't any need for one though.
Specifications:
Introducing the Snapf?n ez ONE
There is no other phone that is as simple to use as the ez ONE from Snapfon. With its large keys and print, making a call has never been easier! Our design puts you in charge of the phone. You will never again wonder, "Am I doing this right"? The quality and no non-sense approach to features will delight you from the moment you pick up the phone.
Snapf?n ez ONE Features
You'll love the versatility of the ez ONE. This mobile phone was designed with the Senior consumer in mind – this phone is easy to see, easy to use, and its features are very much in demand. From the moment you take your new phone out of the box you will see how easy it is to set up; you can even begin using it in just a matter of minutes. Whether you purchase service through us, or use your existing SIM card, using this phone for the first time is truly – a snap!
The ez ONE's most alluring feature is an emergency S.O.S. button – perfect for Seniors and everyone alike. In a matter of a few easy menu steps, up to four names and numbers may be entered into the phone and will be called when the S.O.S. button is activated. We hope no one ever has to use it – but if they do, help can be summoned at the press of a button! Friends and family can breathe a sign of relief knowing that their loved ones have this technology in their corner.
peace of mind in an emergency
If there's an emergency, simply press and hold the S.O.S. button for 5 seconds. This will sound an alert and consecutively call 4 programmable numbers until your call is connected. It will even send "Emergency, please answer my call" in a text message to each of these numbers. For your convenience the phone is set to call your local emergency response center when the S.O.S. button is first activated.
easy to see
The first thing you'll notice about the ez ONE is the big and bright keypad buttons. In fact, they are so BIG and bright the phone can be used easily in complete darkness. Our buttons are the largest on the market. Dialing and answering calls is a snap! How's that for EZ? Snapfon is your dream come true if you have been looking for a cell phone with big buttons! We've even been told that it works out great for people in cold climates who wear gloves. They can still dial their phone without taking them off!
easy to read
The ez ONE displays numbers in an easy to see 28-point font. When you compare Snapfon's screen to others… well there really is no comparison. A high-contrast, backlit orange screen with black letters makes reading easy and reduces eye strain. If you are tired of asking others to read the numbers on your screen, then the Snapf?n ez ONE is for you!
speaking keypad
Even if you can't see the keys, you can hear the number as you dial. You can set your phone up so that as you type them on your keypad, you will hear an audible, clear voice telling you which key you have just pressed. If you've pressed a wrong key, you can simply go back and re-enter it correctly. It's like having your very own proofreader. No more mis-dialed numbers!
LED flashlight
Our high-intensity, LED flashlight gives off a bright beam of light for up to 20 feet. Because it is a low energy LED it can run on the phone battery for hours! The slide switch on the side of the phone makes the flashlight a snap to use! Have you ever had to fumble around in the dark while you tried to get your key into a lock? Well fumble no more, because your phone can actually help you get into the house! This handy feature will illuminate your locks, set your path aglow, and brighten your search for lost items.
digital FM radio tuner
The built-in digital FM tuner on your ez ONE makes listening to the radio easy. Just slide the switch and tune in! For better sound just plug in the included headset and enjoy Hi-Fi sound without ever missing a call. When you receive a call the radio will mute while you answer the call. Once your phone call is complete, just return to EZ listening! Whether you are on the beach, in the garden, on the porch, or taking a walk – you'll have your favorite radio stations at the flick of a switch. Enjoy listening to the big game or your favorite music without having to carry around extra equipment.
Plans:
easy 10–100 Minutes + 50 Text Messages per Month: $10.00
easy 20–200 Minutes + 50 Text Messages per Month: $20.00
easy 30–300 Minutes + 50 Text Messages per Month:$30.00
unlimited–Unlimited Talk & Text: $40.00
Specs:
Basic Information
Band: GSM 850/1900
Color: Bronze body – Chocolate face and bezel
Talk time: 3-5 hours
Standby time: 90-120 hours
Lithium-ion Battery: 1000mAh
Dimensions: 104mm * 49mm * 15mm
Screen: 1.6 inch 128*48
Price: $99.99
The keypad lights up of course, making it easy to see in the dark.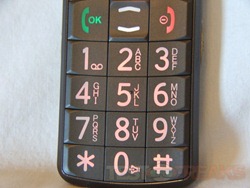 Like the  rest of the phone the display is basic, it's Amber or Orange in color, it reminds me of an old Nokia that I once owned. It's 1.6 inches in size, so yeah it's not exactly huge.The number are nice and big and it shows the time, date, network, signal strength and battery level. When locked it shows the lock indicator and the time.
The Snapfon features a unique dialing experience, it speaks the number as you dial them and they show up on screen nice and big.
The directional button is just two ways up for menu and down for contacts. The menu is sparse, but again, with this phone you don't need much at all. The phone does allow you to send text messages, you can store up to 100 messages.
There there's a phone book that can hold up to 200 names/numbers.
Call Info is just the call log showing dialed, missed and received calls along with durations.
You can also set alarms if you want to and have them go off on certain days and times.
Then there's a calculator, basic stuff but it works.
The last thing is Settings where you'll find options for Silent Mode, Vibrating Alert, Personalize, SOS Options, Speaking Keypad on and off, and Reset to Defaults.
Under Personalize you'll see Tones, Volumes Levels, Display Contrast, Language, and Time and Date.
One of the main features of this phone is the SOS Button, and the options for that are to just turn it on or off and turn the siren on or off. Yes there is a siren as well. When you press the SOS button it can have a siren that goes off in addition to calling and texting certain people in an emergency. This would be a great phone for not only adults, but for children as well if need be I think. You can have it set to silent mode, and just hold the SOS button down and no one would no you were making a call.
Under the phone book you'll find a place for SOS numbers. You can add up to four numbers to call when you press the button, it will not only call them but it will send a text before the  call actually saying "Emergency, please answer my call!".
Here's an example I used it with my phone: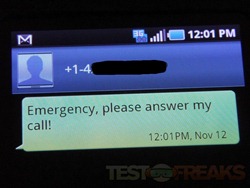 Call quality isn't exactly the best, but it's not bad, I've heard worse from more expensive phones. There is a bit of an echo in it, but it can get loud and I think that's what matters.
There is an FM Tuner built in, my $500 smartphone doesn't even have that. The tuner isn't bad, it works, but it could better. Even attaching a set of headphones didn't help much with the signal. To be fair though it's hard to get a decent radio signal around here, we've got lots and lots of hills around Pittsburgh. The tuner works by just pressing up or down using the navigation button or you can use the number pad to enter a station manually.
It used the AT&T network for me, but it works on many networks across the nation. You probably could toss any sim into the phone actually and it would work.
The phone is aimed at older people, or those with bad hearing or eyesight and I think it would work great for them. The volume can get very loud, and the display has nice large buttons with a speaking keypad so you'll be sure to know what you press.
The built in LED light is just cool, I wish I had on on my Captivate, then again I wish it had an FM radio too. The light is nice and bright and it can be used even when the phone is locked.
As far as battery life, it seems fine, no problems there.
The phone costs $100 and that's including everything I got for review, that's not bad at all really. The plans are inexpensive as well, 200 minutes and 50 texts for $20 per month and other plans, but the best value is $40 for unlimited which is excellent.
My Mother died last year, she was in her late 50's, and this would have been the perfect phone for her, I wish it was around a few years ago as it's certainly something she would have appreciated. I get all of these phones for review and deals on them, and tried to get her a nice new one, but she was happy with a beat up old Nokia phone. The display was similar to the one on on the Snapfon actually, I can't recall the exact model but it was old that's for sure. The reason she liked it was the size of the displayed numbers and text, she was blind in one eye and had bad vision in the other along with the numerous other health problems that related to her death.
I'm sure a lot of you might laugh at a phone like this when we've got all of these new amazing smartphones on the market, but I can understand where it could be very useful to certain people, not just the elderly at all. It's a great phone for someone who needs one like this, it truly is.
Conclusion:
The Snapf?n ez ONE is what it is, and nothing more. It's a simple to use, very basic phone that gets the job done. It's made for a very specific market yes, but it's fulfilling a need in that market, and I'd say it fills that need very well.
It's a basic phone yes, but it's got a few great features that count for a lot like the SOS button, the large display, loud volume and even the built-in light and FM radio are things that might be little but will mean a lot to someone who needs them.
I'm sure all of us know someone who could use a phone like this, as I said I wish this phone was around a couple years ago, it would have been the perfect phone for my mother. The large display, talking keypad and SOS button are must have items I think for the elderly or those with some sort of health issues and the kids of issues pertaining to eyesight.
It might not be a trendy phone, but it's not supposed to be either, it's meant to utilitarian and it is very much so. For what it is it works and I can recommend it for those that have a need for this type of phone, it's well made and works well.
Pros:
+Inexpensive overall
+Phone seems well made
+Includes carrying case and lanyard
+Emergency SOS system with alarm
+Inexpensive plans
+Very simple to use
+LED light and FM radio built-in
+Great, basic phone really
Cons:
-FM Radio could be better
-Call quality not the best
| | |
| --- | --- |
| Grades: | |
| Overall | |
| Design | |
| Performance | |
To learn more about our review policy please visit this page HERE.