HDMI has pretty much become the standard, everything in my home entertainment system uses HDMI and I even use them with my computer, but not all HDMI cables are created equal. Yes you can pay an exorbitant amount of money for some, but that's just stupid in my opinion especially when an inexpensive cable will do the job just as good. Solid Cordz has sent me over a couple of their newest HDMI cables for review that are version 1.4 which means they can handle 4K resolution and 3D content and these cables can also carry an Ethernet signal which could come in handy as many HDTVs and other home theater devices these days are internet connected. So read on to learn more..
Specifications and Features
Solid Cordz Premium Series Gold Plated HDMI 1.4 Cables with Ethernet
PREMIUM SERIES GOLD Plated 6 ft High Speed HDMI Cable with Ethernet by Solid Cordz
This 6ft High Speed HDMI Cable with Ethernet 28 AWG provides an interface between any audio/video source, such as set-top boxes, Blu-ray Disc players, DVD players, video game consoles, AV receivers and an audio and/or video monitor, such as digital television or plasma monitor, over a single cable.
How does 6 ft High Speed HDMI Cable with Ethernet work?
The Gold-plated HDMI connectors provide optimal signal transfer, and the Double-shielded HDMI compliant cable protects against EMI/RFI. Supports Dolby TrueHD and DTS-HD Master Audio standards, and HDCP & RoHS compliant. They are backward compatible to all previous versions as well.
Below are the major enhancements introduced in the HDMI 1.4 specification:
• HDMI Ethernet Channel – The HDMI 1.4 specification adds a data channel to the HDMI connection, enabling high-speed, bi-directional communication. Connected devices that include this feature can send and receive data via 100 Mb/sec Ethernet, making them instantly ready for any IP-based application.
• Audio Return Channel – The new specification adds an audio channel that will reduce the number of cables required to deliver audio "upstream" from a TV to an A/V receiver for processing and playback. In cases where a TV features an internal content source, such as a built-in tuner or DVD player, the Audio Return Channel allows the TV to send audio data upstream to the A/V receiver via the HDMI cable, eliminating the need for an extra cable.
• 3D Support – The 1.4 version of the specification defines common 3D formats and resolutions for HDMI-enabled devices, enabling 3D gaming and other 3D video applications.
• 4K Resolution Support – The new specification enables HDMI devices to support extremely high HD resolutions, effectively four times the resolution of a 1080p device. Support for 4K allows the HDMI interface to transmit digital content at the same resolution as the state-of-the-art Digital Cinema systems used in many movie theaters.
Why should you buy from us?
Since our High Speed HDMI cables with Ethernet have been designed to meet the performance standards set by HDMI 1.4 and have passed stringent Category 2 testing, we are confident that our product is of high quality and proven worth every single cent. These cables are backward compatible to all previous versions which can connect to any gadgets and electronics at any time. With the wide range of use of these products, its the best time for you to see for yourself the great benefits our products can offer.
Give our product a shot, and experience how our High Speed HDMI cables with Ethernet can make connecting to electronics easier!
Price: $35.00 (from Amazon at time of review)
The Review
The two HDMI cables arrived to me very quickly, I got them from Amazon and I have Prime. There is no special packaging for them, none is really needed, the cables ship in a plastic bag and then in the bag are two more zipper style bags holding the individual cables.
The official HDMI logo is on each bag so you know they are a licensed and an official HDMI cable.
Here's the cable still wrapped up with the twist ties as it's kind of hard to photograph a six foot length cable and get it all in the picture and still show you the cable with any details. Maybe it's just me, but I very much like cables that come with the HDMI covers or protectors on them as these do. Yes they are just little pieces of plastic but they protect the HDMI connector from dust and dirt or whatever while they're not in use. Not all cables come with covers so it's nice to see them here. The cables are six feet in length obviously and that seems to be just about right for the average installation and usage of an HDMI cable. I've got a lot of stuff that uses HDMI cables and I think just once I've need a cable that was longer than six feet.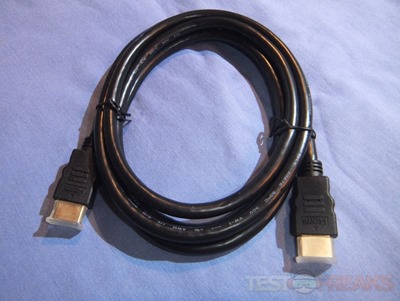 Here's the HDMI connector with the cover removed, you can see the actual connection is gold plated for better conductivity and the HDMI logo is there. I should note the connection is a solid and sealed piece of plastic. The reason I mention that is that I've had HDMI connectors break apart right there at the cover over the connection and that's not a good thing, I ended up taping it with electrical tape and then just throwing it away once I got a replacement.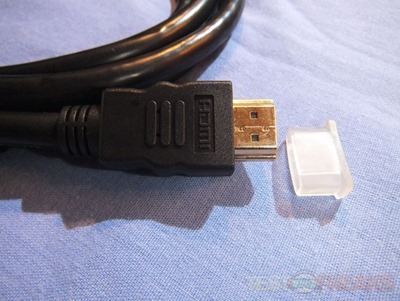 There is labeling on the side of the cable, a lot of it actually. It says: High Speed HDMI Cable with Ethernet E342987 RU AWM Style 20276 80c 30v vw-1  — RU AWM I/II A/B 80c 30v FT1.
So you're probably wondering what all that means and so was I so I looked it up and didn't find that much really. The only thing I really found is that a lot of cables come with those number on them. I did email the official HDMI spec organization with questions about what all that means, but I haven't heard back. When I do I will update this section with the information they provide, if any.
Curiously the cables don't actually say 1.4 on them as they are advertised as, not all cables do list the spec, but most I've seen do. The HDMI 1.4 spec came out in 2009 and it supports up to 4k resolution or Ultra HD as they call it now along with 3D content and this particular cable can also handle an Ethernet connection. The HDMI 1.4 spec also features Audio Return Channel. According to HDMI.org the Audio Return Channel is: "The Audio Return Channel in HDMI 1.4 enables a TV, via a single HDMI cable, to send audio data "upstream" to an A/V receiver or surround audio controller, increasing user flexibility and eliminating the need for any separate S/PDIF audio connection. TVs have always been able to receive multi-channel audio through an HDMI connection, and this is still a typical use-case, with the TV positioned "downstream" from content sources and any connected audio equipment. However, if a user had a TV with a built-in tuner or DVD player, and wanted to send content "upstream" from the TV back to the audio system, a separate connection had to be installed, typically an S/PDIF cable."
So basically I think the Audio Return Channel is most likely something the average consumer might not even use, but then again you never know as it all depends on your setup.
If you're interested in all this like I was and am, Audioholics has a nice in-depth article all about HDMI specs and features and what it all means to the consumer, you can find it HERE if you're interested.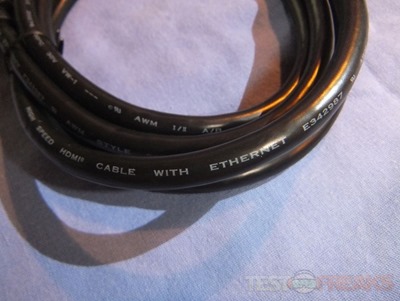 Below are two pictures of the Solid Cordz cable and three others I had just lying around not in use at the moment. The Solid Cordz cable is the one on the right sort of off by itself and it's a nice thick cable, comparable to the others and even thicker than one of them. I can't recall where I got the cables, I've gotten them from various sources of the years and they've come included with some of the things I've bought.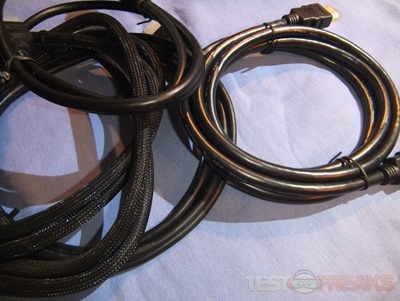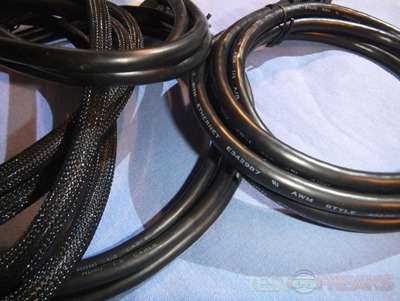 As far as testing these, I don't have access to some large lab with equipment, I'm just an average consumer but I can see the differences in picture quality. I use HDMI cables with my computer and my home theater with Xbox 360, PS3, blu-ray player and home theater system receiver, and I use them with some my other devices in the house so I do use a lot of them.
I used one with my computer and my main 27" 1080P monitor and one with my PS3. It gave me an excuse to pop in a blu-ray and watch a movie and play some games. I can honestly say I saw no real difference between what I was using previously and these cables from Solid Cordz. This isn't a bad thing of course, I wasn't expecting some miraculous difference when I changed the cables. What matters most is that the pictures didn't look worse, so the cables are fine.
Conclusion
The Solid Cordz HDMI cables are just what they seem to be, HDMI cables, plain and simple. When it comes to buying an HDMI you can't believe the hype honestly, there are companies out there that charge outrageous amounts of money for these supposedly miraculous HDMI cables, but in reality they're the same as a $15 cable which most people would consider 'cheap'.
What I look for in an HDMI cable is not only the specifications but the actual physical build quality of the cables themselves and the Solid Cordz cables are well made from what I can tell.
I've had HDMI connector housings break apart in my hands and that's not a good thing at all, you don't want that to happen and expose the wires and the connector, who knows what could happen with exposed wires. The Solid Cordz cables feature what appear to me to be a very solidly made connector that won't just fall apart from normal use. The one that I had break apart wasn't even used that much, you connect an HDMI cable and you're done and it just sits there doing it's thing never to be touched again most likely. I was moving some stuff around when the connector broke for me, just unplugging it and it fell apart, I was shocked frankly that this happened. So I do look for quality made cables because of my bad experience with one.
The Solid Cordz cables have gold plated connectors on them which is nice but it's debatable if it really matters all that much if it's a precious metal or not, but it can't hurt right?!
It might not mean much to some people but I do like the fact that they included protective covers over the HDMI connectors to protect them from dust and dirt and anything while the cables are not in use. Not all cables come with them, so it's a nice little attention to detail from SoIid Cordz.
In my limited testing, the cables perform fine as expected, I saw no difference using them as compared to the previous ones that I was using. Gaming, TV, HD movies all looked very clear and I saw no issues with picture quality.
The price is a bit questionable, in my opinion it might be a bit high especially if you consider all the options on the market today and the fact that basically all HDMI cables are the same regardless of the claims made by the companies that sell them. Yes the cables are well made, they are thick and they should be very durable but it's not like it's something that's going to get moved around a lot or bumped, it just sits there and does its thing, still I'd rather have a nice thick cable instead of thin one.
Overall I'd have to say the Solid Cordz HDMI cables are some of the nicest I've seen and they are 1.4 spec so they can handle 4K resolution, 3D content and even Ethernet over them so that's something to consider especially if you have a need for all of that.
Pros:
+Nice thick cables
+Comes with protective covers
+Excellent quality picture
Cons:
-$35 price tag might be considered a bit high when compared to others
| | |
| --- | --- |
| Grades: | 9 out of 10 |
| Overall | |
| Design / Aesthetic | |
| Value / Price | |
| Performance / Usage | |
To learn more about our review policy please visit this page HERE.