The apocalypse is coming, do you have the right tools? No I'm not some doomsayer or conspiracy nut but it's good to be prepared for everything I think. I always tell my kids you need the right tool for the job, whether it's removing a screw or bolt or cutting of a zombies head, you need to have the right tool for the job. One tool is good, but I prefer multi-tools, or tools that do can more than one thing or those that can cut down on your carry weight. If you're going camping, hiking or hunting you want to be as light as possible and that's where multi-tools come in handy. Who would want to carry an axe, a saw and a shovel when you can carry one thing that does all three, or one thing that does those three and more!?
To day for review I have the SportsTek Xplorer 10 in 1 Tactical Shovel and it's more simple that it sounds really, it's a multi-tool that can come in handy in many situations. The Xplorer is a shovel at its heart but it's meant to be portable and can fold up for storage and travel for hiking and camping. The Xplorer is very well made, the handle is a hollow tube that can be used for storage while the shovel part is also an axe and a saw, but it can do so much more. Read on…
Unboxing
Let's start off with a video unboxing and then continue on from there:
The packing for the Xplorer 10 in 1 is just a white box with a black picture on the front with just some basic info, the back has another picture and a UPC code.
When you open the box you'll be greeted with an instruction card of sorts, it's more of a feature list but there is some basic instructions on how to use the shovel. Under the card is the shovel itself with no protective packaging material, none is really needed though as it's a tough and rugged product to begin with and the box is thick and sturdy.
The shovel comes with a camouflage nylon protective sheath or cover over the blade which is secured in place by two velcro straps.
On the end you'll find a wrist wrap or strap, but to me it looks almost like a ribbon.
The end cap is solid metal and it screws off to reveal a magnesium bar for helping start fires in an emergency. The handle of the shovel is hollow so you can store things inside of it and there is a rubber washer on the end cap that helps keep the weather out. The magnesium bar is about one and half inches long and covered in black paint that will need to be scraped off first before you use it.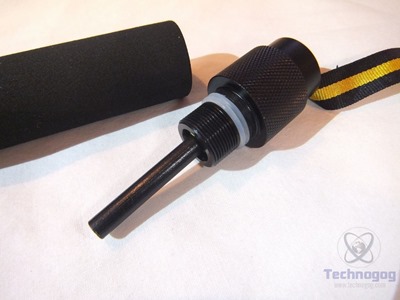 The Xplorer can do many things and if you don't look closely you'll miss them. The part that I call the head is the swivel point on the handle that allows you to move the shovel blade into three positions and lock it there. On the sides of the head piece you'll find two different sized hex holes that can be used to remove small bolts. On one side is also a wire cutter/stripper, you slide the wire in and then close the handle on it and pull, simple to use and handy for sure.
On the head piece is three metal tabs (for lack of a better word) that lock into a round washer on the shaft section of the shovel. The washer has two holes in it that correspond to the tabs on the head piece to securely lock it into place so you can use it.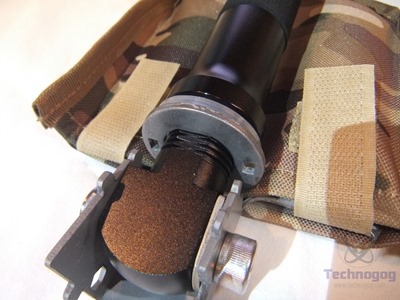 When you remove the sheath you'll find the shovel blade covered in plastic and covered in oil to protect the blade. The handle is covered in a foam padding for grip and comfort and it's a solid metal tube essentially.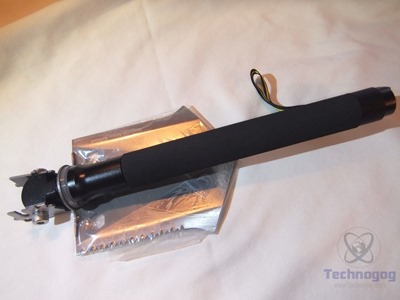 The blade has a sort of tribal etching on it along with the name of the shovel. There are two larger hex holes near the top of the shovel blade, these are for larger type bolts obviously.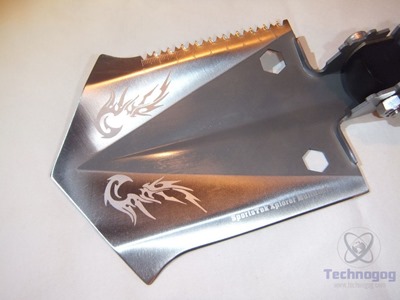 The blade is thick and it's made of a carbon steel and it should withstand years of use surely.
The left side of the blade has an axe edge to it and yes it's actually sharpened. This would be the axe side of the shovel as it's a multi-tool, was kind of self-explanatory when I said axe edge, but just making it's understood.
The right side of the blade is where the saw is and it's very sharp as well but under that is a small ruler etched into the blade that goes up to eight inches just like a ruler essentially.
To move or unlock the shovel blade you need to rotate the handle and slide the locking collar or washer down, move the blade into position, then slide the washer back over the tabs and tighten the handle up to the washer and it's locked into place. There are three positions it can be locked into, shovel, hoe or back to the original position for storage or traveling.
Specifications and Features
SportsTek Xplorer 10 in1 Tactical Shovel
Survival Shovel – SportsTek Xplorer 10 in1 Tactical Shovel – FREE Sheath/Sleeve Cover – Multi-function Capabilities – For Camping, Gardening, Hiking, Auto Emergency, Military, Self-Defense & More – High-Carbon Steel
SLAY THE ELEMENTS IN STYLE!
The explorer's rivalry with nature is as old as time. Throughout the centuries, explorers have faced seemingly insurmountable odds and emerged victorious. They have climbed the highest peaks, explored the darkest depths, weathered historic storms and survived.
Inspired by the military's rugged utility shovel, the SportsTek Xplorer was made for those who like to dance with adventure. When is a shovel more than a shovel? The SportsTek Xplorer symbolizes the strength and fearlessness required of explorers who don't blink when faced with a challenge. With the SportsTek Xplorer survival shovel at hand, you'll be ready for any of its many functions in only seconds. This isn't a flimsy shovel that folds under pressure either. The SportsTek Xplorer is built to provide reliable assistance during outdoor adventures and common daily home & garden chores. It won't quit until you do!
Crafted with a carbon steel head that's satin finished, this incredible multi-tool is a marvel at quickly slicing through almost anything–and it comes with a heavy-duty camouflage cover to protect your investment. In fact, the SportsTek Xplorer is so useful and versatile, you'll want to buy two—one for your car's road kit and one for your next climb up the Kilimanjaro.
You're certain to find a variety of situations in which you can use this sturdy and compact multi-functioning tool. The ultimate travel companion. Hold it once and you'll feel that it's not some hollow imitation. Our New SportsTek Xplorer will quickly become a go-to tool for every mission.
Why tote along 10 tools when you only need one? The SportsTek Xplorer simplifies your life without sacrificing productivity or performance. Don't wait for you next expedition to place your order. This is the best tool you will come to depend on year round!
MULTI-MISSION CAPABILITIES ARE: Shovel, Fire Starter with Magnesium Flint (located inside shaft), Hammer, Slice, Chop, Saw, Wire Cutter, Hoe, Emergency Auto Hammer, Measuring Tool and Axe – Makes it an ideal tool for: Camping, Hiking, Survival, Emergency Kits & Occasional Zombie Hunting
INNOVATIVE AND FUNCTIONAL DESIGN – "Slay the Elements in Style" – The 10-in-1 Shovel Tool Offers Multiple Options For Daily Use During ALL Seasons | You can even store small essentials like thread, matches, batteries, etc..inside the waterproof handle!
DURABLE AND STRONG – "Aerospace Standard" Multi-Position Aluminum Handle Features an Easy Grip Rubber Handle for Added Comfort. – Crafted with a Super Strong MPA 350 Tensile Strength Aluminum Shaft – FULL MONEY BACK SATISFACTION GUARANTEE – Try our SportsTek Xplorer for ONE YEAR. If during that time, you don't absolutely love our SportsTek Xplorer or feel that it's worth every cent of your investment, we'll give you your full payment back with no questions asked. That's how confident we are that you'll be happy and recommend our SportsTek Xplorer to your friends and family!
EASY TO USE: The Xplorer 10in1 is Light and Convenient to Carry – Fits Inside any Backpack or Tool Bag | Folds and Locks into Place in Three Directions – 30, 60, & 90 Degrees | Performs Manual Maintenance Tasks such as Digging, Hammering and Cutting wires. | It certainly comes in handy when you need to dig a latrine during a camp over, clearing away those Ice Dams from your gutters, removing snow from underneath your car's tires, or chopping up logs to keep the fire burning during a frosty cold night.
FREE BONUSES WITH PURCHASE: Includes a Camouflage Nylon Sheath to Protect Your Investment | EXTRA BONUS: FREE eBOOK – "SURVIVING THE WILD OUTDOORS" FREE WITH PURCHASE: Special Report Gives You All The Top Rated And Most Commonly Used Survival Skills That You Can Literally Use For Any Type Of Life Threatening Or Survival Situation! Survival skills is something that every person, young or old, should know and this special wilderness survival report will give you just that! – Emailed Instantly After It Is Shipped – So Order Now And Consider Getting Two…
Price: $59.97 (from Amazon at time of review)
The Review
The first thing I want to say about the Xplorer is that it feels quality made, it does have a nice weight to it but it's not overly heavy as to overburden you if you were to take it on a hike.
The second thing I want to say is that it's a tool and should be treated as such, it's not a toy, like all tools though you have good quality and bad quality. The Xplorer falls under the good quality category in my opinion. There aren't any unfinished edges on it or burrs in the metal sticking out or anything like that, but it's also not polished and pristine looking either. It's called a tactical shovel and it looks like one, it looks rugged and tough and militaristic as it were. I don't know about you but I don't particularly want my camping and hunting hiking equipment to have a mirror finish on it, or something that looks almost like a piece of art that I'd be afraid to use as I might damage it. I want my things that are supposed to be rugged to have a rugged look and feel to it and the Xplorer does. It's not perfect or pretty but it's not supposed to be, but you also won't find any real imperfections or burrs or unfinished edges on it either. It's a tactical shovel and it looks and feels like one.
The SportsTek Xplorer is a shovel first and foremost I think, maybe, it can do so many things, but, it is at its heart, a shovel.
The front of the shovel blade is angled and sharpened, it's not sharp like the axe side is, but it's sharp enough to easily dig into the earth.
For basic testing I dug a hole, can't get much more basic that that, and it worked fine. The shovel is small of course so it will require a bit of work as compared to a full-sized shovel would. I don't think you'd want to dig a grave or latrine with it, but for post holes and fire pits it would be the perfect tool. The shovel blade locks into place very securely, but you do need to make sure you lock it correctly and tightly. I first started digging and I noticed the shovel was moving a bit, I tightened up the handle and it was much better and more stable.
The blade has points that stick out on each side so it can be used as sort of a make shift pick to dig into the dirt to break it up to make easier to shovel.
The axe side of the shovel is fairly sharp and it can cut into wood with no problems and of course can be used as an axe if need be. The blade is more than sharp enough to cut branches off of trees in a swing or two or cut other branches into pieces for firewood or kindling. The blade can be used to chip pieces of bark off of a tree or to help strip leaves off or branches. You can use to for anything you might use an axe or hatchet for.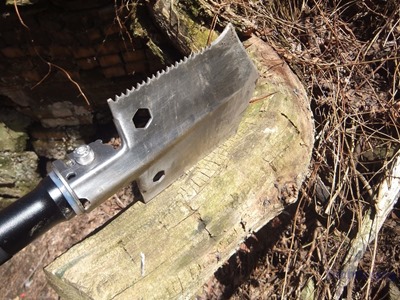 I had to test out the saw and it's sharp. I tried it out on an old tree that fell and in about 30 seconds of sawing I was easily able to cut about 1/4" deep. The blade is small so it take a lot of work, you won't be cutting down trees for sure, but it would be fine with small branches and other brush. I guess you could cut down a tree with it if you've got all day, but that's not what it's for. The blade can be used for cutting branches for making a fire for example if they're too long. The blade can also be used for cutting ropes and just about anything else you could think of.
I did test the magnesium bar that is in the handle. To use it you need to scrape off the black paint first and I used the blade of the shovel to do this and then use the blade to spark the bar as well. I got very large and bright sparks from it which were more than enough to get a fire started I would think.
Yes it's a survival shovel but it's almost the right size to use around the house for gardening as well. I plant flowers every year in the boxes on my porch and I mix fertilizer etc in with the dirt and re-mix it altogether and this year I used the Xplorer for doing this and it was easy. The blade is nice and large to move and turn the dirt around to mix the fertilizer in, but it's still small enough to get into a flower box or planter.
One last thing to note is that the blade cleans up easily, I just used a dry rag and wiped the dirt from it and the majority of it came right off.
Conclusion
The SportsTek Xplorer 10 in 1 is one of those things that I just think can be an invaluable tool even if you don't go camping and hiking. The Xplorer can be great just to use around the house for basic gardening or maybe keep in your car for an emergency.
The Xplorer is well made, much better than I expected honestly. The blade is a thick steel that's much more than a shovel, it can be used as axe or saw or loosen a bolt of two or even take some measurements for your next job. The entire Xplorer is nicely made and feels solid.
The handle has a magnesium bar inside of it to help you get a fire started but it's also hollow so you can store things inside of it. The handle of the Xplorer can be adjusted and locked into place depending on the job you're doing.
I like the Xplorer quite a bit but there is one small issue I have with it and that's the ribbon like wrist strap as it just doesn't fit in with the whole rugged and tactical look. Not only doesn't it match but I'm not quite sure it will hold up to any real lasting usage as it just seems too thin to me. Personally I would have went with maybe a couple pieces of paracord or even a braided style paracord loop, that would be more sturdy and just look better really.
Overall I like the Xplorer 10 in 1 tactical shovel a lot, it can be very useful for every type of situation from gardening and camping and hiking to cleaving zombie skulls once the dead start rising to devour the living. No matter what happens, you'll be prepared with the SportsTek Xplorer for whatever may come your way.
Pros:
+Tough and rugged
+Multiple uses
+Very well made
+Well worth the price
+Hollow handle for storage
+Sharp blade and sharp saw
+Magnesium bar in handle
Cons:
-Not sure about the ribbon like strap
| | |
| --- | --- |
| Grading | Scores Out of 10 |
| Overall | |
| Design / Aesthetic | |
| Value / Price | |
| Performance / Usage | |
To learn more about our review policy please visit this page HERE.