In the past we have reviewed several Synology NAS Servers coming away with positive impressions. Synology continues to innovate their products both on the hardware platform and software side. New hardware iterations add speed with significant performance gains while updates to their DiskStation Manager(DSM)continue to make their NAS servers more functional.
For today's review we will check out Synology's top of the line two bay network attached storage solution – the DiskStation DS712+. This machine features dual Gigabit LAN which provides read speeds of up to180.91MB/sec and writes at 105.59MB/sec when using Link Aggregation under RAID 0 configuration. This box uses a low power Intel Atom processor which makes the machine both powerful in its class and energy efficient; you can easily replace a PC sized server with a Synology NAS Server running on your home or work network.
Storage capacity tops out at 8 TB but these can be maxed out at 28 TB with the addition of the five bay Synology DX510 expansion enclosure.
For the business user the Synology DiskStation DS712+ offers iSCSI (Internet Small Computer System Interface) support and being Virtualization Ready for use with VMware, Hyper-V, and Citrix. Other useful business applications include – FTP, PHP/MySQL, AFP, File Station, NFS, and WebDAV. While these features may not interest the home user they can be immensely usefully for businesses.
DiskStation Manager has been updated to version 4.0 with a 4.1 Beta being tested as we speak. Currently available in DSM 4.0 is the ability to install and run apps using the package center, setup your own private "cloud", and set the drives to Synology Hybrid Raid (SHR) along with other features found in other high-end NAS servers.

The Synology DiskStation DS712+ arrives in a powder blue box with a carrying handle on top. The Synology logo is printed on the top left corner with the DiskStation name centered on front and backside of the package with five icons indicating some features of the DiskStation line.
On the sides of the box is an image of the unit above a list of hardware, applications, package contents and languages while the other side lists additional features found inside the Synology NAS.
Opening the box we find the Synology DiskStation DS712+ nestled between two protective foam inserts. Also housed in the package is the power cable, AC adapter, RJ-45 LAN cable, installation CD, Quick Start Guide, two drive lock keys and assembling kit.
Synology offers the DiskStation as a bare enclosure or with hard drives preinstalled. For this review Synology sent over the Synology DiskStation DS712+ with two 1 Terabyte drives. The max capacity for this unit is 8 TB, but if you purchase the Synology DX510 a five bay expansion unit, you can house 28 TB of storage on your server.
The DiskStation DS712+ comes in black having the same form factor as other Synology two drive NAS servers such as the DiskStation DS212.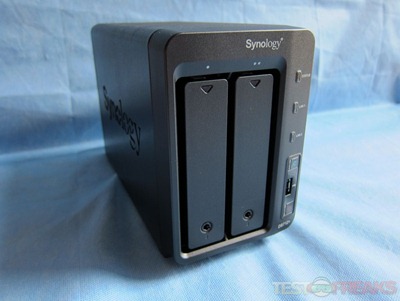 The device measures 157 X 103.5 X 232 mm and weighs 2.2 lbs. without hard drives installed. The DS712+ comes with an Intel Atom D425 single core processor clocked at 1.8GHz and 1 GB of DDR3 memory. This is one of the few Synology models to use an Intel processor which allows it to run additional packages not available on other Synology NAS Server models such as Plex Server.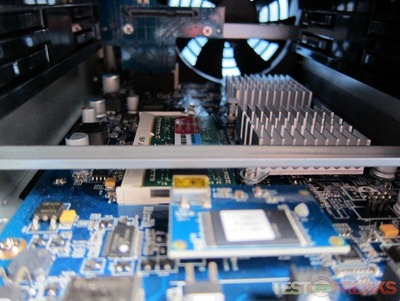 The case is composed of matte black metal with glossy black plastic panels on the front and rear. A Synology logo is printed on the top right and the model number is embossed on the lower right of the unit's face.
The two drive trays are located at the front of the unit and are composed primarily of plastic. Synology allows either 3.5" or 2.5" hard drives to be used in these drive bays. The trays lock into place using the included hex keys; be careful not to lose them, as you don't want to be locked out of the Synology DiskStation DS712+. Above each of these drives are single or double LEDs indicating drive activity.
On the right side of the front panel are the Power and USB Copy buttons surrounding a USB port and three LEDS – Lan 1, Lan 2 and Status. This front USB port makes backing up thumb drives as simple as pressing a button.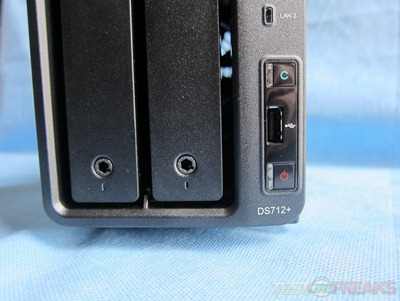 Both side panels have the Synology name etched into the metal with an underlying mesh to facilitate airflow through the DiskStation DS712+.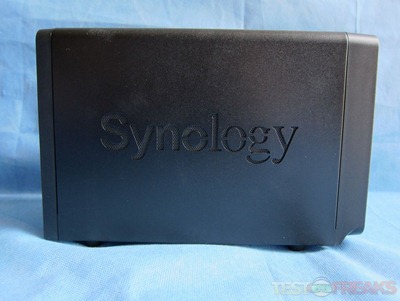 On backside of the Synology NAS we see the fan grate housing a 92 mm fan with a noise level of 19.2 dB(A), two USB 2.0 ports, dual Gigabit Ethernet ports, eSata port, reset switch, a Kensington lock port and AC input. Sadly the DiskStation DS712+ is missing the faster USB 3.0 port found in the DS212 model.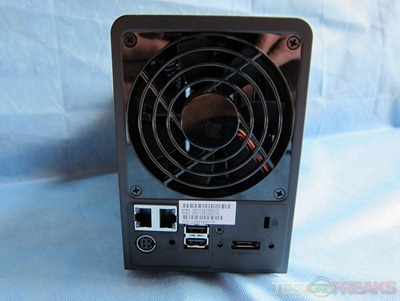 This eSATA port works with the expansion DX510 unit for those who want to really max out this NAS server. Seven total drives should be enough storage for most small to mid size businesses. Of course this addition also doubles the price of the unit as the DX510 retails for $499.
Opening the drive bays involve pulling the front handles upward which slides the hard drives out with the included racks. The included drives with this bundle are two Seagate Barracuda 1 TB drives.
On the bottom of the Synology DiskStation DS712+ are four rubber feet to keep the unit from sliding around.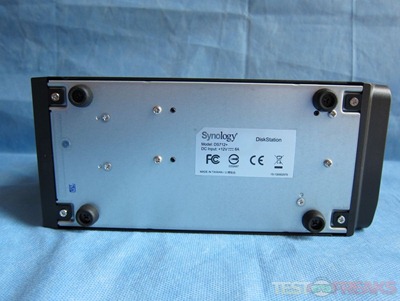 Specifications:

High-performance & Scalable 2-bay All-in-1 NAS Server for SMB Users
Synology DiskStation DS712+ offers a high-performance, scalable, and full-featured network attached storage solution that meets the needs of small and medium-sized businesses that require an efficient way to centralize data protection, simplify data management, and rapidly scale storage capacity with minimal time spent on setup and management. The Synology DS712+ is backed with Synology's 3-year limited warranty.
180.91MB/sec Reading, 105.59MB/sec Writing1
2 LAN with Failover and Link Aggregation Support
Small yet Scalable, up to 7 Drives with Synology DX5102
iSCSI Support as Virtualization Solution
Running on Synology DiskStation Manager (DSM)
High Performance, High Data Availability
With the Link Aggregation enabled, Synology DS712+ delivers an average 105.59MB/sec writing speed under RAID 1 configuration in a Windows environment, and 180.91MB/sec reading1. The 2 LAN with failover support and hot-swappable drives will ensure continual service uptime should the drives need replacement or the unexpected LAN failure. Businesses need a strong foundation to face mission-critical tasks so the Synology DS712+ delivers high-performance with high data availability ensuring access when it's needed.
Flexible RAID Management
The Synology Hybrid RAID (SHR) automatically builds an optimal RAID volume with data protection based on the hard drives installed, eliminating the need to have hard drives of identical size, while still offering a manual setup option for advanced users.
Multiple Volumes on RAID allows you to create more than one volume on a RAID structure, providing a flexible and efficient way to manage your storage across all available hard drives. When the need arises to expand the volumes, simply allocate more storage space on the UI, and DSM does the rest for you without any service disruption.
iSCSI and Virtualization Ready
With the iSCSI support in DSM, the Synology DS712+ provides a seamless storage solution for virtualization servers, such as VMware, Hyper-V, and Citrix. It is the ideal alternative to SAN solution for businesses. Affordable and cost-effective, iSCSI allows SMB users to consolidate storage into data center storage arrays while providing hosts with the illusion of locally-attached disks.
Small & Affordable Scalability Up to 28TB
When the storage capacity of the Synology DS712+ is nearing its capacity limit, it can easily be expanded with the Synology DX510 expansion enclosure. The Synology DX510 securely connects to the Synology DS712+ via an eSATA cable with specially-designed locking connectors. The Synology DX510 expands the existing storage on the Synology DS712+ up to a maximum 28TB capacity.
Full-featured Business Applications
The Synology DS712+ runs on the renowned operation system, Synology DSM, offering applications and features designed specifically for SMBs. Comprehensive network protocol support assures seamless file sharing across Windows, Mac, and Linux platforms. Windows ADS and LDAP integration allows the Synology DS712+ to quickly and easily fit in an existing business network environment with no need to recreate user accounts.
Directory Server package can turn DS712+ into an LDAP-based directory server within minutes. IT administrators can bind other DiskStations to the directory server. With the same batch of directory user account or directory groups, employees can access all the DiskStations within the service.
Windows ACL support on DS712+ provides much finer-grained access control and efficient privilege settings, allowing IT staffs to set up privileges to files and folders on DS712+ through their familiar Windows user interface. The privileges set on Windows ACL will be applied to all access entries, including AFP, FTP, File Station, NFS and WebDAV. The secure privilege offers IT staff peace of mind, no worries about any loopholes.
Internet file access is simplified with the included encrypted FTP server and the web-based file explorer, Synology File Station. HTTPS, the built-in firewall, and IP auto-block support ensure file sharing over the Internet is protected at a high security level.
A wealth of additional features allows the Synology DS712+ to replace several pieces of network hardware. Synology Web Station with support for PHP/MySQL content allows for the hosting of up to 30 websites on a single Synology DS712+. Synology Surveillance Station offers a centralized interface to safeguard the office environments by deploying IP cameras throughout the network. The built-in mail server turns a Synology DS712+ into a dedicated mail service provider and the USB printer sharing capability minimizes businesses' printing cost by sharing printing resources throughout the office.
Energy Efficient Design
Synology DiskStations are designed and developed with energy efficiency in mind. Compared with the average PC counterparts, the Synology DS712+ consume relatively low amount of power at 27.5 watts only in operation. The support of Wake on LAN/WAN and scheduled power on and off can further reduce power consumption and operation cost. HDD hibernation or Deep Sleep mode can be configured to take effect automatically when the system has been inactive for a specified period of time. This not only saves energy but also extends the lifespan of the hard disks.
All Synology products are produced with RoHS compliant parts and packed with recyclable packing materials. Synology acknowledges the responsibility as a global citizen to continually work to reduce the environmental impact of every product produced.
HARDWARE:
CPU Frequency : 1.8GHz
Floating Point
Memory : DDR3 1GB
Internal HDD/SSD : 3.5″ or 2.5″ SATA(II) X 2 (Hard drive not included)
Max Internal Capacity : 8TB (2X 4TB HDD) (Capacity may vary by RAID types) (See All Supported HDD)
Hot Swappable HDD
External HDD Interface : USB 2.0 Port X 3, eSATA Port X 1
Weight : 1.69Kg
LAN : Gigabit X2
Link Aggregation
Wake on LAN/WAN
System Fan : 92x92mm x1
Wireless Support
Noise Level : 19.2 dB(A)
Power Recovery
AC Input Power Voltage : 100V to 240V AC
Power Frequency : 50 / 60Hz, Single Phase
Power Consumption : 27.5W (Access) ; 17.6W (HDD Hibernation)
Operating Temperature : 5°C ~ 35°C (40°F ~ 95°F)
Storage Temperature : 15 to 155°F (-10 to 70°C)
Relative Humidity : 5% to 95% RH
Maximum Operating Altitude : 10,000 feet
Certification : FCC Class B, CE Class B, BSMI Class B
Warranty : 3 Years
Setting up the Synology DiskStation DS712+ involves installing hard drives into each of the trays if you purchase the bare unit; if choosing RAID 1 setup then you'll need matching drive models and capacities. Next plug one or two free LAN cables off your network (remember to use Cat 5e or Cat 6 for Gigabit transfer speeds), then plug the power cord into the unit and the other end to an AC outlet. Press the power button and load the Synology Assistant disc on a computer connected to the same network as the DiskStation.
The DiskStation should beep once it is finishes going through its boot process. From your desktop click the Synology Assistant icon to launch and detect the DiskStation. Once the NAS server is found, click on it to connect via a browser based interface.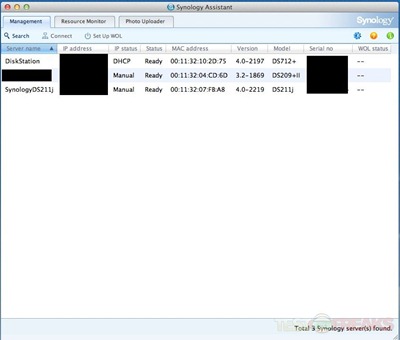 The initial log in screen uses admin with a blank space for the user and password fields. Of course you will change this shortly form the Control Panel under the User setting.
DiskStation Manager (DSM) is a GUI based environment that will look familiar to OS X and Windows users. Through this manager the user can control all aspects of the Synology DiskStation DS712+. Setup wizards help guide new users through the install process while more experienced users can dive right into the desktop interface.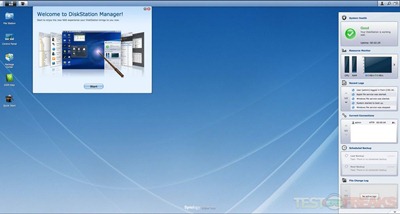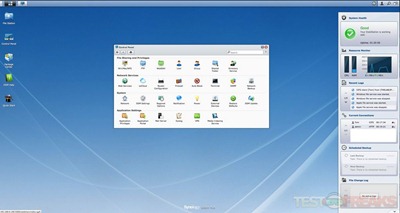 Setting up the hard drives will be the first task you will want to accomplish. Synology offers RAID 0, RAID 1, or SHR (Synology Hybrid RAID). The latter allows the use of mismatched hard drives. Synology even provides a calculator for determining the space available with any combination of drive capacities.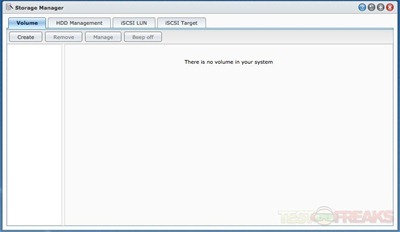 Once the drives are set up, you can add applications called packages to expand the capabilities of the Synology DiskStation DS712+. For the home user there is a Photo Station, iTunes Server, Media Server and Cloud Station among others. Business users you can add DHCP Server, VPN Server, and Directory Server among others. My personal favorite out of these packages is the Plex Media Server, which makes this NAS into a great media center server.
Other capabilities of the Synology DiskStation DS712+ include FTP, Bit Torrent capable downloader, Apple Time Machine compatibility and DNLA capability for serving media to various compatible media playing devices. Synology also offers several free iOS and Android apps for remotely accessing media on the DiskStation DS712+.
What separates the Synology DiskStation DS712+ from other NAS devices is the dual LAN capability, which allows Link Aggregation or dual network fallover. Link Aggregation allows advertised read speeds of 180.91MB/sec and105.59MB/sec writes. Setting this up occurs under the Network section in DSM and involves the creation a new network interface.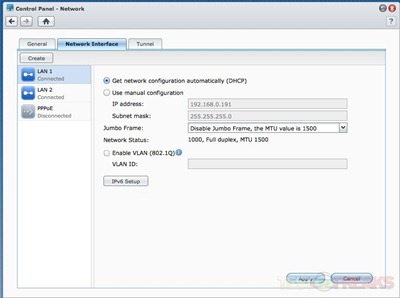 Unfortunately the switch I was using did not seem to be compatible with Dynamic Link Aggregation protocol. This was reflected in my testing when I tried using it during the benchmarks. I did get faster speeds than using a single Gigabit LAN but not the ones advertised.
For testing the DiskStation DS712+ was compared to a Synology DiskStation DS209+II (1.5 TB x 2) and DiskStation DS211j with (1 TB x 2). Both of these NAS devices were setup in RAID 1 and plugged into a Gigabit based network using Netgear WNDR3700 RangeMax Dual Band Wireless-N Gigabit Router with Cat 5e cabling.
Intel NASPT (Intel NAS Performance Toolkit) was used to benchmark these machines. The higher values indicated faster speeds. As expected in all the benchmarks the Synology DiskStation DS712+ came out well ahead of these other Synology models.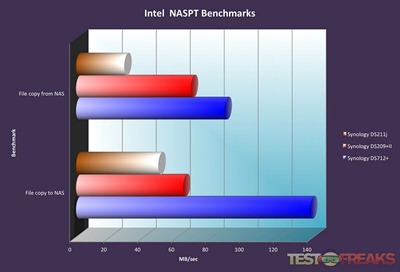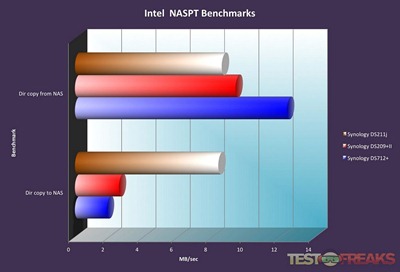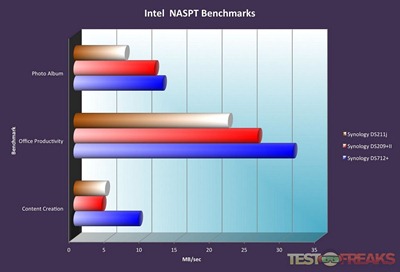 When running the DiskStation DS712+ with Link Aggregation in both RAID 0 and RAID 1 the speed was better toping out at 154.1 MB/sec but did not hit the advertised 180 MB/sec speeds. This is probably an issue with my network than the Synology device.
Overall the DiskStation DS712+ is the fastest NAS server that I reviewed. It was able to stream numerous formats and even transcode them. Even the system intensive MKV format is supported. Transferring files and folders seemed much faster than with the other networked connected devices.
Another added function is the Surveillance Station with the ability to handle up to 16 IP cameras. The one drawback is that only one free license is provided, others must be purchased.
Since the DiskStation DS712+ uses the low power Atom CPU it's power consumption is rated at 27.5W at peak access meaning this server will not have a negative impact on the user's energy bill.

Thumbnail gallery here

Conclusion:

The Synology DiskStation DS712+ is an excellent combination of performance and power. The addition of an Intel Atom CPU over the Marvell Kirkwood provides more processing power to this member of the Synology x12 series.
For new users setup wizards help keep things from being too intimidating. The OS like interface of DiskStation Manager also helps ease the transition to Synology's products. The DiskStation DS712+ works easily in both single OS X and Windows environments or in multiple operating system networks.
While it is one of the more expensive two bay Synology models its features make it a great investment especially for power users and businesses. For those worried about outgrowing this NAS the addition of the DX510 expansion bay makes it scalable.
The lack of a USB 3.0 port and inclusion of only a single IP camera license are the only negatives to this otherwise excellent NAS server.
Pros:
+Fast
+Simple setup
+Easy to use
+Energy efficient
+Works with all three major OSes
+Scalable
Cons:
-Lacks USB 3.0
-Only one IP camera license included
| | |
| --- | --- |
| Grades: | |
| Overall | |
| Design | |
| Performance | |
To learn more about our review policy please visit this page HERE.