Up for review today I've got a mini projector from a company called Tenker, it's the Q5 and it's an LCD projector that's rated at 1500 LUX and has connections for A/V, HDMI, microSD, VGA and USB so it has options for input for sure. It also has wireless functionality but you'll need to buy an optional dongle for that, but it's nice to know you have the option for it maybe in the future. The projector is 800×540 resolution but it still looks very crisp and clear even at 100 inches. Sound is very good as well thanks to the multiple speakers, it can get nice and loud and it's clear. All in all it's a decent sub-$100 projector for sure. Read on to learn more…
Specifications and Features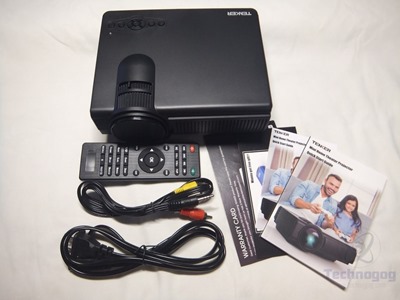 The remote control use 2 AAA batteries which aren't included. The remote is small at about 5.5 x 1.75 inches or 14 x 4.5cm. The remote has buttons for power, mute, forward, backward skip along with next and previous tracks. There are also controls for play/pause, volume and flip. There's a navigation dial with arrows for direction and OK in the center for selection. Around the dial is four more buttons for source, zoom, menu, and exit. At the bottom is an alpha-numeric keypad along with recall and favorite buttons.
On the front is the lens and the projector does have a built-in lens cover to protect the lens, it's attached with an elastic string.
The Tenker Q5 isn't really what I would call small, but it's smaller than most for sure. It measures about 7.75 x 6 x 3 inches or about 20 x 15 x 7 cm in dimensions. It's made of plastic and it feels heavier than it looks really, but seems well made. Right behind the lens, on the top, is two dials for focus and keystone. Towards the back is another basic set of controls for navigation and power along with the power LED.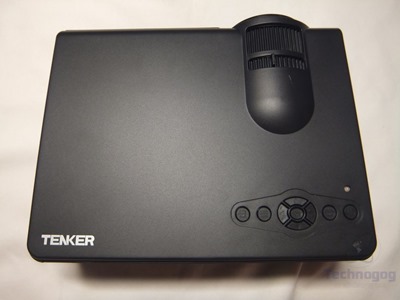 The left side, from the back view, is where all of the ports are. You'll find two 3.5mm jacks for headphones and the included A/V cable, then there's a microSD slot, HDMI port, USB port and a VGA connection.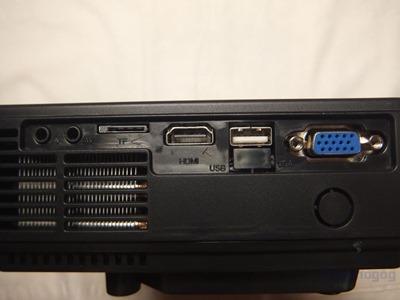 On the read of the projector is the infrared port for the remote control along with a speaker and vents to keep things cool. The right side has more vents and the power connection.
The bottom has rubber feet and another speaker.
When you first turn the projector on you're greeted with the main menu with options for photo, music, video and text. Yes it's basic but simpler is better I think.
There is a settings menu with choices for picture mode, color temperature, aspect ratio, noise reduction, sound mode, balance, surround mode, spdif mode, EQ, language, restore, rotate, osd duration and software update. There are also choices for what appear to be tuning for over the air channels, not sure why they're there at all.
I played both HD and SD video files through the projector, I used a USB flash drive as it was just easier that way and I wanted to make sure it worked correctly. The resolution is 800×540 and even up 100 inches on my screen it still looked very good and clear. I did have to adjust the focus and keystone of course but that was easy.
Sound is very clear and can get very loud.
The fan is a bit too loud for my tastes but if turn then volume up on the projector it will drown out the fan.
Conclusion
I have to say that for under $100 I'm rather impressed by the quality of the Tenker Q5, both the physical quality and the picture quality really.
The fan is a bit louder than I expected, the specs say it has reduced fan noise, but if that's reduced I'd hate to hear normal fan noise. You can turn the volume up and you won't hear the fan anymore though which works for me.
Pros:
+Simple to use
+Good picture in the dark
+Several connection options
+Decent sound actually
Cons:
-Fan is a bit too loud
| | |
| --- | --- |
| Grading | Scores Out of 10 |
| Overall | |
| Design / Aesthetic | |
| Value / Price | |
| Performance / Usage | |
Disclosure: This product was given to me for review by the company for review purposes only for free or at a discounted price.
To learn more about our review policy please visit this page HERE.