Hard drive enclosures can be play an important role in our computer centric lives, they're great for taking stuff with you. You can get them in big and small sizes and they certainly come in all shapes and designs. Today for review I've got the latest enclosure from Thermaltake called the Max5G that uses USB 3.0 so you get the best performance. The Max5G also features two 80mm cooling fans and it looks good too.

The Max5G comes in a nice looking box and it's packaged well.
When you get the enclosure unpacked you'll find the USB 3.0 cable, power supply, spacer and screwdriver. The spacers allow you to use 2.5" hard drives with the Max5G if you want. The USB 3.0 cable is thicker than I've seen, but it's a shielded cable so that's to be expected.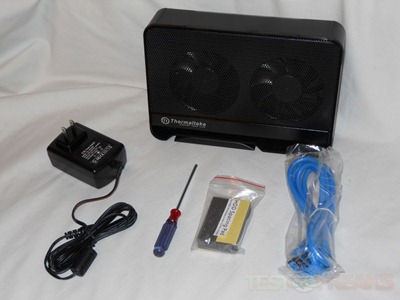 The Max 5G has two 80mm cooling fans and it's made from metal and plastic.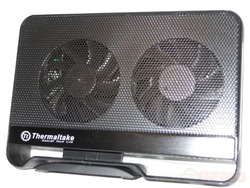 On the back you'll find the power switch, next to it is a sliding switch for the LEDs in the fans. Then you'll see the power connection and USB 3.0 connector.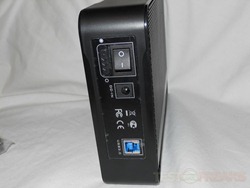 On the front is an LED light that lights up blue.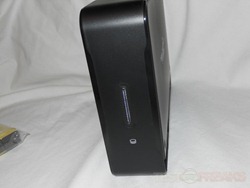 On the bottom is a stand that features a rotating section to help stable the enclosure if need be.
Specifications:
Features:
-Dual ultra-silent 80mm fans with blue LEDs ensure data integrity during file transferring between external hard disk and the host computer.
-Easily turn off blue LEDs with built-in switch on the back of the enclosure.
-Blazing file transfer speed utilizing the world's fastest SuperSpeed USB 3.0 transfer speed of up to 5Gbps.
-Backwards compatible with all USB 2.0 (up to 480 Mbps) and USB 1.1 hosts.
-Supports for all 3.5" SATA I, II, and 6G Hard Drives up to 2TB.
-Includes shielded USB 3.0 cable to ensure maximum transfer speed with minimum distortion.
-Integrated stand easily twists out for added overall enclosure stability.
Specs:
Enclosure Interface: USB 3.0
Transfer Rate: USB 3.0: up to 5Gbps
HDD Compatible: SATA I / II / III
HDD Capacity: ALL SATA Drives
OS Compatible: Windows 7 / Vista & Max 10.3 and up
Material: Steel Mesh & Ruggedized Plastic
Power: External Universal Switching Power Adapter
Dimension: 207 (L) x 145 (W) x 47 (H) mm / 8.14″ (L) x 5.7″ (W) x 1.85″ (H) in
Accessory
-Premium Shielded USB 3.0 Cable
-Power Adapter
-Hex Screwdriver
Fan:
Dimension: 80 x 80 x 15 mm (x2)
Current: 0.15A
Voltage: 12V
Speed: 800 RPM
Noise Output (free standing): 12 dBA
Weight: 530g
Special Features:
-Dual 80mm fans for accelerated heat dissipation
-LED On/Off switch
-USB 3.0 SuperSpeed for blazing-fast data transfer
-Integrated/retractable foot stand.

Remove the two screws with the included tool and you can install the hard drive. Inside you'll find the back of the fans and rails to put the drive on.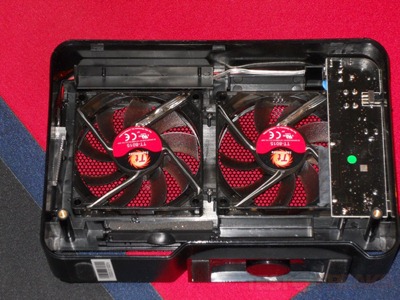 On one side is a movable lock, put the drive in and flip up the lock into the holes on the drive.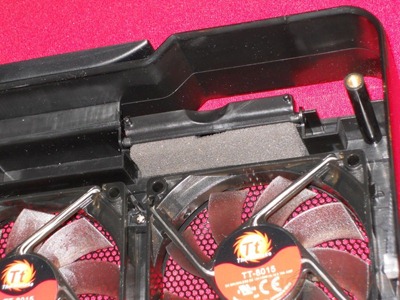 I used a Seagate 7200.12 1TB hard drive with the Thermaltake Max5G enclosure.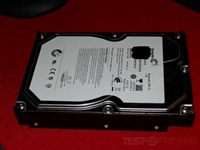 The dual 80mm fans when on are very quiet, silent in fact. You can use the switch to turn the blue LEDs on or off, though they look good so why would your turn them off.
On the front of the drive is another blue LED that is solid when powered on and blinks when there's hard drive activities.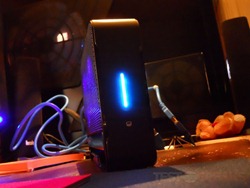 To use it I plugged it in and it installed in a few seconds with no issues.
To test it I ran ATTO on both USB 2.0 and USB 3.0 for comparison to see the speeds.
87mb/s Read and 92mb/s Write, not too bad. It is just a regular old hard drive after all, and not exactly a special one, but it works for my needs.
The fans do seem to keep the drive cool, cooler than compared the ones inside of my case.
Conclusion:
I like the new Thermaltake Max5G Enclosure, it's nicely designed and it's easy to use.
When you're looking for a portable enclosure you want ease of use and nice aesthetics, the Max5g has both and it performs well.
It's simple to get your drive inside of the Max5g with the help of the included tool, and once open the hard drive just sits in place no tools needed for that part of the installation.
Pros:
+Quiet
+Keeps drive cool
+Can use 2.5″ drives
+Quick
+Nice long power and USB cables
+Easy installation
Cons:
-None really
| | |
| --- | --- |
| Grades: | |
| Overall | |
| Design | |
| Performance | |
To learn more about our review policy please visit this page HERE.