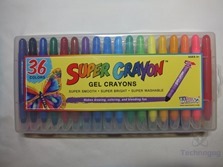 Up for review today I've got another set of art supplies from US Art Supply for coloring which adults or children can use. These are Super Crayons, which are gel crayons and I've found they can write on most any surface including skin. The crayons come in a clear plastic carrying case and there are 36 different colors included in the box for you. Read on to learn more…
Specifications and Features
The clear plastic box opens up to reveal two rows of crayons with 18 colors in each row, yes they're all different colors and not really in any order either that I can tell.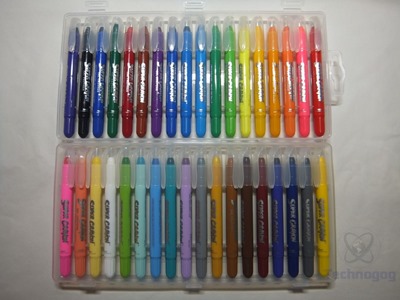 Each marker or crayon is about 5.25 inches long and it's about .5 inches in diameter. There is a cap on one end which covers the crayon tip and then the opposite end is labeled twist. The crayon is inside of the plastic pen barrel and as you use it you can twist the back to make more of the crayon come out to use.
The crayons will write on most anything including skin very easily. They're gel crayons so they're not hard like regular crayons, they're very soft actually. When you use these you won't push hard like crayons, you actually barely have to apply any pressure really.
Conclusion
The US Art Supply Super Crayons are an interesting product for sure, they're not crayons, they're gel crayons making them soft and able to write on most any surface.
The included carrying case is sturdy and it works well to hold all of the crayons in place while you're carrying them.
I can't find anything at all wrong with these, they work fine as they should. These crayons would be a great gift for children or adults.
Pros:
+Includes carrying case
+Write on most any surface
+Seem well made
Cons:
-None that I could find
| | |
| --- | --- |
| Grading | Scores Out of 10 |
| Overall | |
| Design / Aesthetic | |
| Value / Price | |
| Performance / Usage | |
Disclosure: This product was given to me for review by the company for review purposes only for free or at a discounted price.
To learn more about our review policy please visit this page HERE.