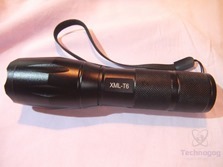 I've got another LED flashlight for review today from our friends over at EveryBuying and this light is an Ultrafire XML-T6 that features an adjustable focus along with a nice carrying case included. The light can be powered by three AAA batteries or you can use the 18650 rechargeable battery that they do include for you. Read on to learn more…

Specifications and Features
UltraFire 2000LM Cree XM L2 U2 5 Modes Water-resistant 18650 LED Flashlight Zoomable Torch
Brand: Ultrafire
Emitter Type: Cree XM-L2 U2
Total Emitter: 1 x Cree XM-L2 U2
Lumens: 2000Lm
Switch Type: Clicky
Battery Type: 18650, AAA
Battery Quantity: 1 x 18650 / 3 x AAA battery (included)
Mode: 5 (High > Mid > Low > Strobe > SOS)
Adjustable Focus: Yes
Waterproof: IPX-65 Standard Water Resistant
Product weight: 0.155 kg
Product size (L x W x H) : 14 x 5 x 5 cm / 5.50 x 1.97 x 1.97 inches
Price: $13.20
The Review
Let's start off with a video unboxing and then move on from there:
The Ultrafire flashlight came shipped in just a plastic bag with bubble wrap inside of it protecting the light and accessories. Once you get everything unpacked you'll find the flashlight, carrying case, charger, battery adapter and the 18650 rechargeable battery. The battery is 4200mAh in capacity so it should last a while.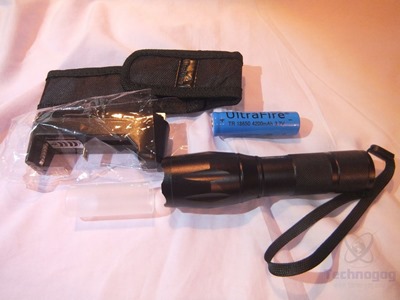 The light itself is 14 x 5 x 5 cm or 5.50 x 1.97 x 1.97 inches in dimensions and it's about 5.5 ounces without the battery in it. The light is IPX-65 certified meaning that it's water resistant and basically waterproof against rain but not submersible.
The light beam can be adjusted just by sliding the headpiece up and down from X1 to X2000. It moves fairly freely but you really can't do it with one hand while holding the flashlight with the same hand.
The front section or lens housing can be removed if need be and there you'll find the LED with a copper reflector which I don't think I've ever seen before. Most reflectors in flashlights are very shiny or chromed metal or plastic to help increase the brightness but I've never seen copper before.
On the back end of the light is the power button that clicks audibly when you push it. The flashlight has modes for high, medium and low along with strobe and SOS, yes the light actually blinks SOS in Morse code. I also found out that the switch doesn't have to be pushed all the way in to switch modes, it doesn't have to click, you can just push about half way and let go and it will switch modes. When you remove the tail section you'll find a battery adapter so you can use three AAA batteries instead of the 18650 that comes with it, so you have power options.
The charger is small and portable and features flip open power prongs to plug in. The charger is adjustable via spring mechanism so you can charge other batteries large and small with it, you just need to make sure the voltage and amps match the charger output. The charger has single LED on it that lights up red to indicate charging and then turns green when complete. Charging time varies as to how much of a charge is left on the battery of course, but it takes 2-3 hours from my times charging it. Battery life just depends on how much you use it, I used it every night multiple times when I took my dogs out for about two weeks before recharging it.
The carrying pouch is nylon and well made. It features a Velcro closure on the front and both Velcro and button on the back to make it easy to attach to your belt. I like this kind of strap because you don't have to take off your belt to put it on and you can easily attach it to other straps like a backpack or other bag that might not have removable straps.
The light fits fine inside of the case and should protect it well.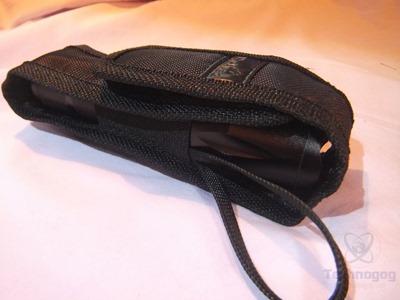 I just reviewed the HandAcc flashlight so here's a comparison between the two, they're both basically the same size but just designed very differently.
The HandAcc LED flashlight is rated at 500 Lumens and this Ultrafire is brighter yes, but not by much really, so it's not 2000 Lumens for sure. Still though the Ultrafire is very bright, bright enough for most any needs really.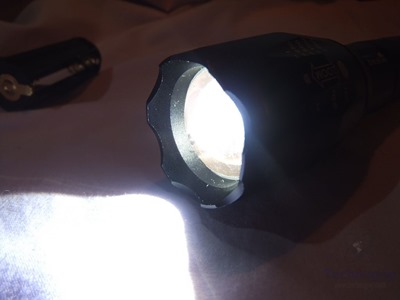 Conclusion
I like flashlights a lot, I've got a lot of them and the Ultrafire is a nice addition to my collection for sure.
This light is very well made, it seems rugged and durable, I would happily take it outside with me camping, hiking, in the rain or whatever and I'm sure it will work when I need it.
The included carrying case is nice, I like the fact that it has a snap fastener on the back to make it easier to take off or put on. The case should provide adequate protection for the light surely.
The light is adjustable but it's not very easy to do with one hand as you're holding the light, but that's not that big of an issue in my opinion. For the most part I don't really adjust the focus on my lights that often.
Yes it's not 2000 Lumens at all, but it still is very bright and more than bright enough to light the way anywhere you might have to go, be it just in your house or deep in the woods.
A flashlight helps you see in the dark, but what if you want to see what you're kids are doing online? Check out Snapchat Spy which helps you monitor all the messages on Snapchat so you know what's going on.
Pros:
+Well made
+Includes battery and charger
+Inexpensive
+Rugged, durable and water resistant
+Includes carrying case
Cons:
-Not 2000 Lumens at all
-Not easy to adjust with one hand
| | |
| --- | --- |
| Grading | Scores Out of 10 |
| Overall | |
| Design / Aesthetic | |
| Value / Price | |
| Performance / Usage | |
Disclosure: This product was given to us for review by the company for review purposes only, and is not considered by us as payment for the review.
To learn more about our review policy please visit this page HERE.