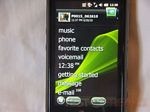 With the introduction of Android phones it seems they've been everywhere being reviewed, it's been a long time since I've taken a look at a Windows Mobile phone and I must say it's rather refreshing to get back to my roots as it were. I like Android, but I like WinMo as well kind of a toss up really…
Today for review I've got the LG Fathom for the Verizon wireless network. It's a nice smart phone that I've had to pleasure to test for the last week or so and I've come to like it quite a bit really. It's a Windows Mobile phone running a nice fast processor that can easily keep up with everything you're doing. Call quality is fine, and internet speeds are nice and fast. Overall it's not a bad phone but it just feels like it's missing something and I can't quite put my finger on it…

We'll start off with the unboxing video:
The LG Fathom is a world phone so inside the box you'll find the AC Adapter but you'll also find clip on adapters for other countries power standards. In the box you'll also find a USB cable, software disc, documentation and the phone of course.
The Fathom is a rather large and heavy phone, some people might not like that but I personally do.  On the back you'll find the camera and to the side of the camera is the stylus storage.
On the front of the phone is an interesting, almost wood grain texture. On the bottom below the screen you'll find three buttons for cal, end call and the Windows start button.
It's a slider phone that opens to reveal a full QWERTY keyboard and a directional pad. The keyboard though does seem a bit cramped, I think it would have been better without the directional pad as there would have been more room for the keyboard. As the keyboard is now it just feels a bit cramped.
On the top of the phone is the power/lock button, right side is the audio port, volume and UBS port with reset button. On the left side of the phone you'll find camera and task manager buttons along with the microSD card slot.
Opening the back you'll find the battery and a sim card.
Specifications:
Full Retail Price : $379.99
Price with 2yr contract : $249.99
Online Discount : -100.00
Your Price: $149.99
In today's 24/7, jet–setting business world, forget being chained to a desk, and get ready to meet the new productivity. Powerful Windows Mobile® puts your desktop in your pocket. Full QWERTY keyboard and touch screen optimize workflow. And with Wi–Fi®, USB, and global roaming, your office is open for business whenever and wherever you are. Upgrade to the stylish LG Fathom, and get ready to make the world your office.
DESIGN:
* 3.2″ WVGA touch screen display
* Slide–Out QWERTY Keyboard and Virtual QWERTY Keyboard
* Dedicated Task Manager Key — quickly access Task Manager at the touch of a button
Features:
-3.2″ WVGA touch screen display
-Slide–Out QWERTY Keyboard and Virtual QWERTY Keyboard
-Dedicated Task Manager Key — quickly access Task Manager at the touch of a button
-.2 Megapixel Autofocus Camera and Camcorder
-Camera Resolutions: 2048 x 1536, 1600 x 1200, 1024 x 768, 640 x 480, and 320 x 240 pixels
-Up to 16GB microSD optional removable memory
-Internet Explorer 6 Mobile
-GPS/E911
-Speakerphone
-3.5mm Headset Jack
-Embedded Ringtones, Vibrating Alerts & Silent
-Speed Dialing
-Meets FCC SAR limit. Manufacturer's highest FCC reported SAR .77 W/kg at ear, 1.15 W/kg on body. Actual SAR may vary.
SPECIFICATIONS
* Frequency: CDMA — 1.9 GHz CDMA PCS, 800 MHz (Digital Dual–Band); GSM/GPRS/EDGE — 850/900/1800/1900 MHz (Quad–Band)
* Data Transmission: EVDO Rev. A; UMTS/HSDPA up to 7.2 Mbps
* Memory (Flash/RAM): 512MB/256MB
* Dimensions: 4.53″ (H) x 2.20″ (W) x 0.65″ (D)
* Weight: 5.36 ounces
* Usage Time: Up 420 minutes OR
* Standby Time: Up to 475 hours
* SAR: Head: .77 W/kg; Body: 1.15 W/Kg
* Display: 262K Color TFT, 800 x 480 Pixels, 3.2″

The Fathom is running Windows Mobile and it's the basic regular interface and not some skin or UI like most other phones have these days, it's refreshing actually.
The Fathom is quick, the Ghz CPU does a great job at keeping up with everything you're doing. At one point while I was playing with the phone I hit the Task Manager button on the side and found I have about 13 things on that I hadn't even realized were on. There was no slow down of anything with all of that running it was just like I was running one program only.
The main screen can scroll up and down to make your selections and with things like pictures or even albums you'll get to see a preview.<
Speaking of albums there's Windows Media Player for all you multi-media needs: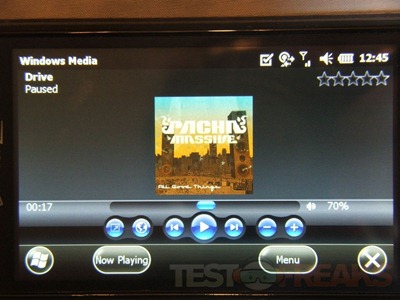 Here's the menus when you hit the windows key, or the start menu
The browser is nice, with finger navigation and a high level of zoom so you can read everything.
I mentioned the hardware keyboard earlier but you do have the option of the on-screen keyboard also.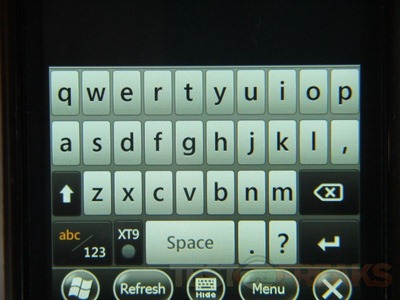 I'm not going into all of the stuff on the phone but here's a few things:
The dialer is nice and large and above it are you're recently dialed numbers, I blacked them out for privacy reasons of course.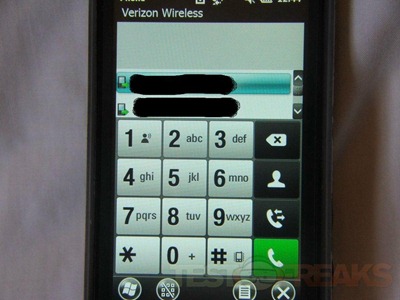 Call quality is very good, crystal clear no complaints there at all and I had no issues with reception either on the Verizon network. The speaker is not bad for listening to music, not great, but not bad either.
Well then let's take a look at the camera now.
Here's the main screen:
There's plenty of options on the LG Fathom, the settings menu is actually a dial, sort of what you might find on a regular digital camera. At least I think that's what they were trying to give the impression of.
The Fathom does have a Macro mode which is nice, but sadly there's no flash.
Here's a few close ups, they're not too bad.
The camera takes decent pictures actually and you really don't have to hold it that still either as you do with other phones. The photos above were taken indoors with regular lighting and the sun coming in, at least light form outside coming in if not the direct sun anyway.
Conclusion:
The Fathom isn't a bad phone at all, but with Window 7 phones right around the corner I've got to wonder why companies are not waiting and releasing these WinMo phones now. From what I read also this phone won't be able to be upgraded either…
The phone works well, it's fast and doesn't get bogged down when you're multi-tasking making it a great phone for business use.
The keyboard, for the most part is nice, but it's just a bit too cramped really. It could do without the directional pad, it is a touch screen phone after all, and then there would have been more space for a larger keyboard.
I still can't put my finger on it, but it feels there's just something missing from the LG Fathom, but overall it's not a bad phone despite that feeling.
Pros:
+Fast phone overall
+Takes decent pictures
+Solid, well-built phone
+Great call quality
Cons:
-Keyboard is cramped
-Phone is rather large and heavy, some might not like that
-No flash
| | |
| --- | --- |
| Grades: | |
| Overall | |
| Design | |
| Performance | |
To learn more about our review policy please visit this page HERE.