At the beginning of the month I posted my review of the Palm Pixi Plus from Verizon Wireless, today I have what you might call the big brother to that phone, the Palm Pre Plus. Overall the Pres Plus is a much better phone, it's bigger and it just feels easier to use. The Pre Plus is a slider with a full keyboard that's easy to use, the phone itself features a finger friendly navigation system that I quite like. So Read on to learn more…

We'll start off here with the unboxing video:
Then we've got a bunch of pictures of the phone:
The Pre Plus comes with charger, USB sync/charge cable, headphones and cloth carrying pouch along with literature
The Palm Pre Plus itself is nicely made, it's a small slider but it's got some weight to it which I like personally. The keyboard seems bigger than that on the Palm Pixi Plus that I reviewed not long ago, the button seem farther apart and a bit bigger.
When you slide the phone open, on the back you'll find a mirror for self portraits or whatever fixing your hair or makeup, whatever the case may be.
Specifications:
2-yr Contract Price: $249.99
Online Discount: -100.00
Your Price: $149.99
Full–featured for the full–on life.
Vivid touchscreen and slide–out keyboard in one beautiful package.
The Palm Pre Plus phone helps you navigate your life with an advanced touchscreen, full keyboard, and the intuitive Palm webOS™ that keeps multiple apps open at once. View websites and watch videos in widescreen. Slide out the keyboard to fire off a text or email. Bring work and personal events or contacts together into one simple view. All in an elegant design that fits perfectly in your hand, and your life.
All Windows Mobile, Palm, BlackBerry and Android Smartphones require a data feature of $29.99 or higher or a data plan.
Features:
* Palm webOS™ platform
* Touch screen with slide out QWERTY keyboard
* Wi–Fi Ready (802.11 b/g)
* 3G Mobile Hot Spot Capable
* HTML Web Browser
* Palm Synergy™ –See contacts, calendars, or conversations from multiple sources in one view
* Memory: 16GB Flash/512 RAM
* Bluetooth® Wireless Technology–(V 2.1+EDR)
* Music Player for MP3, AAC, AAC+, WAV, AMR, QCELP
* Gesture area –enables simple, intuitive gestures for navigation
General Information:
* Display: 3.1″(HVGA 480 x 320), 24 bit TFT
* CDMA 1x EVDO Rev A: 800/1900mHz
* Hearing Aid Compatibility = M4
* SAR Information: 0.919 W/1Kg at Ear; 0.936 W/1Kg on Body
* Battery Usage: Up to 330 minutes talk time / Up to 350 hours standby
* Dimensions: 3.9″ (H) x 2.3″ x (W) x 0.67″ (D)
* Weight: 4.89 oz.
Here's the Pixi and the Pre together for comparison:
I like the Pre Plus much better, it's a heavier phone and larger phone when slid open. I like a phone with a bit of weight and body to it. The keyboard does light up when you open the phone.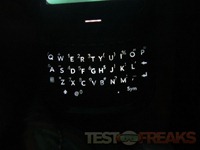 I love the interface of the Palm Pre Plus, it's very easy to use, I found myself easily navigating it with one finger. I did find though that at times the interface would appear sluggish for no reason. One time I'd open something and it would open right up and other times that same thing would take a few seconds.
The dialer is nice and large making it easy to make calls.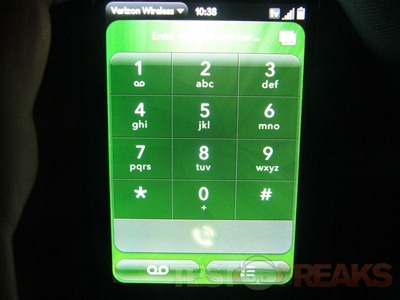 The Pres Plus is a phone that can multi-task, you can minimize things and they'll appear side by side, then you can scroll between them.
Configuring and accessing my email was easy, you can add several account and monitor them which is nice.
Web browsing was fairly fast on the Verizon network, I'm in Pittsburgh PA, so your speeds and experience will vary. The browser will automatically change when you rotate the phone and you can zoom, navigate etc like most other mobile browsers.
My call quality was good here in Pittsburgh, calls were clear and I always seemed to have a good signal.
Using the Bluetooth was easy as well, I hooked up a few things to my phone via Bluetooth and they all worked fine.
When I reviewed the Palm Pixi Plus I mentioned that the screen just shuts off for no reason at times, the same go for the Pre Plus, but I also ran across time where the phone itself would just restart as well.
The display of the Pre Plus is nice and colorful. Pictures look very good. It is a touch screen and it works well, it's nice and responsive for the most part. The screen is plastic and not glass so it's not quite a smooth as I'm accustomed to though, there is a big difference between plastic and glass when it comes to a touch screen.
Speaking of pictures, taking them with the Pre Plus results in mediocre quality pictures. It's a fixed focus camera, so no marcro and really no adjustments for the camera at all. Colors seem to be dull and a bit washed out really. Close ups really don't work at all. The first two pictures below were taken outside in natural sunlight and they look decent. The rest of them were taken indoors in bright light, window blinds open, overhead light on, with the flash and without.
Conclusion:
The Palm Pre Plus is a very nice phone overall, I like it much better than the Palm Pixi Plus honestly, but I prefer a phone with a bit more heft to it.
The Pre Plus is easy to use and fun really, call quality is very good as is most everything about the phone.
Pros:
+Nicely made overall
+Finger friendly interface
+Decent call quality
+Easy to use
+Wifi, Bluetooth, Wireless internet etc work well
Cons:
-Pictures not good indoors
-Phone just shuts off at times for no apparent reason
-Interface sometimes slows
| | |
| --- | --- |
| Grades: | |
| Overall | |
| Design | |
| Performance | |
This product was given to technogog for review by the company for review purposes only, and is not considered by us as payment for the review, we do not, and never will, accept payment from companies to review their products. To learn more about our review policy please visit this page HERE.