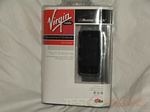 Today for review I've got the LG Rumor Touch on the Virgin Mobile network, which is a subsidiary of Sprint. The Rumor Touch can be considered a smartphone, but it's really not in that it doesn't have Android or WinMo on it, or really any real operating system like one would expect on a smartphone. It's on Sprint so I expected decent call quality, I've used Sprint before and it was fine but I has issues here with the Rumor Touch, so it has to be the phone and not the network. It's a touchscreen phone as you might expect by the name, but I found it to be very frustrating to use, it's not very responsive at all honestly, I found myself touching the screen many times to get something to happen or I'd try and do something and something that I didn't want to happen would. Overall I don't like this phone..

Let's start off with the unboxing video:
Included with the phone is a headset and USB cable, and power supply, along with documentation of course.
The LG Rumor Touch does feature a full keyboard with dedicated number line, why can't all smartphones have the full number line?
It's a smartphone so it's big and heavy, but personally I like that, so it's not a big deal to me.
Below the screen are three buttons for back, home and call, on the back you'll find the speaker and camera but no flash.
Here's a few more views of the phone, on the sides you'll find USB and  microSD ports, along with buttons for volume, camera and power.
Pop the back off and you'll find a battery as expected: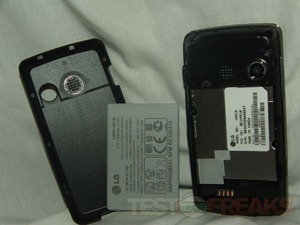 Specifications:
LG LN510
3″ Touch Screen, Full QWERTY Keyboard, 2 Megapixel Camera & Camcorder
The brand new LG Rumor Touch is the latest evolution of the hand held QWERTY device. Its Stylish QWERTY Keyboard with Dedicated Emoticon Key comes in three awesome colors that match any fashion sense. Pick up the new LG Rumor Touch and experience the vibrant 3″ inch touchscreen and record up to 2 hrs. of video that you can share with your friends.
Specs:
Form Factor: Slide
Camera: 2.0 Megapixel Camera and Camcorder
Music Player: Music Player (supports MP3, AAC, AAC+, & MP4A)
Qwerty: Full QWERTY Keyboard with Dedicated Emoticon Key
Touch Screen: Large 3" Touch Screen
Speaker Phone: One-Touch Speakerphone
Bluetooth: Version: 2.1 + EDR (Enhanced Data Rate)
Web: Mobile Web
Technology: CDMA
Frequency: 1.9 GHz CMDA PCS, 800 MHz CDMA (Digital Dual-Band)
DataTransmission: EVDO Rev. 0
Dimensions: 4.2″(H) x 2.2″(W) x 0.6″(D)
Weight: 4.7 oz.
Display: 262K Color TFT, 400 x 240 Pixels, 3.00″ (Resistive Touch)
Battery: 1250 mAh Li-Polymer
UsageTime: Up to 7 Hours
StandbyTime: Up to 180 Hours
Price: $149.99

Quickly here, the keyboard does light up nicely so it can be used in the dark.
The dialer is not the full screen, but it is usable just fine.
As far as call quality is concerned, that's hit or miss. I found I had a strong signal all of the time, but I found my calls went from clear to having static in them at times. I've used the Sprint network with no issues before, so this leads me to believe it's the phone itself where the problem lies. When there's no static though, quality seems decent.
The screen is very glossy and in direct sunlight it's virtually unusable and even not in direct sunlight there's a lot of glare on it.
Speaking of the screen, the colors seem nice and bright but it's not exactly clear or smooth looking in terms of text and graphics things are a bit pixellated making everything just look a bit fuzzy.
Here's the menus, and this phone really struck me as being just bland, and not that exciting really.
The touchscreen itself is just not that responsive most of the time and other times it seems like it's too responsive. The LG Rumor Touch has the familiar 'slide to unlock' and I found myself sliding four or five times to get the phone unlocked, it's just very frustrating. The menus are are laid out so you have to scroll up and down to find what you want to do, so you'll try and scroll and nothing will happen, then you'll push a little harder thinking that might help, but no it'll select what you touched and it will open making you have to hit the back button and start over again. Then you'll find on some things, like the web browser you can't use the hardware back button to exit, a pop-up appears when you press back and you have to make a selection. It's just a very frustrating and non-intuitive phone overall.
Since I mentioned web browsing, let's take a look at that:
Websites do not render correctly, unless it's the mobile version of course. Load time is dependent on the site of course, but it seems to take a long time no matter what and it frequently just stops and you're left wondering what's going on?! If you want to browse the web you'll need to find a better web browser, I've read that people have installed Opera and it worked very well.
A good thing about this phone is that battery life seems very good, I got the rated times with no problems.
So let's take a look at the camera.  The camera on the LG Rumor Touch actually seems like it should be a decent one, there's a lot of options you can change and even cute little frames are included, but I found it to be pretty bad overall.
Here's the camera and the settings:
Here's a few of those frames, they're cute but to me they're useless..
Now here's a few pictures taken indoors with a lot of light, lights on, windows open, bright sunlight shining in:
Color reproduction doesn't seem to bad really, but you've got to hold the phone very still to take a clear picture. I took a lot more pictures than what I posted, they were just a blurry mess, those above are the best of the bunch and that's not saying much at all.
Conclusion:
The LG Rumor Touch is just a very underwhelming phone overall, it's a phone that I would not be happy with at all if I was to own it. The screen is big yes, but the interface and responsiveness of the touchscreen are just not that good. The interface is just not very finger friendly, and the responsiveness of the screen isn't that great either. It's a phone that wants to be smart, but just isn't really.
Call quality and picture quality are mediocre at best, and I know it's not the network, so it has to be the phone where the call quality issue is.
Bottom line here is that I've used a lot of phones, and I like touchscreen phones and this one just seems to have a very high learning curve. I did read around a bit and many people actually like this phone a lot. Maybe if I had a lot more time to spend with it, then I might get accustomed to the interface and the screen, but I shouldn't have to do that, any phone like this should be easy to use.
Pros:
+Nice, well made phone
+Full keyboard
+Decent battery life
Cons:
-Poor picture quality
-Very glossy screen, not good in bright light
-Interface is no finger-friendly
-Call quality was spotty
-Fairly frustrating experience navigating the phone
-Touchscreen isn't as responsive as it should be
| | |
| --- | --- |
| Grades: | |
| Overall | |
| Design | |
| Performance | |
To learn more about our review policy please visit this page HERE.