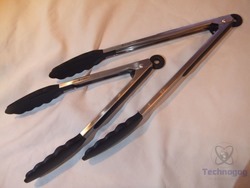 So we're back in the kitchen for another review today of the Vivree kitchen tongs set. This is a set of two different sized tongs at nine inches and twelve inches and they have push/pull style locks on the end for storage. These tongs are very well made of stainless steel and are heat resistant up to 480F so you can even use them for grilling if you wanted to. I've been using both pairs for a few days now and I like them very much, read on to learn more…

Specifications and Features
Vivree Kitchen Tongs Set – Salad & Grill Stainless Steel Serving Tongs with Silicone Tips – 9″&12″ (Black)
Vivree Kitchen Tongs Set – Salad and Grill Stainless Steel Serving Tongs with Silicone Tips have heat-resistant silicone heads that won't scratch nonstick cookware. An innovative automatic locking mechanism allows for easy one-handed use. Crafted of heavy-gauge stainless steel with silicone tips and silicone grips – 1-1/2 inches wide with scalloped edges, these provide a firmer grip so you don't drop anything, making them essential for anything that can't be easily removed from a pot, pan or the grill with either a spatula or spoon. Heat resistant to 480°F so they won't melt or char as you cook. This means your food will always be free from plastic smell or taste from your turner tongs. Scalloped heads handle foods delicately without piercing them. Firm spring action provides exceptional control, so you can pick up one pea or flip a 2-lb. Steak. Perfect for pots and pans that are Non-Stick coated, which means being very careful when using metal tongs as you don't want to scratch the surface. These tongs have a grip-able surface and they don't slip out of your hand even if they are greasy. Locking handles for compact storage – Automatic lock opens when you point the tongs down and give them a little squeeze, and closes when they're pointed up so they're easy to handle and store in your drawer or hanging on the wall. "Dishwasher safe" makes clean-up much easier.
Premium Tuner Tongs – These High Quality Turner Tongs with 100% FDA grade BPA free silicone tips provide greater safety and protect you against contaminating foods. Ideal Kitchen Tongs for a variety of foods, including serving and cooking foods such as salad, grilled foods, pastas, fruits and much more.
Equipped with a new Pull-Ring technology keeping them from opening and closing at the wrong time facilitating control while using them making them easy to use and allowing storage with other Kitchen utensils.
Heat Resistant and Non-Removable Silicone Tips – Superior Quality Silicone Tongs are completely heat resistant to 480ºF, giving you peace of mind that the silicone will not melt and contaminate the food.
403 Stainless Steel Handles – Ergonomic Handles with soft pads allow safe handling of food without the risk of them bending, breaking or rusting. Dishwasher safe facilitating your day-to-day to give you easy cleaning.
100% Guarantee – If you have any problems FOR THE LIFETIME OF THE PRODUCT, we will refund your order in full PLUS supply a new item.
Price: $14.95 (from Amazon at time of review)
The Review
Let's start with a video unboxing and then continue on from there:
The Vivree kitchen tongs ship in an nice looking box and inside you'll find the tongs individually wrapped in plastic and secured with a twist style tie.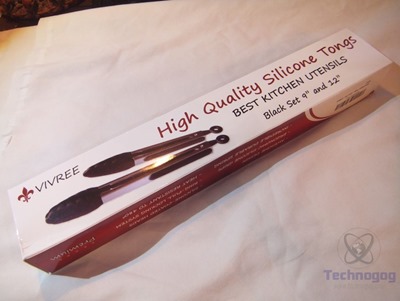 The tongs are 9" and 12" long each and they're made of stainless steel and overall they feel very well made and sturdy. They are dishwasher safe so you can just toss them in when you're done using them to keep them clean.
On the end of both pairs of tongs you'll find a small rubber circle attached to a piece of metal which slides in and out of the tongs to lock and unlock them open or closed for storage. I have another pair of tongs that I use which have a sliding ring on them that locks them in place and the ring slides freely and always seem to lock them closed when I don't want them to, this locking system on the Vivree tongs is much superior to the ring for sure.
The tongs have a section of rubber grip on both of them to make sure you don't drop anything.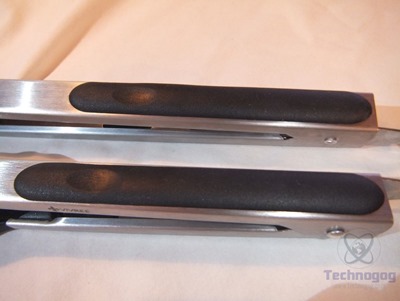 On the ends of the tongs you'll find non-removable silicone tips which are heat resistant up to 480F so you can use them for virtually anything including grilling and barbecuing without fear of the tips melting. They are silicone but they are stiff and they do a good job of gripping and holding food. I've been using them for cooking for several days now and I like them very much.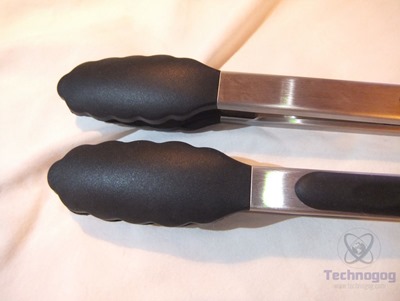 Conclusion
The Vivree Kitchen Tongs are very well made of stainless steel and I think the3y are a must have accessory for the kitchen.  Tongs are probably the second most used item in my kitchen next to my knives so having a good pair is essential and these are very good.
The tongs are heat resistant and dishwasher safe.
I love the pull ring locking mechanism, it works very well and it's simple to use and much better than the sliding ring style lock that many tongs come with.
Overall I like these tongs very much and will happily continue to use them for cooking.
These are inexpensive when you consider what you get, and they should last a long time.
Pros:
+Stainless steel
+Great locking mechanism
+Inexpensive
+Heat resistant
+Very well made
Cons:
-None that I could find
| | |
| --- | --- |
| Grading | Scores Out of 10 |
| Overall | |
| Design / Aesthetic | |
| Value / Price | |
| Performance / Usage | |
Disclosure: This product was given to us for review by the company for review purposes only, and is not considered by us as payment for the review.
To learn more about our review policy please visit this page HERE.