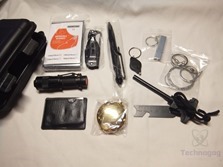 Camping, hiking, fishing, hunting, driving or just lounging around the house, you never know when an emergency will come up so I like to be prepared. Up for review today I've got the Wild Frontier survival kit and it has ten useful items to have in case of emergency. Read on to learn more…

Specifications and Features
The white that's included is very loud, it's a solid piece of aluminum and it has two sides to it making it much louder. It's very well made, solid and sturdy and it has a key ring on it.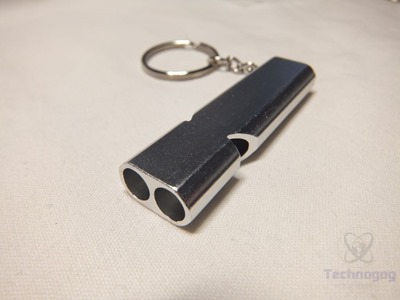 There a wire saw included which feels heavy duty, it's about 28 inches long with thick rings on the ends. The wire itself is twisted and braided with what looks like tiny teeth on it so it should cut better than a regular wire saw would.
The LED flashlight is the common style these days, it uses a single AA battery and can be adjusted from spot to flood by sliding the front section forward and back. It has a tail switch and the light has modes for high, low and strobe by pushing the button.
A credit card sized multi-tool is included which is sort of a survival kit all in one really. It has a can opener, knife, screwdriver, ruler, bottle opener, four position wrench, butterfly wrench, saw, direction indicator, two position wrench and then there's a hole for a lanyard or key ring.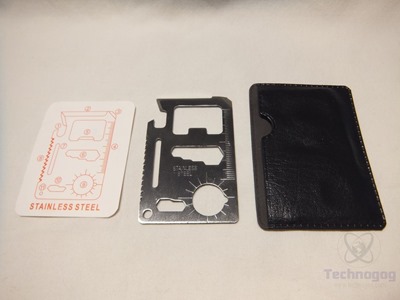 The included knife is actually neat, the lock for the blade is the clip on the back. The knife all made of metal and it does have a clip on the back to attach to your belt or backpack.
The flint steel or magnesium bar has a nice large handle on it for easier use and it produces nice large sparks. The scraper for the flint has a ruler on it and a bottle opener and it's attached to the bar handle with a nylon strap so you can use it and not lose it.
GPS won't always work in the event of a disaster or dead battery so a compass can come in handy. The included compass looks very nice with its brass housing. The outer ring, tip of arrow, and center point all glow in the dark so you can even use it in the dark. It seems well made and it seems to work just fine, it points North.
My favorite part of this kit is the pen, yes it writes fine but it's also a glass breaker and it can be as a weapon for self defense. The pen is heavy and it's well made of solid metal with a good grip on it and a clip for your pocket. You can unscrew the pen and replace the ink as well.
Included in this kit is an emergency blanket as well, it's a common product but one that will work well in an emergency for sure. The blanket is 130cm x 210cm or about 51 x 86 inches which should be fine for an adult.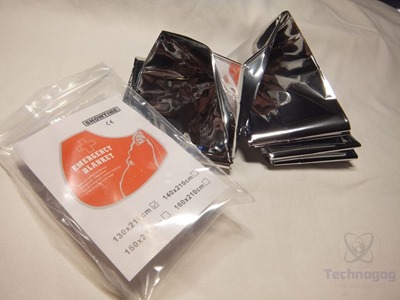 The last thing included is a small keychain flashlight with a single LED on it but sadly it doesn't work, it arrived non-functional.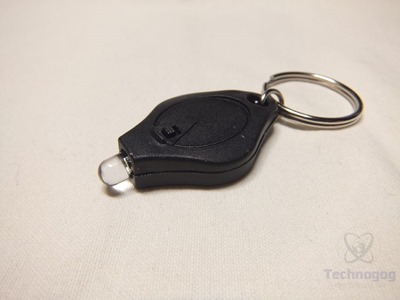 Conclusion
The Wild Frontier survival kit is great product to have around the house or in your car for emergencies, and it also be great to take hiking, camping or hunting.
There's plenty of useful items inside of the waterproof padded box that the kit comes in, items that can surely come in handy in an emergency.
This kit would make a great gift for the outdoorsman in your life or just something to keep in your car for emergencies.

Pros:
+Lots of useful things included
+Carry box to hold everything
+Numerous uses
Cons:
-Mini flashlight dead on arrival
| | |
| --- | --- |
| Grading | Scores Out of 10 |
| Overall | |
| Design / Aesthetic | |
| Value / Price | |
| Performance / Usage | |
Disclosure: This product was given to me for review by the company for review purposes only for free or at a discounted price.
To learn more about our review policy please visit this page HERE.