Have you ever wished you could use the same headphones or earbuds for everything like your PC, MP3 player and gaming console? I don't know about you but I find it annoying that we have to buy separate headsets for everything we have. A little company called Xjacker feels the same way I do and they've sent me over the Soniq Rush 2.0 Gaming Amplifier Kit for the Xbox 360. This product allows you to use virtually any headphones or earbuds with your Xbox 360 so you won't need to buy a separate set just for your Xbox. This kit is also an amplifier like the name says and it allows you to adjust the volume and bass in your game right on the amplifier. So read on to learn more…

The Xjacker Soniq Rush 2.0 comes in a Xbox 360 color themed box with information on it for you to read.
Unpacking everything you'll find a quick start guide, two long audio cable, one USB cable, the amplifier and two audio adapters.
The main cable that gets the audio from your Xbox 360 to your headphones features two RCA pass-through jacks and a 3.5mm audio jack. This cable is ten feet in length.
The second cable is the one that connects to the amplifier and then to your headphones, it has male and female 3.5mm audio connections on it and it's six feet in length.
The USB cable is short and has a regular USB connection on one end and a mini-USB connector on the other.
The other two cables included are a 'Y' style cable for headset that have only one 3.5mm jack, it splits the audio and microphone connections for you. The other cable can connect to the Xbox 360 controller so you can chat while playing.
Here's the Soniq Rush 2.0 or amplifier itself. It's semi-transparent and made of plastic, it has the Xjacker logo on the front and some info on the back. (I used the bright flash for some of the pics below to show you the transparency of it.)
On the bottom edge of the amplifier you'll find two knobs, one for volume and one for bass. To the far right is the audio input jack.
On the top edge is the USB connection for power.
Then on the left end if the output jack that would go to your headphones.
Specifications: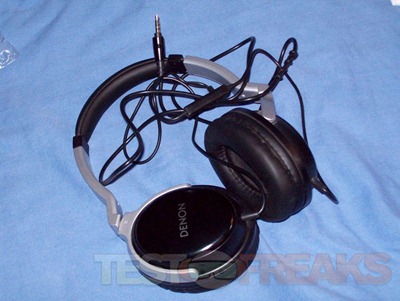 If you're going to want to be able to chat in game then you'll need to use the small audio adapter and connect it to your Xbox 360 controller.
If you have a standard set of headphones with separate microphone and audio connection you can just plug them in, but if you have a combined set like mine then you'll need to use the included adapter.
To connect the Soniq Rush 2.0 kit to your Xbox 360 you'll need to unplug the red and white audio cables from your TV and then plug them into the included pass-through connections and then just plug it back into your TV. I'm using this with my kids Xbox 360 as it's hooked up via component and mine is hooked up via HDMI. You can use the kit with an HDMI connection but you'll need an RCA dongle which isn't included in the kit.
Then you'll need to connect the amplifier to your Xbox 360 via the USB cable to provide power for it, the red LEF will come on letting you know it has power.
Here's the basic setup with just using the headphones for audio only. You just plug the headphones into the cable and plug that into the Soniq Rush 2.0 amplifier and you're set. You can now play and have audio through the headphones without disturbing anyone.
Now if you want to use the microphone as well, you'll need to add the adapter or two to the above setup:
As you can see now I've got a bunch of wires floating around which can be annoying. Doing it this way defeats the purpose of having a wireless controller I think and well you've got a bunch of wires now hanging around to be tripped over. my kids use the charge and play cable to charge their batteries while playing sometimes so add that to the mix and you've got yet another wire in the way, just seems like a bit too much going on.
The cable is nice and long though at about six feet. The RCA adapter cable is close to ten feet in length though (9.8ft), I think both should be ten feet really as that six feet length is how far you are from your TV while playing. If you want to sit farther away you can't.
So does it work? Yes it does, and it works well. This setup though has the sound coming out of both the headphones and the TV at the same time, if you want privacy or have a need to be quiet then you can just mute the TV volume and you'll only have audio coming through the headphones.
So it works but there is a rather large problem with it, there's an annoying buzzing sound at all times. It's not very loud but it's there and it can be annoying to listen to non-stop. You won't notice it much while actually playing but on the dashboard or any quiet parts of your games you'll very much notice it. I tried plugging and unplugging things and moving wires around but the buzz would not go away at all. As I said it's not very loud though, but it's there for sure.
Conclusion:
The Xjacker Soniq Rush 2.0 Gaming Amplifier Kit for the Xbox 360 does what it says it will, it allows you to use virtually any set of headphones with your Xbox 360 and that's a good thing.  The kit is fairly simple to use, it hooks up in less than five minutes really, that time all depends on your setup though of course.
The bad part about this kit is all of the wires that you'll have floating around if you fully utilize the kit including the microphone attachment for chat. There is another slight problem with this kit and that's the buzzing sound that's always there. The buzzing isn't horrible but it's very noticeable on the dashboard and any other quiet parts of your games. I think I could live with it for the convenience of it all and being able to use any headphones with my Xbox 360.
Pros:
+Simple to use
+Less expensive that buying dedicated headphones
+Volume control on amplifier
+Can use virtually any set of headphones or earbuds
+Fairly easy installation
Cons:
-Slight buzzing in headphones can be annoying
-Lots of cables when in full use
| | |
| --- | --- |
| Grades: |   |
| Overall | |
| Design | |
| Performance | |
To learn more about our review policy please visit this page HERE.