There's a lot things that I think people overlook when it comes to their computer setups and one of them is the mousepad, the average person I mean of course, gamers and enthusiasts know that a good mousepad can make a real difference. Today for review I have the Ripper from XTracGear which is a textile mousepad, it's cloth but yet the surface feels and works like a hard surface pad would, it's sort of a combination between hard and soft pads really. Read on the learn more…
Specifications and Features
The XTracGear Ripper is a large professional mouse pad designed for computer gamers that demand precision and high quality.
Features:
Polished textile surface
Laser cut Fray resistant edges
Sure Grip enhanced rubber backing
Advantages:
Whisper quiet mouse surface helps enhance an ergonomic workspace.
Using a new polished textile for the mouse surface the XTracGear Ripper can help speed up your mouse movement while feeling soft and silky at the same time.
Open celled rubber backing helps to cushion the wrist while at your computer for long periods of time.
The large size of the XTracGear Ripper gamer mouse pad is excellent for users who prefer low sensitivity settings on their computer mice.
Specifications:
11″ x 17″ x 1/8″ (280mm x 432 mm)
Sure Grip enhanced rubber backing
Polished textile mousing surface
Laser cut fray resistant edges
Tested and 100% compatible with gamer/gaming grade mice.
Price: $21.95
The Review
The Ripper comes in a nice sturdy box with the name and information on it. The box can be used for transport as well to keep the pad clean and safe while traveling.
The size of the Ripper is 11″ x 17″ x 1/8″ or about 280mm x 432 mm x 3.1mm. It's black in color obviously and it has laser cut fray resistant edges. The Ripper does ship in a rolled up position and normally most pads will tend to want to stay rolled up, but the Ripper doesn't, it goes mostly flat when you unroll it and after maybe an hour it's all flat so it settles to the flat position quickly.
In the right corner you'll see the Xtrac logo and the web address in white making it a nice contrast with the black pad.
Here's a close up of the surface, it's what XTrac calls a polished textile mousing surface. The surface is smooth and it's actually shiny in the right light angle.
On the bottom you'll find a non-slip rubber surface to prevent the pad from moving on your desk. The backing works very well, the pad stays put exactly where you put it so you won't have to worry no matter how frenzied your gaming match is.
The Ripper does have a layer of padding under the top surface but the pad is only about 1/8" thick in total making it very thin. The padding is firm enough for mousing but is soft enough to be comfortable for your wrist. As I mentioned earlier the edges are laser cut to prevent fraying which I think is important, there's nothing worse than a mousepad with frayed edges, it just doesn't look good at all.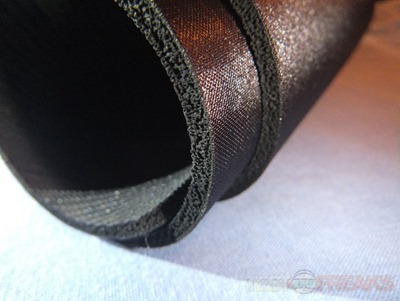 I used the XTrac Ripper with the Feenix Nascita mouse and here's  a picture of the mouse on the pad to give you a better idea of the size of the pad. For me, the size of the Ripper is perfect, it's big enough for mousing and yet there's room for my wrist/forearm on the pad as well. I should note I use my mousepads in the vertical position on my desk so for me the Xtrac logo on the pad would be in the bottom left corner. I've got a big desk and I've found this positioning works best for me.
To test the Ripper I did my normal everyday things and of course I got to play some games.
During my usage I found the Ripper is be excellent, it tracked perfectly no matter how fast or slow I moved the mouse. The Nascita goes from 800 up to 8200 DPI which is pretty fast and it tracked just fine on the Ripper, no skips or jumps anytime.
Conclusion
The XTracGear Ripper is an excellent choice for a gaming mousepad, it offers a smooth mousing surface but yet it's a cloth pad. The surface tracks very well no mater how fast or slow you move your mouse and no matter what DPI setting the mouse is on.
The Ripper is a cloth pad but the polished surface still allows quick movements, but since it's cloth it still does offer a lot of control like a cloth pad would. The Ripper is basically a combined hard and soft surface pad, the best of both worlds really.
The Ripper is well made with great attention to detail. Most cloth pads that come rolled up like to stay rolled up but the Ripper doesn't it goes flat shortly after unboxing it. That might not seem that important to you, but if you've ever dealt with a mousepad that stays rolled up you'll understand. XTrac also laser cut the edges the Ripper to make sure they wouldn't fray, here again not that big of a deal but it's a nice attention to detail as no one likes frayed edges on their pad.
In my time with the Ripper I found no problems with it, it's comfortable to use and it tracks perfectly and for me it's just the right size. Yes it's a rather large pad so you'll need to make sure you've got enough room on your desk.
Pros:
+Well made
+Smooth surface
+Excellent tracking
+Fray resistant edges
Cons:
-None
| | |
| --- | --- |
| Grades: | 10 out of 10 |
| Overall | |
| Design / Aesthetic | |
| Value / Price | |
| Performance / Usage | |
To learn more about our review policy please visit this page HERE.