I used to always listen the radio when I was younger, but after a while I just got sick of commercials, and now I rarely listen to it, usually it's when I've forgotten to charge my Zune while driving in the car. At one time all I listened to was CDs in the card really, but I recently got a new car that features a 3.5mm audio input jack so now I don't even have CDs in my car, I just take my Zune with me whenever I go out. Having a flash memory MP3 player or hard drive version is nice, but you're still stuck with all of the songs you put on it, so to add a bit of variety you'll need the radio, but then again you've got to deal with commercials. So in comes internet radio which sort of offers the best of both worlds, different stations and CD quality audio, and of course no commercials. Usually though you're stuck with internet radio only on your computer, but there is a device out there that looks like an MP3 player, and in fact can store your Mp3s, but it's primarily an internet radio receiver, but the best part is that you don't need internet access all of the time to use it. The device, when synced, caches your stations in memory and away you go, you've got what looks like an MP3 player, but with radio stations so your music can be very assorted.
Our friends at Geeks.com have sent me over the Slacker Portable G1 2gb Personal Radio Player for review and it allows you to select radio stations and take them with you on the go. The Slacker caches the music in memory so there's never any problem with radio signals, and of course there's no commercials, and you can also add your own music to the player as well. The Slacker features a beautiful 4" LCD screen that shows album covers, and artist information, and there's even a touch navigation bar on the side as well for easy access.
So continue on to learn more about the Slacker…

Ok, I've got a video unboxing for you today! Check it out and continue on…
The packaging is very stylish, though limited with what's on it, no specs or anything listed really.
There is a bit included with the Slacker including USB power adapter, USB cable, earphones, sticker, extra earbuds and quick start guide, along with a case for the Slacker Personal Radio.
The Slacker itself is pretty big, but that's mainly due to the very large screen which is nice really, too bad you couldn't play video on it…Here's a few views of the Slacker:<
Specifications:
Slacker Portable 2GB Personal Radio Player w/4" LCD
– Customize up to 15 of your favorite radio stations!
Your Price:  $72.99
Personalize your own radio stations!
The Slacker Portable Personal Radio lets you take your own radio stations with you! This innovative device uses advanced music caching techniques to pre-load the device with music to fill up 15 different stations! The stations are programmed automatically and let you customize your experience. Tell the Slacker whether you love it or hate it! Forget bad radio reception, the music is stored on and played directly from the player!
Refresh your collection with the USB port or over the built-in WiFi! This music collection always stays fresh and the Slacker even automatically downloads and displays album art, reviews, artist bios, and more on the 4-inch LCD screen. For even greater personalization, add up to 500 MB of your own MP3s!
The scroll-wheel interface is easy to use and will have you navigating to your favorite stations in no time. The Slacker Portable includes access to the free Slacker radio service and lets you skip up to 6 tracks per hour or you can sign up for Slacker Premium to enjoy more options.
Revolutionize the way you listen to music with the Slack Portable G1 Personal Radio!
Features/Specifications:
-Piano black casing
-4-inch TFT LCD color screen
-480 x 272 pixel resolution
-2 GB storage capacity
-Supports up to 15 stations
-Scroll-wheel interface
-Built-in WiFi auto-refreshes Slacker Radio stations
-IEEE 802.11b/g compatible
-USB interface for direct PC updates
-Supports MP3, WMA, and AAC audio
-Screen displays album art, reviews, artist bios, and more
-Removable, rechargable battery
-Includes access to Slacker Radio Free service
Dimensions:
-2.76 x 0.67 x 4.2-inches (W x D x H)

I've got another video for you, this one is a tour of the interface and a basic mini-review as well pointing out some of the things.
The Slacker Personal Radio Player wouldn't quite work for me at first, well not the player itself but the software that you need to use the player and configure your stations, and I think it's more of a driver problem really. I couldn't find much information about it on the Slacker support site or forums either, but eventually I did get it to work, though I'm not sure how I did it, it just worked after a few tries. I'm thinking the problem could be with using 64bit edition of Windows Vista, but I really only needed it to work that first time though as I set my stations and I was finished, I'll most likely never change it again as I'm happy with what I've chosen.
You need to sync your Slacker with the Slacker servers to get more music, this can be done via USB or WiFi, since USB was obviously not much of an option for me I choose WiFi and it works for the most part. The WiFi working is spotty at times, I can see my network and enter the code and it won't work, but I try it again and it works. This wouldn't be a big deal but I use a large key, 128bit and having to enter it every time can be annoying and tedious as you use a scroll wheel to input the numbers and letters, it also does not seem to save the key so I have to input the key every single time I use it. You can install the Slacker Jukebox on your computer or use the web based version on the Slacker website to interface with and update your stations on the Slacker, but it doesn't work all of the time. I've checked the Slacker forums and see other people are having the same problems as myself and there seems to be no fix for it at all. As is now I haven't been able to  sync my Slacker for several days, and I don't have a clue why it won't work. On the bright side, when it works for you it's a nice product overall.
Once you do get the Slacker up and working it seems to be worth it, the audio quality is very good, of course that depends on the earphones you're using, and the ones included aren't that bad, but when you've got a set of Future Sonics Atrio M5s there's no need to use the stock earphones for any media player.
Navigating the Slacker G1 can be cumbersome especially if you're using the Touch Strip on the side, it just doesn't seem very intuitive, eventually I just turned it off. What would be great is if it was a touchscreen enabled device, that would make things much more easier, as it is though the scroll wheel navigation works as good as can be expected.
It's nice to be able to have all of these stations right at your fingertips with no worries of having a signal or interference as the Slacker caches all of the stations in it's memory so you get smooth, clear music only.
I like the display quite a bit, it's vivid, bright and clear, not only do you get album covers but you'll get biographies as well of the artists.
Overall using the Slacker can be a trying experience though, getting it to actually work correctly can be difficult and spotty, I still have not been able to transfer MP3 files over to the Slacker yet, I thought I did it but they were never appeared for me to listen to.
Conclusion:
The Slacker itself is not a bad product once you get it to work, but I believe it's the Slacker servers and the software that are the source of the problems I'm having with the device.
The interface isn't the greatest to use and can be very tedious at times especially the touch strip on the side, it just doesn't seem to work as you think it should.
It seems to hold a lot of music for you so that's a good thing there, but if you can't sync it with the Slacker servers to refresh your stations then you're kinda stuck with the same music over and over again.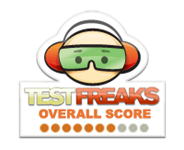 Pros:
Well made
Very nice display that includes lots of info
Wireless sync
Can add your own music
Easy to use overall
Cons:
WiFi connecting is odd at times
Limited number of skips for basic account
Syncing can be very problematic
Touch bar can be hard to get accustomed to
Input using the wheel can be tedious
| | |
| --- | --- |
| Grades: |   |
| Overall | |
| Design | |
| Performance | |