If you've got a laptop then you must have a bag for it, some sort of bag for protection. We spend quite a bit of money on these portable computers and we need to protect our investments. Like any product out there though all laptop bags are not created equal and it's very hard to find the perfect one for you as everyone has different needs and space requirements. Sure you can go out and just grab a cheap laptop bag, but I can tell you it's not going to last and most likely will not provide adequate protection for your investment. If you're spending a few hundred or even a few thousand on a laptop than why not get a quality bag to insure it's protected from the daily rigors of life?
Up on the old review block today is the Spire Endo Courier or Messenger bag, it's a nice bag to stick your laptop and stuff in to take with you on the go. The Endo is a very durable and well made bag that features a nice padded section for your laptop and lots of pockets to stick your stuff in, we all have stuff, and we need somewhere to put that stuff right? The Endo has room for your stuff and then some! The Endo features a ballistic nylon exterior with a Tripleshock padding system inside for protection of your computer, along with several other great features.

Today I've got a video for you, but it's not really an unboxing, but more of a product tour of the Spire Endo, so check it out and the still pictures and then continue on:

*****I incorrectly stated in the video that the bag is the Mojo, it's not it's the Endo, sorry, exactly the same, just the Mojo is bigger****
Specifications:
Spire Endo Laptop Messenger Bag
Color: Cosmic Green/Black
The Endo courier bag offers outstanding protection, convenience and versatility.
When you want one bag to use and abuse every day, this is it.
Features include:
* TripleShock™ padding system
* Mesh water bottle pocket
* Beefy 2" single-buckle closure
* Die-cut reflective ovals
* Multiple internal and external pockets
* Pass-through for rolling luggage handle
* Removable key fob
* MP3 pocket with headphone grommet
* Padded handle with anti-sag reinforcement
* Removable waist strap
* Glow-in-the-dark zipper pulls
* Rugged 1680D Ballistic nylon exterior
* Light gray interior
* Asymmetrical shoulder strap pad
* Lifetime warranty against defects
Style, simplicity and attention to detail.
You won't find a better courier bag for your 15" MacBook or 15.4"
Product Code: EN8
Price: $90.00
Laptop Compartment: 14.5" x 10.5" x 1.5"
External Dims: 16.0" x 12.0" x 5.0""
Capacity: 960 Cubic Inches
Weight: 2.2 Lbs
External Fabric: 1680 Denier Ballistic Nylon
External Pockets: 6
Internal Pockets: 4 (+ 2 Pen Pockets)
Padded Handle: Yes
Padded Shoulder Strap: Yes
Removable Waist Strap: Yes

This is a laptop bag, so I put my laptop in it, as I mentioned in the video I've got a 14.1 inch laptop so I used the spacer and it fit nice and tight in the Endo.
The velcro strap does a very good job of holding the laptop in place, it's stretchy so you can make it very tight if you wish to make sure your computer is secure.
The laptop compartment is very well padded, the back of the bag is padded and the front of the compartment is as well. If, like me, you've got a smaller, or should I say thinner, laptop then you can leave the secondary padded divider in there for some extra protection and a place for files, folders etc.
There's plenty of pockets inside to carry most everything and anything you need to take with you for your day of business of pleasure.
Before the Spire Endo arrived I was using a Tom Bihn ID messenger bag so that's all I've got for comparison really.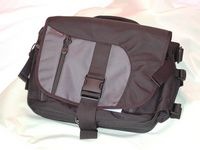 The comparison though isn't really that as the Tom Bihn bag is a bit more expensive than the Endo. To compare the two though, the Spire Endo is much lighter weight when empty than the ID messenger Bag is, though it feels as well made. The Bihn bag is thicker, thus making it heavier, and the Tom Bihn bag I have also has a removable laptop carrier as well called a Brain Cell, bringing the total cost of the Tom Bihn ID Messenger to almost twice that of the Spire Endo.
The Endo is a relatively inexpensive bag overall, it offers very good protection for your laptop and all of your accessories. I like the rubber grommets for your audio player as they will protect the wires well. The Endo has quite a few desirable features such as numerous and large pockets, padded shoulder strap, padded handle, MP3 player pocket and even a water bottle pocket.
The Endo should have more than enough room for all of your stuff that you need to take with you on your daily routine.
As far as comfort is concerned it's not bad, the strap is padded and does help a bit, but once the bag is full, it of course gets heavy, and the little pad just doesn't quite cut it for comfort. I do like the fact that the bottom of the pad is rubber coated to prevent it from slipping off of your shoulder, but it could be a bit thicker and maybe a little bit wider as well to provide more comfort. Of course though if you don't fill the bag to capacity then it shouldn't be much of a problem.
The Spire Endo is very durable as well, I've taken it with me a few places and it's been moved around my house several times by my wife and kids (I have a habit of just leaving things in the way…) and it's no worse for wear.
Honestly my first impression of the Endo was that it seemed a bit on the cheaply made side, because it's very lightweight and the material is thin, but as I spent time with it I learned to like it quite a bit, though I'm not sure if it's going to replace the ID Messenger bag as the Endo doesn't have quite as much room for all my stuffs. So the good thing is that it's much better than my first perceived impressions of it were, I'm very impressed that such a lightweight bag can be so very well made. It should provide more than enough protection for you laptop under most all conditions of daily use.
Conclusion:
The Spire Endo is a very good choice if your looking for a roomy and well made messenger style bag to protect your laptop and have room for all of your stuff.
The Endo is well worth the price I think, and I can easily recommend it to anyone looking for a top quality bag.
Pros:
Well made
Lightweight
Worth the cost for the protection it provides
Lots of space inside
Cons:
Shoulder pad could be better
| | |
| --- | --- |
| Grades: |   |
| Overall | |
| Design | |
| Performance | |