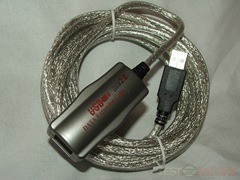 USB is, at this point in time, the most common PC interface out there today, it's simple, easy to use, compact and basically plug and play. It allows us to connect a plethora of devices to our computers, everything from cellphones, USB flash drives, and printers to goofy gadgets like missile launchers and fans. USB has become an amazing interface for connecting most anything to our computers. While it is no doubt a great interface, it does have one limitation though, and that is length, you can only go about 16 feet or 5 meters with the USB cable, anything past that and the signal degrades. For most people I'm sure 16 feet is more than long enough, but some of us need to go a longer distance for whatever reason.
Today for review I've got a simple device that allows us to essentially double the length we can go with our USB cables, it's simply called a 15 ft USB 2.0 Active Extension Cable, and it's from a company called StarTech. This is an active extension cable, though it does not require any additional power like some out there might. It's basically a very long single port USB hub, one end has the male USB interface while the other end has a small box with a female USB interface in it. The cable allows you to double the length of your USB cable simply and easily, and you can chain up to five of these cables together to really get some distance.

The USB extension cable comes in the familiar sealed plastic clamshell style package, on the front you can see the hub itself and there are specs and features listed as well.
It comes rolled up for easy transportation, I couldn't exactly take a picture of it stretched across the full length…
One one end is the common USB connection that goes into your computer, while the other other end is a single female USB connection or a basic hub.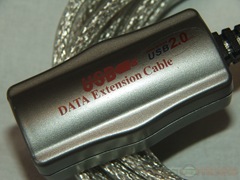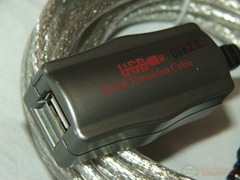 The cable itself is nice and thick, and it seems well amde overall.
Specifications:
15 ft USB 2.0 Active Extension Cable – M/F
This 15ft USB 2.0 Active Extension Cable offers one USB A male connector and one USB A female connector, providing an active, bus-powered extension of a USB 2.0 device connection by up to 16ft (5m).
The extension cable supports high speed USB 2.0 transfer rates of up to 480Mbps, and is backed by StarTech.com's Lifetime Warranty.
Price: $23.99
StarTech.com ID:  USB2FAAEXT15
Technical Specifications:
Warranty: 1 Year warranty
Length: 16 feet (5 meters)
Upstream Connector: USB A Male
Downstream Connector: USB A Female
Data Transfer Rate    Up to 480 Mbits/sec
Maximum Cascadable Units: 5
OS Compatibility: Windows 98SE/Me/2000/XP/Vista, Mac OS 10.2.8 and up
Installation is as easy as plugging it in, Windows Vista recognized it as a USB hub and installed the drivers automatically for me, that's it, nothing to it.
So we know it can extend the distance of your USB cable, and it claims to have the same performance as a direct connection, but I wanted to test that out.
I used my OCZ Rally2 64gig USB drive to test the speeds I got while connected directly to my computer and while using the extension cable.
I used Diskbench to get the speeds in MB/s to Copy To, Copy From and Read From the Rally2. I used a 350MB .AVI Video file for the testing.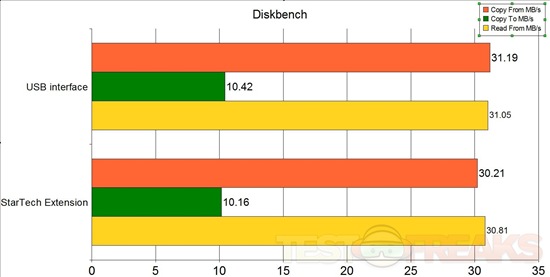 There is a very slight drop in performance while using the extension cable but it's so small that I don't think it has any real bearing on overall performance. I'm sure if I ran the tests 10 or 15 more times it would average out to be the same in the end.
Conclusion:
The USB Extension cable from StarTech is a great product, in my time with it I've used it for many things where I needed to go past the limitations of USB. It seems well made, the cable is nice and thick and the hub seems sturdy enough.
It's a a great little product that I can recommend to anyone who has a need to go past the 16 foot limitation of USB.
Pros:
+Seems well made
+Works as advertised
+Can combine cables for even more length
Cons:
-Very slight drop in performance
| | |
| --- | --- |
| Grades: |   |
| Overall | |
| Design | |
| Performance | |