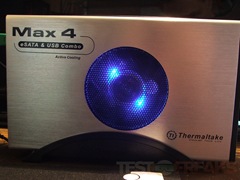 Up on the review block today I've got a 3.5" SATA hard drive enclosure, the Max 4 from Thermaltake. This enclosure features both eSATA and USB connections along with a built-in 80mm cooling fan and an aluminum housing to make sure things keep cool. The Max 4 is well made and it's very easy to install your hard drive into, a few screws and you're done and ready to transfer your files. So read on to learn more about the Max 4..

The Max 4 comes in a stylish white box with a picture of it on the front along with specs and features listed on the back as one might expect.
Unpacking everything we find the enclosure itself, power supply, user manual, eSATA cable, USB cable, stand and an SATA PCI bracket to use if you don't have eSATA built into your case. You'll note that the power supply is not the typical power brick you find on external hard drives, it's just the small 'wall wart' style of adapter.
The Max 4 enclosure is made of plastic and aluminum. On the left side you'll find an 80mm cooling fan, along with the name on both sides.
The front is full of ventilation holes and near the top is an LED bar that will let you know power is on and will indicate HDD activity by blinking slightly.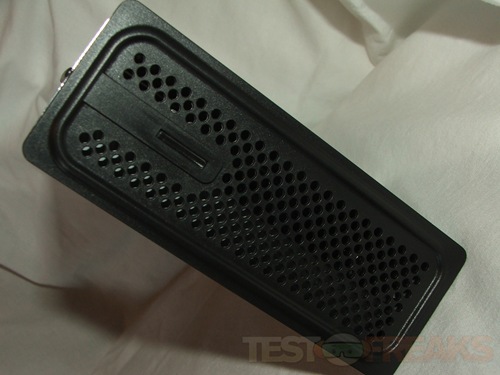 On the back is where you'll find the connections for eSATA, USB and power along with the main power switch as well and more ventilation holes.
The Max 4 just clips into the stand and it seems to hold the unit up nicely.
You'll need to remove four screws to get inside of the Max 4, taking cover off reveals the PCB, fan and hard drive cage. You don't actually secure the hard drive itself in the Max 4, instead there are two black pieces of plastic that act as rails, these have two pins in them that correspond to the holes in the HDD, then they get secured to the Max 4.
Specifications:
Thermaltake
Max4 Active Cooling eSATA and USB Combo External Hard Drive Enclosure
Features:
-Support All 3.5" SATA HDDs up to 2TB !
-Including 80x80x15mm blue LED silent fan
-Supporting eSATA & USB2.0 interface – the best performance & convenience
-Application for 3.5" SATA HDD
-LED for power and disk activity
-Made by Aluminum body for thermal solution
-Easy stand
-Transfer speed up to 3Gbps(eSATA); 480Mbps(USB 2.0)
Specs:
Enclosure Interface: eSATA / USB 2.0
Transfer Rate: eSATA: up to 3Gbps / USB 2.0: up to 480Mbps
HDD Compatible: SATA I / SATA II
HDD Capacity: 3.5" SATA HDD up to 2TB
OS Compatible: Windows Vista / XP / 2003 / 2000 / NT / 98 / 95 Mac 10.3 and later
Material: Aluminum & Plastic
Power: External Universal Switching Power Adapter (12 V 2.0A/5V 2.0A)
Dimension: 215 (L) x 134 (W) x 50 (H) mm / 8.64 (L)  x 5.28 (W) x 1.97 (H) in
Accessory:       
-eSATA external Cable
-USB2.0 Cable
-SATA to eSATA PCI bracket
-Foot Stand
Fan:
Dimension: 80 x 80 x 15 mm
Speed: 1500 RPM
Noise: 20 dBA
Installation is fairly easy, just remove the four screws, take the cover off, remove the two screws that hold the HDD racks in place, attach them to the HDD, slide HDD into the connection, put the two screws back in, cover back on and then put the four screws back in. Installation takes about five minutes total.
Plug it in to an available power outlet, connect it to your computer and turn it on. The built-in 80mm fan does have blue LEDs in it and it's quiet when operating, but it is audible. I had it sitting about 2 feet away from me and I could hear a faint hum coming from it. There's also a blue LED in the front as well that lights up to indicate power and blinks to indicate HDD activity.
I used other USB drives for comparison, we already know that eSATA will be much faster than the USB connection.
The first test is SiSoft Sandra 2009 SP3 Removable Storage Benchmark, here I compared both USB and eSATA of the Max 4 to the Black Armor WS110 and the ioSafe Solo drive. It should be noted that the drive I used is the same 500gb drive that survived the ioSafe drowning.
As expected the eSATA connection of the Max 4 is the best in terms of performance, the USB connection though is not bad overall.
Next up I just used all the USB connections of the drives in Diskbench and the time it takes to Copy To and Copy from the drives. I used the Windows 7 ISO file for testing which is about 3.04gb in size. Of course lower times are better.
Here we see the max 4 coming in 2nd place, all three drives though are only a few seconds apart for both reading and writing.
Here's the actual transfer rates in MB/s for those same testes: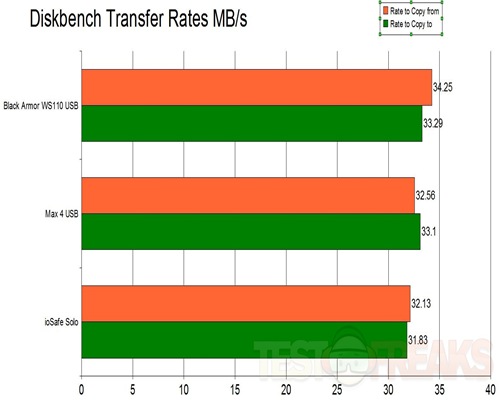 We've got expected speeds from all of them, most drives average about 32 MB/s for both types of transfers normally.
Conclusion:
The Max 4 is a nice choice for a hard drive enclosure, especially since it includes a quiet cooling fan and that it's got both types of interfaces.
There's not much to not like about this enclosure, though I could point out that you really can't mount it flat or horizontal, it has to be in the stand basically. Sure you could just lie it down flat and that would be it, but you risk scratching the enclosure casing and marring the look of it.
Pros:
+Easy installation
+Relatively fast
+Well made aluminum housing
+Quiet fan
Cons:
-None really
| | |
| --- | --- |
| Grades: |   |
| Overall | |
| Design | |
| Performance | |