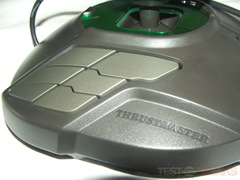 When gaming on a PC, most people use the standard mouse and keyboard, but for some games, especially flying games, I prefer to use a joystick, it not only adds to the realism, but makes it more fun and realistic.
Today I've got the Thrustmaster T.1600M PC Joystick for review, I actually got the bundle of HAWX and the joystick, but I'm going to cover HAWX in it's own review. The joystick itself is nicely made, and truly does add a new dimension to any kind of flying game, making it easier and a lot more fun that the standard mouse/keyboard combination.

As I mentioned this is the bundle version of the T.1600M, it comes with H.A.W.X PC videogame. It has a slipcover over the original box for this version of the product.
Opening the box we find HAWX right on top, the joystick is wrapped up in plastic and Thrustmaster included extra grips so the stick can be used with either left or right hand, the grips just pop on and off easily.
The stick itself is fairly large actually, but that's nice, it really adds to the feeling of really flying.
On the bottom we find several rubber feet to make sure the stick stays in place and a switch to change modes from left to right handed.
The base features twelve buttons, size on each side that are laid out in close pattern.
The top of the stick is where you'll find your weapons controls basically, there are five buttons here including the trigger and a small joystick on the top.
On the back of the stick you find the slider switch which is primarily used for thrust in most games, it just slides up and down and adjusts the thrust power of the plane or helicopter.
Specifications:
Thrustmaster T.16000M PC Joystick
A UNIQUE 3D TECHNOLOGICAL INNOVATION BUILT INTO THE NEW THRUSTMASTER JOYSTICK
-A patent application has been filed
-Exclusive precision technology: H.E.A.R.T.– HALLEFFECT ACCURATE TECHNOLOGY!
–3D (Hall Effect) magnetic sensors located on the stick:
—Offer precision levels 256 times greater than current systems (i.e. a resolution attaining 16,000 x 16,000 values!)
—Magnets ensure friction-free action for unlimited precision in time
—Helical spring (2.8 mm diameter) located in the stick providing firm, linear and smooth tension
-Fully ambidextrous joystick!
–3 removable components allow the joystick to be perfectly tailored for left-handed or right-handed use
–Piloting with a joystick in each hand is now possible in all games compatible with two joysticks
-16 action buttons!
–12 on the base and 4 on the stick
-Switch enabling users to configure the 12 buttons located on the base in a left- or right-handed position
-4 independent axes
-Rudder controlled by rotating the stick
-Trigger for brakes (civilian flights) or rapid fire (military flights) control
-Multidirectional hat (for panoramic view)
-Ergonomic design for optimum comfort
-Wide hand rest for reduced stress
-Weighted base for enhanced stability
-Plug & Play device offering extremely simple and quick installation, with all features preconfigured for immediate and hassle-free takeoff!

There's really are no action shots of the T.1600 that I can show, but the base does light up when you move the stick around, kinda cool looking.
I used it with HAWX of course, and it makes the games a lot more fun than using a mouse and keyboard. Installation is easy, just plug and play, Windows recognized it and installed automatically for me.
There is no extra software to install like other joysticks and gamepads, all of your button configurations can be handles in game. It's nice not to have to install more stuff on my computer.
The T.1600M is very sensitive to movements which is something that you want of course, there's no lag between your movement and what happens on screen. The stick does have a bit of tension to it, so it does require a small amount of force to move it, and it springs back to the original position. I really like how you can also twist the stick for turning, I found myself using that quite often. The buttons are all easy to reach on the top of the stick and work well.
The trigger button is spring loaded and does have a nice audible click to it, the other buttons as well do click.
There is one small complaint I could have and that is the button placement on the base, they're a little to close together, I found myself accidentally hitting the other buttons in the heat of battle.
Here's a quick 2 minute HAWX video for you, using the Thrustmaster of course
Conclusion:
The Thrustmaster T.1600M is a great joystick in my opinion, it really adds to gameplay, it's much better than using a mouse and keyboard.
The T.1600M is very responsive and easy to use, the buttons on the stick itself are nicely placed and easy to reach. It's nice to be able to just plug it in and go without having it install any extra software.
I did find the buttons on the base a little to close together, but they still are usable.
If you need a joystick for you gaming then certainly look into getting this one.
Pros:
+Well made
+No extra software to install
+Plug and play
+Sensitive to movements
+Lots of buttons
+Truly adds to gaming experience
+Easy to use
Cons:
-None really
| | |
| --- | --- |
| Grades: |   |
| Overall | |
| Design | |
| Performance | |