Everything is computer and console games today, board games are still around but not as popular as they once were. Chess and checkers are old games but they can still be fun and Croove has sent me over there chess and checkers set which incorporates a computer into it that can teach you how to play chess. The set has eight games in total and there's even an display built-in to show you what to do and how to play. There's a visual and audio tutor that can help you learn to play or help make you a better player. Overall this is a nice set that's fun to play against the computer or a friend. Read on to learn more…
Specifications and Features
8 in 1 Games – "Electronic Chess" with Exercise & Talking Tutor Functions, Checkers & Chess Set Pieces Included, Best Electronic Chess for Kids!
The Croove's Electronic Talking Chess 8-in-1 Game is the perfect choice for any chess player. The tutor function is great for beginning chess players and the more advanced chess enthusiasts will love the challenge that comes with the multiple skill levels. The 12 chess modes, 30 chess levels, and 5 different computer styles, create unique combinations that will provide hours of never ending, new fun. The high-quality magnetic board makes this the perfect travel companion for the entire family. The built-in teaching voice system will provide verbal instruction to children and beginners as they learn to master the game of chess. The 8 challenging brain games provide different categories of amusement, so everyone can find a game they want to play. You can choose to play against a friend or the computer, or simply practice with the 100 preset chess exercises included. With the help, explanation, and legal buttons available, you can be playing like a pro in no time.
-Includes 8 challenging brain games, Chess – Checkers – Reversi – Halma – 4 In-A-Row – Fox & Geese – Northcote's Game and Nim,
-12 chess modes and 30 unique chess levels to choose from. 100 preset chess exercise allows you to practice your skills
-Play against the computer or a friend. Five computer styles ranging from Normal, Active, Aggressive, Passive, and Very Passive
-Magnetic, sensory chess board and large LCD screen with adjustable contrast
-Package contains Board, Black and white chess pieces, Checkers pieces and a case for the pieces when not in use. Requires 4 AA batteries (not included)
Product Dimensions: 10 x 7.9 x 1 inches ; 1.6 pounds
Price: $39.99 (from Amazon at time of review)
The Review
Let's start with a video unboxing:
The packaging for the Croove chess set is nice looking and when you open the box you'll find everything packaged well and protected in plastic.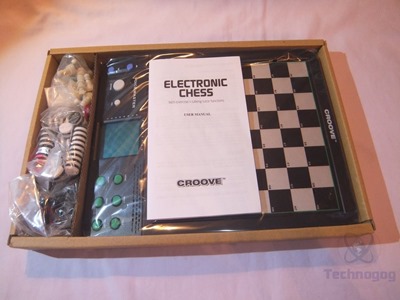 Once you get everything unpacked you'll find the user guide, carrying pouch, three bags of playing pieces and of course the board itself.
In the set you'll find both chess and checkers pieces, separate black and white pieces for chess but double sides black and white checkers pieces. The checkers pieces are used for all of the other games as well. All of the pieces have magnets in them to hold them in place on the board. The pieces are plastic but seem well made and they do look nice, no extra pieces of plastic sticking off of them or anything like that. The included carrying bag is nice but it's a big tight once you get all of the pieces in it, a bigger bag would have been nice or even a way to store the pieces in the board would have been better.
The board is black and white as you'd expect and it is labeled or numbered for you. The board is magnetic to match the magnets in the pieces so they stay in place.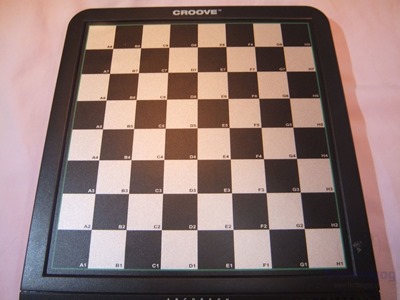 Below the board is the controls and the LCD display screen. The left side has navigation controls, the enter button and escape button.
The display in the center looks like an old-school type, just basic, but it should do the job. Grid marks are along the sides and top for reference as you're playing.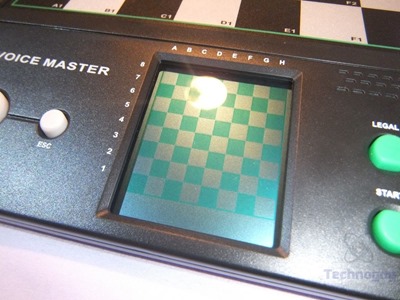 To the right is the majority of the control buttons for legal, why?, help, start, swap and on/off.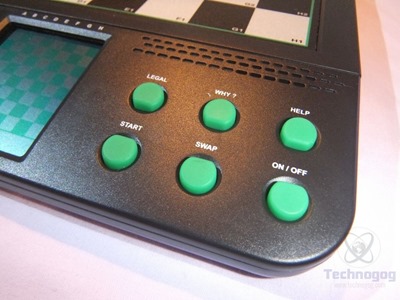 On the bottom you'll find rubber non-slip feet and the battery compartment. You'll need four AA batteries as they're not supplied.
There are many games included besides chess and checkers, Reversi, Halma, 4 In-A-Row, Fox & Geese, Northcote's Game and Nim and the display will show you where and how to set up the pieces on the board for each game. The display screen isn't exactly high quality, more like something out of a 1980's handheld game, but for what it needs to do it's fine. You can also adjust the contrast to make it easier to see if need be.
I played both Chess and Checkers against the computer. The LCD displays where the pieces are on the board and that's how the computer tells you where it's moving.
To move your pieces you actually need to slightly press on the space so it registers the move. You need to do the same thing when you move the computers pieces as well of course.
I also played just a regular game of checkers against my son, you can just play the games without using the computer just as you would a regular board.
Conclusion
The Croove chess set is nicely made and it's fun way to play games and get people interested in playing board games like these. Everything is computer games these days and this set incorporates the old school board games with current technology to make it more interesting and attractive to younger generations who've grown up on just computer games.
The set can actually teach you how to play chess if you're a beginner or it can help you become a better chess player. The set has verbal instructions in addition to the visual ones on the display so kids or adults can easily learn to play. The voice is clear and easy to understand.
The set has many other games in addition to chess and checkers, I've personally never heard of them, but it's nice to have options and it's nice to learn about new and different types of games.
The computer has five playing styles, normal, active, aggressive, passive and very passive, which are basically the skill levels of the computer so you might have a chance to win against it!
There are even 100 preset chess exercises for you along with help, explanation and legal buttons to help you to learn more and so you can know why a move is legal or not.
When this arrived for review my 10 year old son kept asking when I was going to open it and play with it. All in all I like this set, it's fun and it's nice to see my son getting excited about something other than computer and console games.
Pros:
+Lots of games included
+Tutor mode
+Well made overall
Cons:
-Small carrying bag
| | |
| --- | --- |
| Grading | Scores Out of 10 |
| Overall | |
| Design / Aesthetic | |
| Value / Price | |
| Performance / Usage | |
Disclosure: This product was given to us for review by the company for review purposes only, and is not considered by us as payment for the review.
To learn more about our review policy please visit this page HERE.