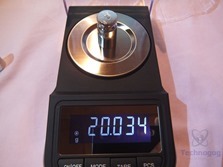 Today for review I've got one for the home and health or home and kitchen category, but I think it fits more into tools. The product is from Smart Weigh and it's called the High Precision Digital Milligram Scale and it's sort of what it sounds like, a scale, but it's for tiny things that weigh well under an ounce. The scale is very sensitive, just your breath can affect the result and it even comes with a very nice carrying case. Read on to learn more…
Specifications and Features
Smart Weigh High Precision Digital Milligram Scale, with Case, Tweezers, Calibration Weights, Reloading, 50 x 0.001g
The Smart Weigh Precision Milligram Scale was designed with an attention to detail! This electronic scale, simply put, is one of the best and we are sure you will agree its ability to hit the mark and pinpoint your weight readings is incredible. This digital scale takes it a step further with its high precision sensors and can measure even the finest of components. It's accurate, versatile, and compact enough to travel with and store anywhere. It features a large negative LCD display and the weighing platform has a tray groove to protect and conceal the items you are weighing. We even include a beautifully designed, durable protective carrying case, and flip top that increases accuracy and helps aid in protection. So whether you are measuring gold, silver, or any other jewelry, it has you covered. It's so precise it can even handle vitamins, medication, and powder! It has a capacity of 50 grams, so turn it on, load it up, and get measuring immediately. Included with the scale are a set of tweezers for those moments when you need to be exact, and two 20 gram calibration weights for simple step refinement. It also comes with two AAA batteries and a two-year manufacturer's warranty.
-A beautifully designed Digital Milligram Scale that can accurately weigh finer items while providing you with the tools you need to weigh with precision.
-This digital scale utilizes high precision sensors and advanced technology to ensure accurate milligram readings with the capacity of 50 grams. View the video under the additional photos for complete features.
-Displays weight in various measurements g, oz, ct, ozt, dwt, and gn. This is perfect for weighing fine items including jewelry, powder, vitamins, and medication.
-Includes a set of tweezers for handling high precision items and two 20 gram weights for simple scale calibration thus increasing performance and accuracy.
-Designed with a protective flip cover top that aids in providing more accurate readings. Includes a durable case for the digital scale and its accessories. Built with a stainless steel platform and large negative LCD display with stark contrast. Includes two AAA batteries and a two-year manufacturer's warranty.
Product Dimensions: 5.4 x 3 x 2 inches ; 6.9 ounces
Price: $49.99 (from Amazon at time of review)
The Review
Let's start with a video unboxing and then move on:
The scale ships in a nice looking box with lots of information on it and a picture of the scale for you.
When you open the box you'll be greeted with a very nice looking case with a metal badge on it with the Smart Weigh logo on it. The case is secured with a zipper and it's semi-hard and should work well to protect the scale inside.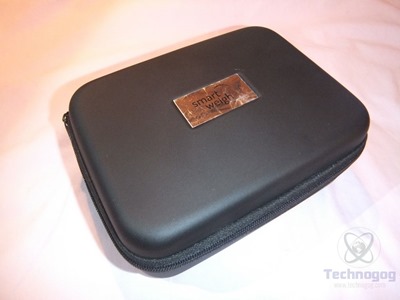 When you unzip the case you'll find a mesh pocket on the lid with the user guide inside of it. In the bottom half of the case you'll see the scale and accessories which are covered by a clear plastic cover. The bottom of the case is foam padded with sections to fit everything in.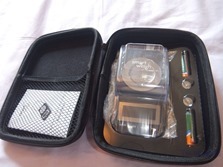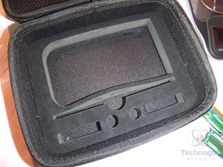 Once you get everything out of the case you'll find the user guide, two weights, tweezers and four batteries.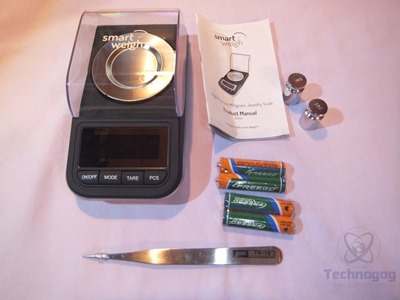 There are two 20g weights that are included to help you calibrate the scale. There's also a pointed pair of tweezers included to help you pick up small things off the scale or put them on it.
The scale comes with a cover or lid that opens backwards but doesn't come off. You need the lid, you must have the lid really, so that's why it's not easily removable.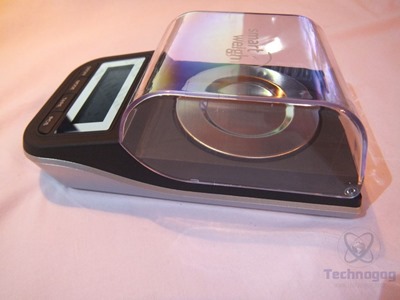 On the front you'll find the LCD display with four buttons for on/off, mode, tare and PCS.
On the bottom you'll find the battery compartment where the included batteries go of course.
The use the scale you need to lift the lid to expose the metal tray.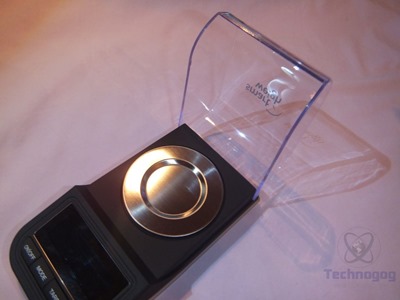 The display is nice and bright and very easy to read.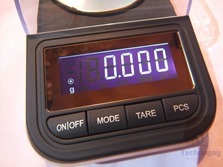 The scale is calibrated from the factory but you never know what can happen during shipment when I checked it with the included 20 gram weight it was slightly off so I calibrated it.

The instructions for calibration are included, it's essentially turn the scale on, hold the mode button until it says 'cal' and then it will say 20g, you add the weight, it will then say 40g, you add the second weight and you're done.
I have some very small weights and I tested the scale and it is accurate but I learned it's extremely sensitive and I mean just overly sensitive, but that's why there is a cover to close. The scale can be and is affected by the slightest breeze and that includes your breathing near it. I was weighing the weights and the result wouldn't stabilize and then I noticed if I turned my head it would, I figured out that it was my breath affecting the scale. I figured out that I would need to close the cover to get an accurate reading. Once I did that the scale worked perfectly fine.
Conclusion
The Smart Weigh scale is accurate but it takes some time to get accustomed to using it as it's very sensitive, your breath can affect it.
The scale comes with a very nice and protective carrying case to keep the scale protected when not in use.
Smart Weigh includes two 20g weights to help you calibrate the scale as needed.
The scale is accurate from my testing, so no problems there.
Overall the scale is well made and it looks great, and it's portable thanks to the carrying case.
All in all I like this scale, you can use it for all sorts of things around the house or on the job, it just depends what you need it for.
Pros:
+Included carrying case
+Accurate
+Very sensitive
+Includes calibration weights
Cons:
-Very sensitive
| | |
| --- | --- |
| Grading | Scores Out of 10 |
| Overall | |
| Design / Aesthetic | |
| Value / Price | |
| Performance / Usage | |

Disclosure: This product was given to us for review by the company for review purposes only, and is not considered by us as payment for the review.
To learn more about our review policy please visit this page HERE.