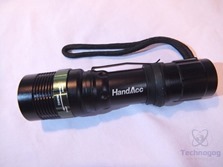 Up for review today I've got a flashlight, an LED flashlight that's made to be waterproof and shockproof and I have to say it's very durable. The light features an LED that can output up to 500 lumens but there is a high mode, low mode and a strobe mode. The light is powered by three AAA batteries or a standard 18650 rechargeable battery and they're also included a mount so you can attach the light to your bicycle to have a headlight essentially to light the way. it's not a bad light overall, it's well made and it's bright. Read on to learn more…
Specifications and Features
The bike mount let's you mount the light on your bike as a headlight, it secures to your bike with a screw. The flashlight just fits into the top section and is held with the tension and the rubber that it's made of. The battery insert let's you use common 18650 rechargeable batteries with the light if you have them.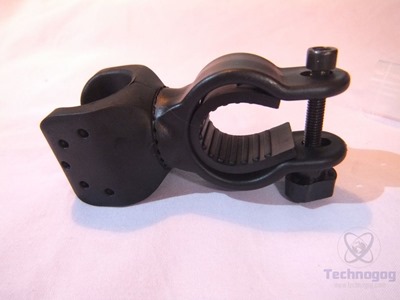 The light itself is made of aluminum alloy and it's very well constructed, it's about five inches long so it can easily fit in your pocket. The light is waterproof and shockproof making it great for using outdoors like hiking and camping or as a light for your bike. Attached to the back is a wrist strap as well.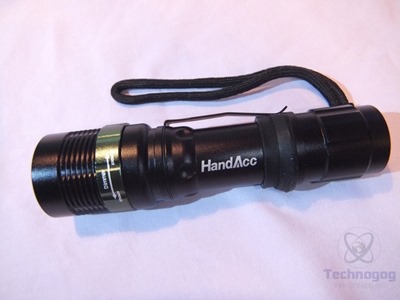 In the center of the light is a thick and durable clip so you can attach it to wherever and there's a thick rubber ring around the light as well to protect it from falls.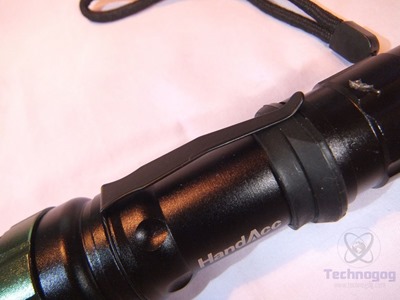 Around the head of the light you'll see a green ring that let's you adjust the focus of the light, it basically just zooms in and out. The ring is easy to access when you're holding the light, you can do it with just your thumb which is nice.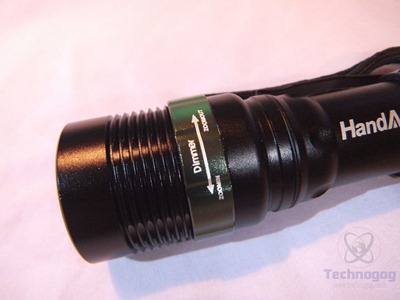 On the front is the lens of course and behind it is the LED which can output up to 500 lumens of light. The LED can be used in three modes, high, low and flashing.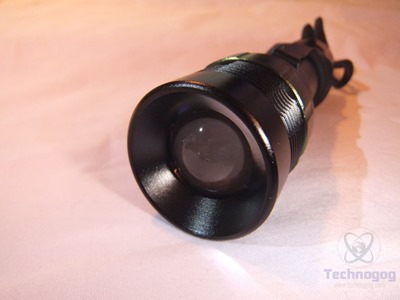 On the back of the light you'll find the push button power switch that's covered with a textured rubber for grip. The tail end unscrews to reveal the battery compartment and inside you'll find the adapter that can hold three AAA batteries to power the light. As mentioned earlier though, you can use a 18650 battery if you have one.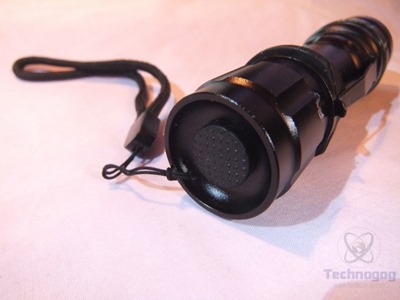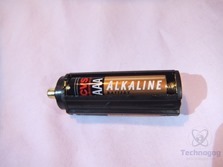 The bike clamp works well I think, the light doesn't fully attach to the clamp, it just rests in there and holds via friction and tension but it's a tight fit and should stay in there.
The light can actually come apart into basically five main pieces, but you can also take off the rubber bumper and the belt clip if you want to, so there's even more pieces. You need to be careful if you take it apart though as there are tiny ball bearing inside and under the adjustment ring, I found this out the hard way but thankfully I found the bearing and got it back together.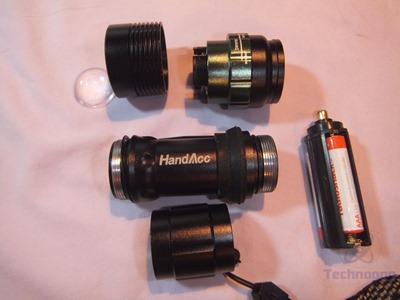 I did run into an issue with the wrist strap, it broke as the cord is very thin. It was an easy fix I just used a Wii remote strap since recently one of my remotes died.
I used the HandAcc flashlight almost every night for a while actually when I took my dogs out, it was very handy and it provided a lot of light. I used it until I got another one for review, but I still like it, I actually ended up giving it to my wife as she needed a small flashlight.
The batteries seem to last a while, you should be able to get a long time from them for sure as you're not going to be using it a lot.
Conclusion
The HandAcc flashlight is a decent product, especially if you consider the price, it's very inexpensive for such a good quality flashlight.
The light is bright, but not sure it's 500 lumens though as I have a few flashlights and this one doesn't seem that bright, but don't get me wrong it's still very bright.
The flashlight itself is well made and durable, it's great that it's waterproof and shockproof, I'd trust it to last a long time surely.
It can use rechargeable batteries but sadly they don't include any, but at this price point I wouldn't expect them to. You can use three AAA batteries for power and they should last very long.
I like the HandAcc flashlight, it's great for the price, I don't think you'll find a better one at this price point really.

Pros:
+Tough and durable
+Bright
+Includes bike mount
Cons:
-Batteries not included
-Wrist strap could be better
| | |
| --- | --- |
| Grading | Scores Out of 10 |
| Overall | |
| Design / Aesthetic | |
| Value / Price | |
| Performance / Usage | |
Disclosure: This product was given to us for review by the company for review purposes only, and is not considered by us as payment for the review.
To learn more about our review policy please visit this page HERE.