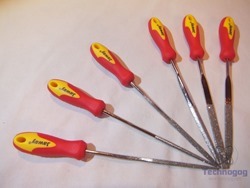 Tool, I love tools, I've got plenty of them around the house that I've collected over the years . Some tools you use all the time and some you rarely use but it's those tools that you rarely use that you're glad you have when you do have to use them. Files can be useful for lots of jobs, hobbies and just around the house and today for review I've got a decent six piece set from a company called Jaway Tool. The set is six different diamond files, and they're small, meant for detail work and they even come with a nice protective carrying case. Read on to learn more..
Specifications and Features
JawayTool 6pc Diamond Needle File Set
These JawayTool file set ideal for precision work on carbide, glass, hardened steel and other difficult-to-machine materials. This diamond needle file set allows aggressive action with delicate precision making it a great tool for any hobbyists, machinists, gunsmiths, and jewelers. Its 6 files cut faster and leave a smoother finish than ordinary steel files. The file set includes 1 flat, 1 round, 1 square, 1 flat taper and 1 triangle and 1 half round files.
Price: $11.99 (from Amazon at time of review)
The Review
Let's start off with a video to give you  a better idea of these files:
The Jaway Tool file set comes in a nice sturdy plastic carrying case with a clear cover so you can see the files and also the case can be used for storage and transport.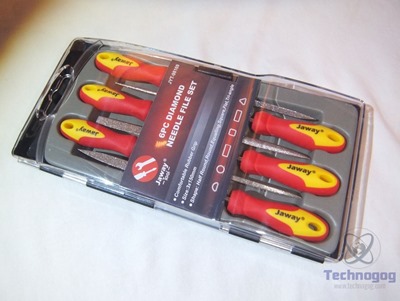 The case is held closed with a push button style lock which should hold it closed while it's in your toolbox or bag to make sure the files don't fall out. They are thin files meant for detail work so you don't want them damaged, you certainly wouldn't want to just throw these loosely in your toolbox with other tools.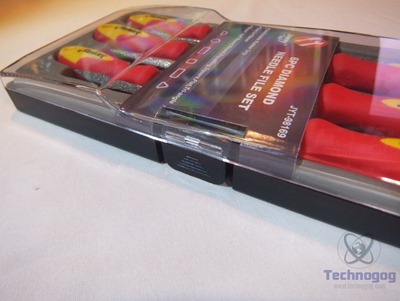 The bottom of the case is just plain black but there is a label there with standard warning and then UPC code and other info for you with name and model number.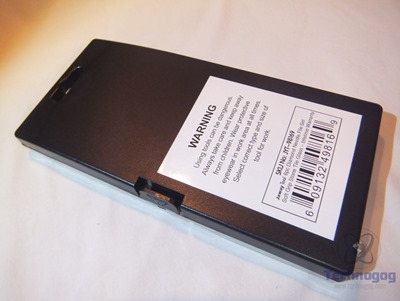 The files come with a plastic tray inside of the carrying case that holds them in place securely.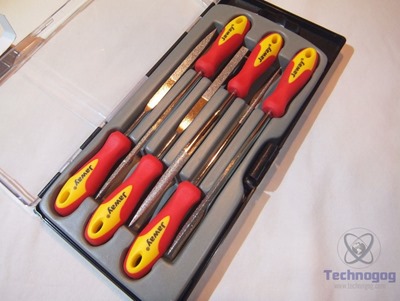 Each of the files are about 6 inches or about 15cm long and have a red and yellow rubber handle on them. The actual filing or working part of the files is about  2 inches or about 5cm of the total length. The files are diamond impregnated so they should remove more metal than a conventional file would thus making the job easier and faster, this should also make them last longer.
There are six files and they all have a different shape and use. In this kit you have 1 flat, 1 round, 1 square, 1 flat taper, 1 triangle and 1 half round file.
The handles are rubber and slightly over 2 inches long or about 5.5cm long, so yes they are a bit small. If you've got large hands this could be an issue, but I'm a guy and I had no trouble using them. These files are meant for fine and detail oriented work so you really don't want a larger handle on them, the smaller handle actually gives you more control over the file as to direction and pressure you're using. Those with larger hand will just have to get accustomed to using them, I do a lot of detail stuff so I'm already accustomed to something like these handles as I have an even smaller set of files I use for detail work.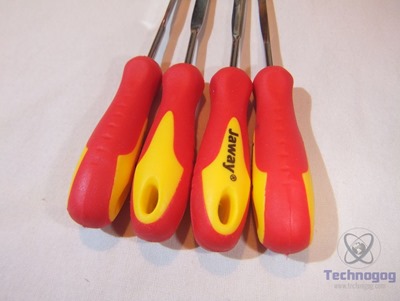 You can use files for many thing, hobbies, work, or just things around your home.
Files aren't just for filing things down as it were, they can be used to sharpen fishing hooks for example or just removing a rough edge from a piece or metal that might be bothering you.
I've used them for metal, plastic and even Plexiglas as they're great for cleaning up the edges when you cut Plexiglas.
I've also used them for sharpening a couple pairs of wire cutters they were getting dull.
If you're into computer modding a decent set of files is a great thing to have around for sure.
There's just plenty of things you can do with a good set of files. They're really just one of those things that you might not use often but you're glad you have around when you do use them.
Conclusion
A set of files might not get much use in your home but once you have them you'd be surprised by just how uses you might find for them.
Files like these just have numerous uses, a good set of files like these are great to have around the house.
This set of files is well worth the price I think, they're useful, well made overall and they do include a protective carrying case.
Pros:
+Inexpensive
+Common and useful sizes/styles included
+Well made overall
+Numerous uses for work and around the house
+Carrying case included
Cons:
-Handles might be considered small
| | |
| --- | --- |
| Grading | Scores Out of 10 |
| Overall | |
| Design / Aesthetic | |
| Value / Price | |
| Performance / Usage | |
Disclosure: This product was given to us for review by the company for review purposes only, and is not considered by us as payment for the review.
To learn more about our review policy please visit this page HERE.