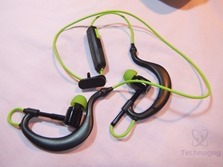 I've got lots of Bluetooth devices floating around and they're all very useful and have their place but some are better than others and some are more useful than others. Today for review I've got the Mixcder Basso Bluetooth earphones that are a sport style meaning they are ergonomic and fit well and they're comfortable and from my testing they are really. The headphones are easy to use and even have a remote in-line with basic multi-media and phone controls. Sound quality is decent and they're inexpensive, all in all a nice set of earbuds considering the price. Read on to learn more..
Specifications and Features
The carrying case is very nice, it's semi-hard with dual zippers and it has a small carabineer on it so you can attach it to your bag or wherever.
The case opens to reveal the headphones on one side and then a small mesh pocket on the other with a small bag in it with extra different sized bud covers.
The headphones are meant for being active as they're made with earloops built-in. The loops are a soft rubber and they're very comfortable, normally I don't like earloops but these aren't bad. To wear them you just slip them over your ears and then insert the buds into your ears and you're done, it took me a minute to figure it out as to how to wear them, but the buds themselves rotate and move up and down for a good fit. Overall the headphones seem well made, the cord is thin and lightweight and the remote is very small.
The remote is inline and only has three buttons labeled play/pause, – and + for volume up and down but the buttons are multifunction for example the volume buttons are also for skip tracks and the play/pause buttons is also for power and pairing and answering and ending calls.
The micro USB port is on the side under a rubber cover to protect it from sweat and the weather. On the front of the remote is a tiny LED to let you know it's charging and for other status indications like Bluetooth pairing and power. They take about two hours to charge fully, but it depends on how much charge is left as to how long it will take to charge. You can supposedly get about 5 hours a talk time or music and they offer about 100 hours of standby time.
For testing I used these with my Samsung Galaxy S6 Android phone.
To power on you hold the play/pause button in and then you just hold it for a few more seconds to enter pairing mode. I had no issues pairing with my phone, worked just fine the first time.
The headphones do have voice prompts, for example they will say power on, pairing, pairing successful and connected when pairing over Bluetooth.
Controls work with Android fine for music, play/pause works for music and for calls. Volume works for volume up and down with single click and then hold in for skip tracks forward and back.
Sound quality:
Decent bass, not overwhelming, lacks treble, some but not much really, nice full sounding in ears though overall. Sounds quality in music isn't bad really, much better than I expected honestly.
Even at lower volumes they do a decent job of keeping outside sounds out, not totally, but most of the sounds anyway. You can of course just turn the volume up higher…
Conclusion
The Mixcder Basso Bluetooth earphones aren't bad at all especially if you consider the price. Sounds quality is decent really, they're just a little light on the treble end for my tastes but still they sound good.
The carrying case is very nice, it's semi-hard and will do a great job of protecting the earbuds while traveling.
Battery life is decent, five hour talk/play time should last most people all day really unless you're talking non-stop for five straight hours of course.
The Mixcder earphones are decent choice if you're looking for a comfortable and easy to use set of sport style Bluetooth earbuds.

Pros:
+Voice prompts
+Decent bass
+Full sounding
+Comfortable for long periods
+Stay in ears well
+Simple to use
+Seem well made
+Very nice protective carrying case
Cons:
-Light on treble
| | |
| --- | --- |
| Grading | Scores Out of 10 |
| Overall | |
| Design / Aesthetic | |
| Value / Price | |
| Performance / Usage | |
Disclosure: This product was given to us for review by the company for review purposes only, and is not considered by us as payment for the review.
To learn more about our review policy please visit this page HERE.