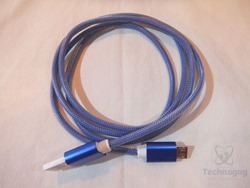 Most people don't give USB cables a second thought, it's just one of those things that's there when you need it or not. Most people have numerous USB cables hanging around, I know I  have to have at least fifty, if not a lot more than that floating around doing nothing in drawers, in the attic and under my desk as well. I don't know about you but it seems that every time I go to plug a USB cable in I do it backwards or upside, whatever the case may be, but it's annoying to have to fiddle around to get it in the correct way. The USB cable is one of those products that's just there, there's nothing special about it at all, until now that is. Moopti has just announced the dio Naked Reversible USB Cable that's up for pre-order on their site and/or you can back them on KickStarter. Moopti graciously sent me over a sample for review and it's one of those things that I have to wonder how I've lived my life without it thus far. The dio is so simple but yet one of those things that should be on your must-have list of accessories… Read on to learn more…
Specifications and Features
dio Naked Reversible USB Cables
dio naked reversible USB is the original, patented cable that allows you to insert the USB correctly every time. dio works with all your Lightning and Micro devices and comes in a variety of beautiful colors to match your personality. dio also features an elegant naked USB connection and a tough, braided cable to avoid tangles. This is the way USB should be.
SIMPLICITY.  Why is it that even though you have a 50% chance of inserting the USB cable the right way, you seem to always try to put it in the wrong way first? Apple has figured out that people don't want to have to worry about which way to insert the plug with their Lightning connection. It may be a simple step to flip the plug, but not only is it a slight hassle, you may damage the connection by trying to jam it in the wrong way.
SOPHISTICATED ELEGANCE.  dio is beautifully designed to eliminate the ugly metal housing and to incorporate the patented rUSB technology so that it can be inserted in either orientation. To make dio even cooler, we're producing it using premium components: vibrantly colored anodized aluminum and tough braided nylon cables to avoid tangles.
LIGHTNING AND MICRO. dio works with all your devices that use Lightning and Micro connections, including Apple, Android, Windows, and Blackberry.
Available in 3ft or 6ft (1m or 2m) lengths
MicroUSB or Lightning Connections
Price: $24.95
The Review

Moopti sent me over just the dio cable and a card with a bit of information on it, I have to assume that this isn't the final product packaging or if it is it's very minimal and that's alright too.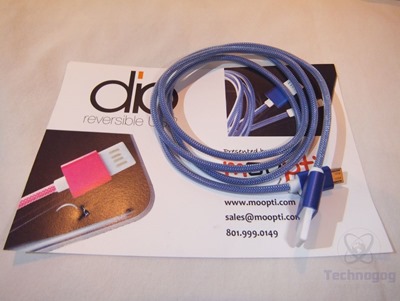 The dio is available in microUSB or Lightning connectors and I received the microUSB version.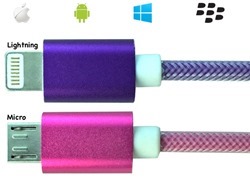 The dio is available in a variety of colors, I got the blue color.

The first thing you'll notice when you pick up the dio is that it feels good, it feels like a high quality product, I'm very much impressed with the quality.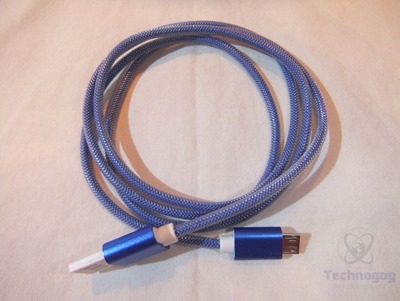 The cable itself is a very nice looking and sturdy braided nylon. The braided cable is stiff and it won't tangle, which is a very good thing of course.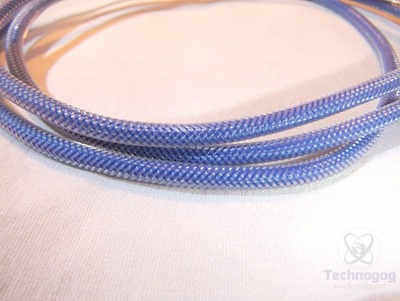 The USB is reversible and it's what Moopti is calling naked as there is no metal cover over the actual USB connection like normal USB connectors have. The idea here is that the connection is in the middle of the connector and it fits right into the UBS port but you don't have to worry about which way you put it in as the connections are on both sides. There is no up or down or right way or wrong way to plug the dio in.
As I mentioned I got the microUSB connector and it has the same anodized aluminum casing as the USB connection has.
For testing I charged things like my HTC One Android phone and my Windows 8.1 Tablet and it worked fine.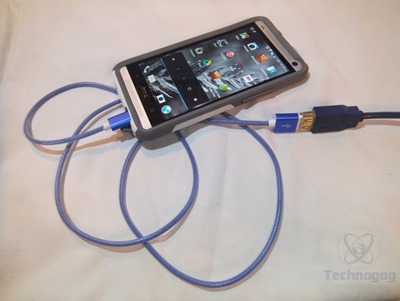 I just reviewed the +Lifeguard Dual USB Car Charger and I used the dio in the review there to test it and charge my phone.
Charging things with the dio isn't the issue or what we're here to see really, it's the fact that it's reversible and I can't really show you that in pictures so I made a little video for you:
Conclusion
The Moopti dio Naked Reversible USB Cable is a USB cable but it's so much more.
The ends are covered with anodized aluminum making them not only good looking but tough and durable. The cable itself is very well made, the nylon braid makes it strong and resilient and it won't get tangled.
Yes the cable is well made and that's great but that's not the main feature, just a big bonus I think. The major feature here is that it's reversible, you'll never, ever, have to worry about plugging in a USB cable backwards or upside down again with the dio.
If we had an award for like Best Product Ever or something like that, I would have to give it to the dio.
The dio is just one of those things that is amazingly simple but yet it changes everything and it's one of those things that I don't think I can live without now.
If you're interested in picking up one, and I highly recommend you do, then head on over the Moopti website HERE or visit them on KickStarter HERE to see what's going on with them.
Pros:
+Very well made
+Multiple colors
+Amazingly simple but extremely useful
Cons:
-Price might be considered expensive by some
| | |
| --- | --- |
| Grading | Scores Out of 10 |
| Overall | |
| Design / Aesthetic | |
| Value / Price | |
| Performance / Usage | |
To learn more about our review policy please visit this page HERE.