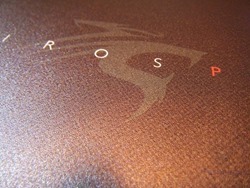 I've reviewed quite a few mousepad in my time as a reviewer and I've said it before and I'll say it again, a good mousepad is something that everyone should own. Most people think any mousepad will do, but that's just not true at all and it's not just for gaming either. A good mousepad can affect everything you do, your regular work or browsing and obviously your gaming. Mousepads come in two general categories, hard and soft. Hard pads are usually one of many various types of plastic but they can also be glass, soft pads are usually some sort of cloth. There are pros and cons for each of them, and some people prefer one over the other. I personally prefer a hard surface pad but I also like a soft or cloth pad as it's easily transported and they seem to be less prone to damage during travelling or storage.
Today for review I have a gaming mousepad that is both hard and soft offering the qualities of a cloth mousepad while also offering the slickness of a hard mousing surface. The pad is called the Kairos Pro and it's from Sentey, it's about twelve inches by ten inches in size so it should fit most desk spaces. The pad though is soft like cloth and can be rolled up but yet it does have a hard plastic surface that offers excellent tracking no matter how fast or slow you move your mouse. Read on to learn more..
Unboxing
Let's start out with a video unboxing and then continue from there:
When you open the box you'll be greeted with a small product catalog and the pad itself wrapped in plastic for protection. I should note the top and bottom inside of the box is padded to further protect the pad. I would have to say padding the box for a mousepad is a bit much as it's just a mousepad, but I can understand why do it as well.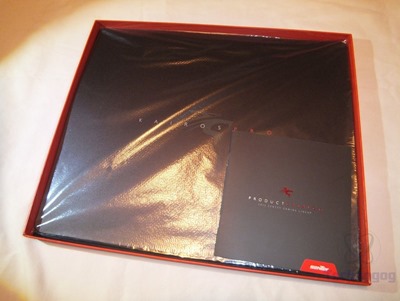 The Kairos Pro is about 12 inches by 10 inches in size and about .1 inches in thickness, or if you want metric it would be 310 x 254 x 5 mm in dimensions.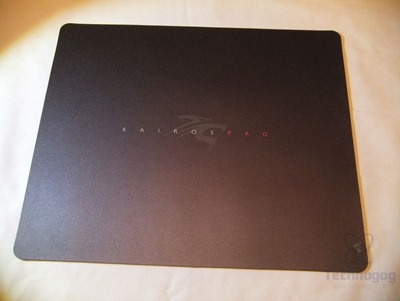 The surface of the Kairos Pro is PVC or plastic basically and it does have a slight texture to it, but overall I would have to say it's a smooth surface. Sentey calls the surface Glidetech, it's an extremely low friction surface for speed and tracking that should work well with most any mouse. According to the specs for the Kairos Pro, it's a medium friction level surface.
The back of the Kairos Pro is all rubber making it non-slip so it will stay where you put it on your desk no matter how frantic your gaming session might get.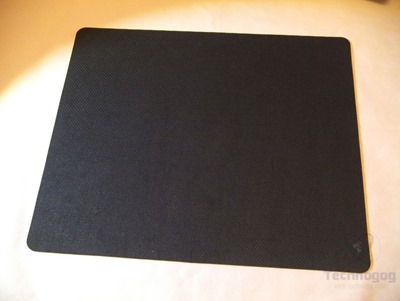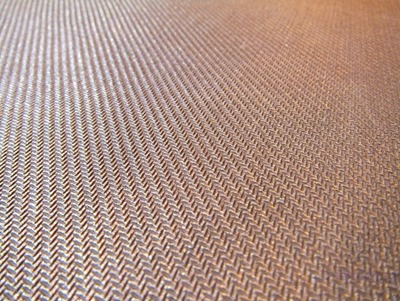 Specifications and Features
Feenix Nascita 2014 model, that's what I used for testing the Kairos Pro mousepad. I used the pad not only for gaming but just for everything, all day, all around use. I don't know about you but I don't switch between mousepads for regular everyday stuff and gaming. I think a good mouse should be able to be used for everything and I feel the same for a mousepad as well.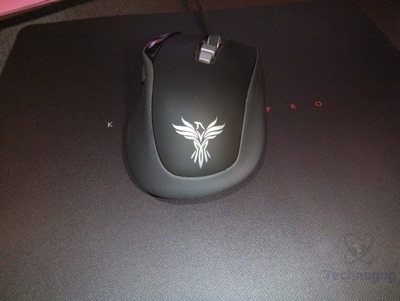 The Kairos Pro mousepad is about 12×10 inches in size and that's just about right for most desks. If you don't have a lot of room on your desk you're probably not going to want any larger than this really.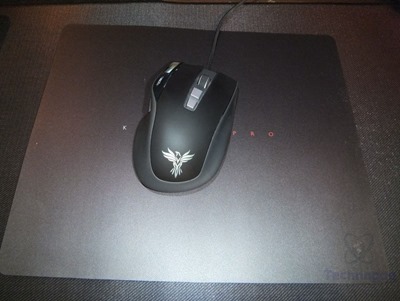 As I mentioned the Kairos Pro does have a slightly textured surface but my mouse just glides across it with just a hint of resistance. It's fast and slick but yet it does offer a modicum of control for your mouse which is more than enough in my opinion.
The Feenix Nascita is adjustable from 800dpi all the way up to 8200dpi which is ridiculously fast when it comes to mouse movements. The Kairos Pro offers excellent tracking, even at 8200dpi I can accurately move my cursor and select an individual letter is this review.
One small thing to note is that the edges of the Kairos Pro are kind of sharp, they almost feel as if they could cut you if you ran your hand or finger along the edge the wrong way. I don't think it would actually cut you, it just feels that way. It's a soft plastic so I don't think it would cut you, but it's just something I felt should be mentioned.
Conclusion
When it comes to mousepads, there's really not to much say when you review them as there's only a few points to over. You want to mention or cover the overall quality and tracking ability first and foremost, pricing and aesthetics come in as not quite as important but something to be considered for sure.
The Kairos Pro is what you might consider a cloth mousepad, or at least it has those features like the ability to be rolled up but it has a plastic or hard surface on it. A mousepad that is both hard and soft at the same time is a good thing as most hard pads have to be handled carefully when travelling with them. The Kairos Pro let's you roll it fairly tight for transport and the hard surface won't be damaged by creasing so you can just put it in your bag and go. The Kairos Pro offers the best of both worlds as it were, it's both hard and soft at the same time. You get the features of a cloth pad and the features of a hard pad all in one product.
The pad offers excellent tracking at no matter what speed or setting you have your mouse set at. No matter how fast or slow I went my mouse tracked perfectly.
The size of the Kairos Pro is just about right, it's not too big and not too small. I know a lot of people worry if a pad will fit on their desks, and at 12×10 inches the Kairos Pro should fit most any work area.
The Kairos Pro gaming mousepad is a great choice in my opinion, it offers all the features you might want in a mousepad.
The price is fine for the Kairos Pro, a the time of this writing it's about $15, and it's well worth that.
I can recommend the Kairos Pro gaming mousepad for sure, I know I'll be keeping it on my desk for quite some time to come.
Pros:
+Hard surface but yet still flexible
+Inexpensive
+Well made overall
+Aesthetically pleasing
Cons:
-None really
| | |
| --- | --- |
| Grading | Scores Out of 10 |
| Overall | |
| Design / Aesthetic | |
| Value / Price | |
| Performance / Usage | |
To learn more about our review policy please visit this page HERE.