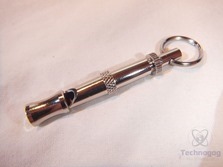 If you've got dogs they need to be trained and there are many ways to do it and one of those is a whistle. Today for review I've got the PetVitalix Dog Whistle Kit which includes a tunable dog whistle and a pet id tag along with a handy lanyard so you don't lost it. PetVitalix also includes several very useful eBooks about training your dogs with the whistles and other books about keeping them healthy and other information concerning your dogs. My dogs are rather stubborn but I've been trying the whistle with them and have seen some responses but I think I'll need more time to really get them trained. The old saying 'you can't teach an old dog new tricks' seems to apply for my dogs as they're about five years old now, but they are responding so time and patience is something you'll need to train your dogs. Read on to learn more…
Specifications and Features
PetVitalix Dog Whistle to Stop Barking with Adjustable High Pitched Frequency from PetVitalix for Obedience, Repellent Effect and Clicker Teaching with Keychain, Necklace, Anti Lost Pet ID Tag, Training Guides
-INDIVIDUALLY TUNABLE – Easy adjustable to multiple frequencies to train your dog commands (like come, sit, stay, etc.) and discipline over either short or long distances. Use it as deterrent or bark control device. Every canine is likely to respond at a different sound, simply find best tone and tighten the nut for your pet's perfect audio level. Absolutely safe for your dog's ears! PLEASE READ our included "Whistle Instruction Guide" pdf Ebook for all tips and finding the correct pitch.
-FAR REACHING – Works great for calling dogs from far away! Get your dog's attention right away without straining your vocal voice and drawing attention to yourself by jumping around like a maniac. Specially suitable for all dogs, any age, puppy and adult, Border Collie, Sheep, Hunting, Gun Dogs, Labrador Retriever, German Shepherds, Bulldogs, Beagles, Terriers, Poodles, Boxers, Rottweiler, Dachshunds, Huskies, etc.
-ULTRA HIGH FREQUENCY SOUND – 2-tone aid: 1. Silent ultrasonic tones are inaudible to humans but very audible to dogs and so different to all sounds in the surrounding area regardless of where you are. 2. The secondary tones are audible to the human ear but essential for gauging the efficiency distinguishing long and short whistles to train your dog.
-SMALL AND LIGHTWEIGHT – Only 2 inches long and 0.4 ounces, perfectly to hang on your key ring to have it by your side all time or use it with our included lanyard. Nice looking silver repeller fitting in each pocket. Set includes an additional ID tag as gift for your dog, cat or other pet animal.
Enhance Your Dog's Training and Bark Control Now Easily With This High Frequency Dog Whistle!
+ Do you want to train your canine commands like 'Sit' or 'Come'?
+ Like to distract your dog from barking?
+ Want to stop bad behaviors of your pet?
Introducing The Ultimate Dog Whistle Set For Pet Education!
+ Designed to be highly efficient, small and light weight
+ Easy adjustable to multiple frequencies
+ Perfect to train your dog over either short or long distances
+ Ultra high pitch to get your dog's attention

This Dog Whistle from PetVitalix is by far the easiest way to train your dog for basic commands and can be easily adapted for more intricate commands.
Bundle Includes
1 x Premium High-Pitched Frequency Dog Whistle
1 x High Quality Double Attachment Lanyard
1 x Anti Lost Pet ID-Tag Pendant
1 x Instruction Guide Ebook (Comes in an Email 24 Hours after Shipping)
3 x Ultimate Dog Training & Health Guides (Bonus Ebooks as Digital Download)
LIFETIME GUARANTEE
Only The Best For Your Best Friend! Highest Quality Materials Used. The PetVitalix Dog Whistle Kit Is Backed by a Lifetime Hassle Free Money Back Guarantee. Besides the Refund, We Will Ship to Your Address a Brand New Item. Simply Send Us an Email with Your Order ID if There Is Anything Wrong with Your Product.
Price: $11.95 (from Amazon at time of review)
The Review
Let's start with a video unboxing and then continue on from there:
The PetVitalix Dog Whistle Kit comes packaged in just a plastic bag with a cardboard insert with a little bit of info on it for you.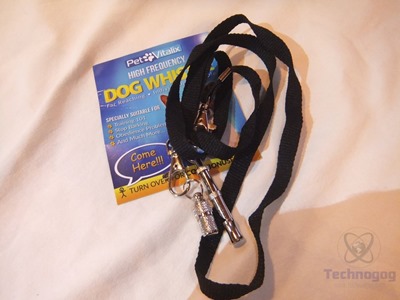 No instructions come with the whistle but you'll get a link to download eBooks once you order it. The books you'll get are Whistle Instruction Guide, Obedience Overtake, Keep You Dog Healthy and Alpha Dog Boot Camp. All of the books are well worth the read and can be informational.
The kit ships with a nice and sturdy nylon lanyard with clips on the ends of it to hold the whistle and pet id tag.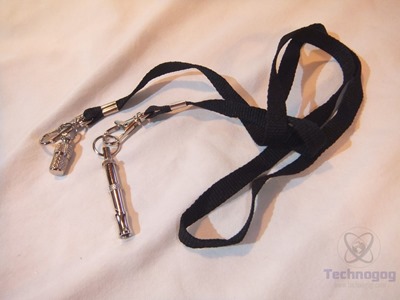 The included anti lost pet id tag is very small, shaped like a pill actually, it's two pieces and made of metal that screws apart to reveal a small piece of paper you can fill in with your name, address and telephone number. It seems well made and should last a long time I would think.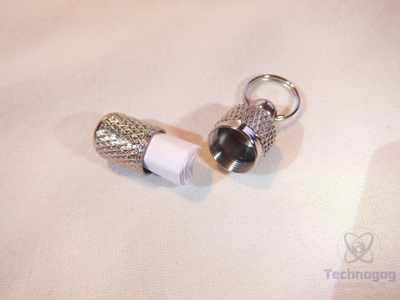 The whistle itself is about two inches long and it's made of metal and it's lightweight. It seems well made overall.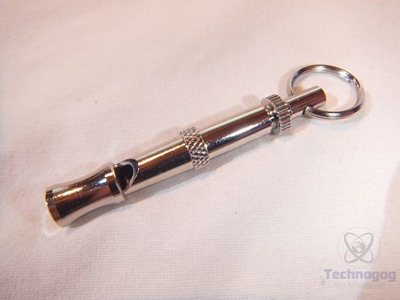 The whistle actually comes apart and inside you'll find a threaded stem with a adjustable nut on the top. The idea is that you can adjust the frequency of the whistle by moving the shaft up and down and then you use the nut to lock it in place once you find the frequency that works for your dogs.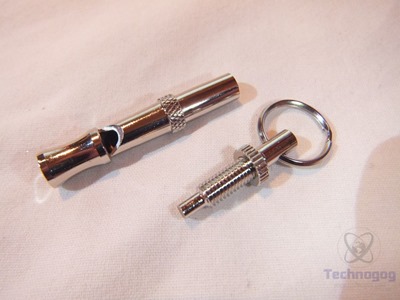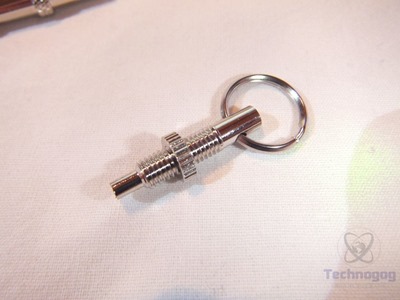 I have two American Pit Bull Terriers and I've tried this whistle with them for the last couple weeks and they pretty much ignore it.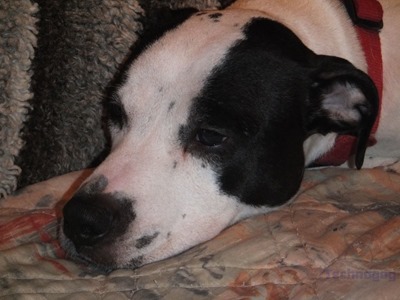 The whistle does get their attention if they aren't doing anything, but it will not stop them from barking when they do bark, they just completely ignore it. I tried all the different frequencies and they ignore it for the most part.
The whistle isn't the silent type that you may expect as it is audible to human ears, it's made this way so you can tune it to the correct frequency for your dogs.
The instructions say to wait for your dog to be asleep and lightly blow the whistle while adjusting the frequency until the dog is awakened by the noise or their ears perk up. When that happens you've found the frequency that gets your dogs attention and you can lock the whistle in place with the adjustable nut. The instructions also say if this doesn't work you can condition your dog to respond by practicing everyday. The instructions included are very detailed and can be helpful in using the whistle to train your dogs.
Maybe with more time the whistle could be beneficial in training them but they're about five years old so they may just be set in their ways. My dogs do seem interested in it yes, but they'll just need more work I think to get them to respond correctly to the whistle and get them to do what I want. I've been trying to get them to come when it's time to go out with the whistle and it works sometimes, sometimes they do come and other times they just ignore me so I think they just need more training or conditioning with the whistle as it's something new.
Pit Bulls are great dogs but they can be rather stubborn and set in their ways at times so if you don't train them when they're young it can be harder to train them when they are older.
Conclusion
The PetVitalix Dog Whistle is one of those things that you need a lot of time with to really judge it and as is I think it's not bad overall. It's a well made product, the whistle itself seems durable and should last a long time and the included lanyard is handy. The included id tag is a nice bonus as well.
The several eBooks that they give you are very helpful and useful and are much more than just about the dog whistle, they're well worth a read.
They do include a lifetime hassle free money back guarantee where you can get a refund and a new product if you encounter any problems with it. As far as the price, this kit is very inexpensive and worth it I think.
I love the idea of a dog whistle for training and I've always wanted one, I've been around dogs all my life but I've never had a dog whistle for them so I was very curious to see how it would work.
The PetVitalix dog whistle does have potential but I have rather stubborn dogs. I've seen some responses to the whistle and I think with more time and training it will work.
All in all I like the PetVitalix Dog Whistle kit, if you need or want to train your dogs then give it a try but just know that it may require some work and patience on your part.
Pros:
+Well made
+Includes eBooks for training and usage
+Includes ID Tag pendant
+Adjustable frequencies
+Inexpensive
Cons:
-My dogs pretty much ignored it
| | |
| --- | --- |
| Grading | Scores Out of 10 |
| Overall | |
| Design / Aesthetic | |
| Value / Price | |
| Performance / Usage | |
Disclosure: This product was given to us for review by the company for review purposes only, and is not considered by us as payment for the review.
To learn more about our review policy please visit this page HERE.