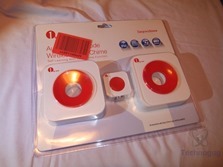 The doorbell is one of those things that people take for granted I think, it's just there, someone pushes the button and it let's you know that someone is at the door. You don't really notice it until it doesn't work anymore and that's kind of what happened to me recently, my old wireless doorbell wasn't quite working, it only worked sometimes so that meant to was time to get a new one and by chance I got an offer to review one that was better than my old one. Today for review I've got a wireless doorbell from 1byone that features dual chimes so you can put one near your door as you would normally and then put another elsewhere in your home where you need it to make sure you hear the doorbell. This doorbell kit looks very nice, it's a modern style and it works great. Read on to learn more…
Specifications and Features
Once you get everything unpacked you'll find two chimes, the doorbell or transmitter and battery for it along with 3M double sided tape, mounting hardware and the user guide.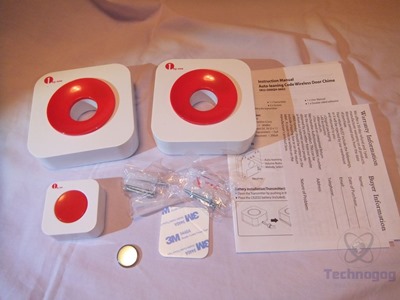 The chimes themselves are very nice looking, a nice modern design. They're about 4x4x1 inches in size, just slightly smaller than that really, just an approximation for you. They're plastic of course and they're lightweight but they feel sturdy and decently made.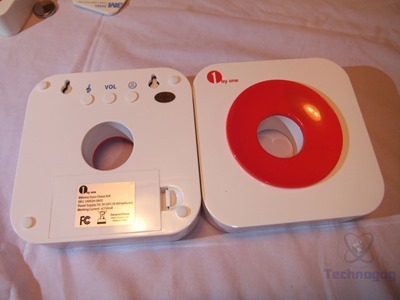 On the back of the chimes you'll find the mounting holes along with three buttons for music selection, volume and learning button for the codes to pair with the transmitter. There are 36 different melodies to choose from including just a basic 'ding-dong' along with numerous other things like holiday themed songs. You just have to keep pressing the button to cycle through them and yes it can take a while to get through them all. The melodies vary in length, some are short and some are longer and it really just depends on the mood you're in or you could change them as the seasons pass like Christmas songs during the holiday season.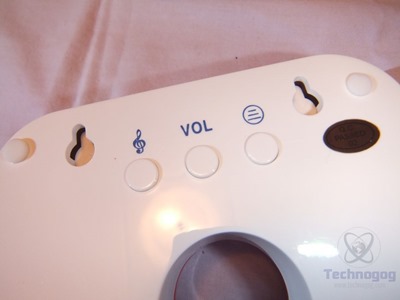 You'll need four AA batteries for the chime or receivers, two for each chime.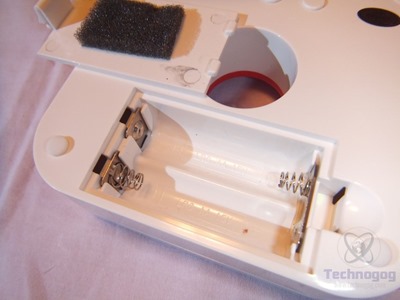 The transmitter uses a common CR2032 battery and to install it you just pop off the back and put the battery in.
My old doorbell didn't work so well so I removed it from the wall and I left the mounts or plugs there to use for the new doorbell. I used a single screw and the included 3M double sided tape to attach it to the wall. If the old mounts weren't there I would have had to use the ones included and drill holes, thankfully I didn't have to. One screw and the double sided tape is more than enough to hold the doorbell in place as it's very lightweight.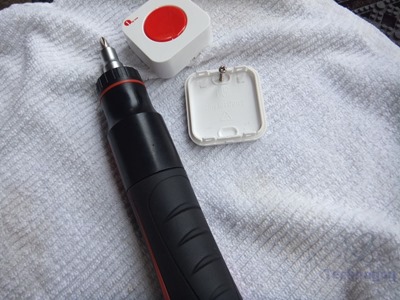 I installed the chimes in my house, one downstairs where the old on was so that one was fine as it's not far from the door or the doorbell itself. I installed the second one upstairs in the hallway near our bedrooms so I could hear the doorbell better when I'm upstairs in the bedrooms or up in the attic. Numerous times I've had people ring the doorbell when I was up in the attic and I never heard it because it was on the first floor, now I don't have to worry about that as I have a chime on the second floor.
Even though the chime was located on the second floor the range was fine, the chime rang every time I pushed the button, no problems there at all for me.
Conclusion
The 1byone Wireless Doorbell Door Chime Kit is a great product in my opinion, it's exactly something I needed for my home. The two included chimes are handy as they let you hear when someone rings your doorbell no matter where you are. A normal doorbell would only come with one chime that you would have to try and put in a centralized place but chance are you won't hear it everywhere in your home, having two chimes eliminates that problem.
The volume is nice and loud and different levels including off if you don't want to be disturbed.
The numerous chime choices are great. You could pick National Anthem, Can-Can, or one of many holiday themed songs to play when someone rings the bell. Personally I like the standard 'ding-dong' style ring, but my kids want me to change it to something else more interesting. It's nice to have options and you've got a lot of them to choose from.
Installation was easy for me, if you can use a drill and screwdriver then you'll be fine getting this kit installed.
The chimes and bell have a nice modern design or style to them that I happen to like a lot and they seem well made overall. The doorbell or transmitter itself is ip44 rated so you don't have to worry about it getting wet which is a nice bonus.
I get numerous things for delivery every week and it's nice to have a doorbell that works all the time. I've had this one installed for a week now and I've had no issues at all, it's every time someone has rang it. As far as battery life and overall longevity of it, only time will tell, but as is I like it a lot.
Pros:
+Great look
+Loud
+Simple to install
+Numerous audio choices
+Seems well made
+Good range
+Inexpensive
+Two chimes included
Cons:
-None that I could find
| | |
| --- | --- |
| Grading | Scores Out of 10 |
| Overall | |
| Design / Aesthetic | |
| Value / Price | |
| Performance / Usage | |
Disclosure: This product was given to us for review by the company for review purposes only, and is not considered by us as payment for the review.
To learn more about our review policy please visit this page HERE.