As promised I've got another phone to give away to some lucky person. This week I've got the Samsung Gravity 3 for T-Mobile. You've got to remember though that we're still giving away the Samsung Flight II this month, that contest is still going on until the end of the month.
Contest starts now and will end next Thursday, winner will be announced on Friday.
Same thing as last week, tell me three thing:
Why you want it!?
What phone do you have now?
What do you like about the Gravity T ?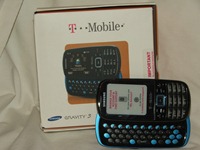 Gravity 3
Need a power phone to go with that power tie? The sleek Samsung Gravity 3 keeps things professional and you connected to the office with corporate email. It's also cool enough for your personal life with a suite of messaging features and Social Network Service. With a slide-out full QWERTY keyboard, 2MP camera, visual voicemail and more, you can so stay on top of your life in style.
Check out my review of the Gravity 3 HERE to learn a bit more about it.
Remember this contest will end on Thursday the 16th and next Friday the 17th I'll announce the winner in this post and in the comments and I'll email the winner. Make sure you leave a valid email address so I can contact you.
——-
Then you have to remember that we're still giving away the Samsung Flight II this month:
To win the Flight II: Look over on the right side there, you'll see a section titled 'Top Commentators', it keeps track of the top ten people that leave the most comments. At the end of the month on the 30th of September, we'll select one of those top ten commentators to get one of the phones. Please keep the comments real and constructive. You can comment on anything, the review, the PR, whatever posts you want.
——-
**These phones are for T-Mobile and AT&T so the contest is only open to United States residents, and of course you'll need to have an account with T-Mobile or AT&T to use the phones. Or I guess you could get a new account with them as well if you wanted to.**
—–
When you're commenting please be sure to leave a valid email address so I can contact the winner to get their shipping information.
The contest for the Samsung Flight II will end on September 30th.
–

We would appreciate it if you would follow us on Twitter and re-tweet about the contest. If you don't have Twitter, then you could always let your friends know via FaceBook or your blog or wherever and however you can. You can easily hit the re-tweet button at the top or hit the like button for Facebook.
–
Also if you use RSS, don't forget to subscribe to our feed so you don't miss anything!!
You can read our review of the Flight II HERE.
—–
And I would like to thank Samsung, for without them I wouldn't be able to be giving these phones to to you!
Check out Samsung Mobile: http://www.samsung.com/us/consumer/mobile/mobile-phones/index.idx?pagetype=type