Compro has just introduced a new IP camera called the IP55. The camera is standard wired version but can be upgraded with an optional 802.11N kit. The IP55 can do 1280×1024 resolution with dual MJPEG and MPEG-4 streams. It can even be used with your phone to monitor while away.
Compro Technology announces the all-new IP55 Network Camera. By combining the real-time MPEG-4 video compression technology, IP55 can transfer up to megapixel high quality video and enables IP55 to be more suitable for the use of network surveillance.
Compro IP55 provides high-definition 1280×1024 image quality, dual MJPEG and  MPEG-4 streams, with Compro's exclusive free iDDNS dynamic domain name service offers you to easy control the situation through the mobile phone or network devices, while you are away from home. IP55 also has the function to connect sirens and sensing devices, provides completed safety for your home environment, property, family and beloved pets. The new version of ComproView is a powerful and rich features 32-channel professional grade multi-camera video management solution which is specially catered for business surveillance with the integrated intelligent functions.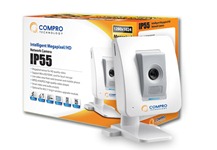 In order to meet different needs, IP55 has built-in MicroSD memory card slot that allows you to make images stored, and can be up to support MicroSDHC memory card. The convenient and thoughtful idea is designed for our valued users. While you are using IP55, you have an option to purchase WL150 USB upgrade module with a simple and easy wireless network installation process. It provides 802.11 b/g/n wireless transfer functions. The newly released WebVuer further enhances the camera's web interface by making the camera compatible with Mozilla, Safari and Chrome, adding in 16x (4×4) channels web viewing, real time recording to PC, and a brand new user interface for a more intuitive control.
Compro IP55 network camera, the combination of convenience and high-performance, must be an ideal surveillance solution for securing locations such as home, small business, hotel, shop or restaurant!
http://www.comprousa.com/en/product/ip55/ip55.html
Compro Technology, Inc.
Http://www.comprousa.com