I've got 13 Speck products to give away to some lucky people. I've got cases for iPod, iPhones, BlackBerries and a Macbook along with a few screen protectors as well for a few of them.
I decided to hold off on the last Samsung phone until later and give this stuff away to you guys instead.
This contest is going to be on our Facebook page only, so you'll have to go over there and 'Like us' along with leaving a comment on the posting/announcement about this contest telling us which one you'd like to have.
The link to our Facebook page is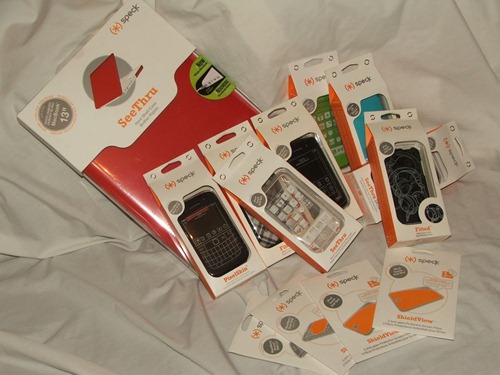 I've got two iPhone 3G/3GS cases. The CandyShell and the PixelSkin.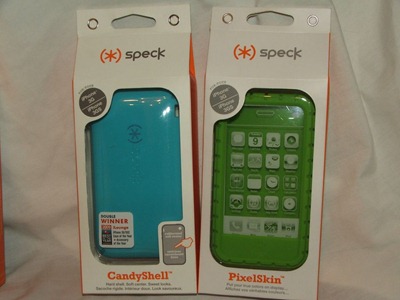 CandyShell for iPhone 3G/3GS – AquaBerry Blue
Never before has the flexibility and protection of a soft rubberized case been combined with the durability and scratch protection of a sleek hard shell in a seamless single-piece design… until now. CandyShell's soft, colorful rubberized interior keeps your iPhone 3G or iPhone 3GS insulated from life's bumps and knocks, while the shiny outer hard shell protects it from scratches and lets you slip it in and out of pockets easily.
PixelSkin for iPhone 3G/3GS
The tactile pixel texture and perfect amount of "squish" is what makes this rubberized iPhone 3G/3GS case so grippy in-hand and famously protective. Rubberized touch-thru button covers and cutouts for plug port, camera and hold switch.
==
Then I've got three iPod Touch 2nd Gen Cases, the Fitted, and two different SeeThru style cases, the Satin and Regular style.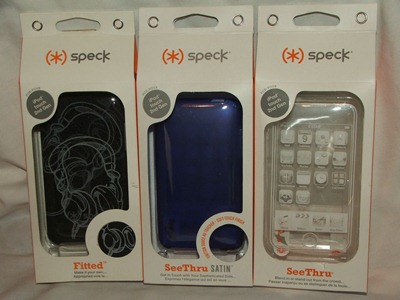 Fitted for iPod touch  – Black & Grey Headphones
Dress your iPod touch for success with a chic Fitted case by Speck! This hard shell case with tailored outerwear adds fabric-wrapped class and an inviting feel to your device as you browse through your songs, videos and podcasts. The simple, snug, snap-together design gives you full access to your viewing screen, controls, ports and plugs. Available in black pinstripe, Fitted is a fashion statement that proves hip can be practical!
SeeThru SATIN for iPod touch – Blue
SeeThru SATIN is a brand new case, and it's already won a Best in Show Award! The soft-yet-grippy finish of Seethru Satin is now available for iPod touch 2G. This phenomenal new one piece case provides a smooth Satin soft-touch finish on a hard shell case, giving your iPod a super-sweet, sleek look that is a pleasure to hold!
SeeThru for iPod touch (2nd/3rd gen) – Clear
Blend in or stand out from the crowd! SeeThru hard shell cases are the ultimate in minimalist design, so thin they blend into your iPod's sleek lines, creating a custom-finished look. Built-in rubberized side strips create a no-slip grip, while the bottom of the case slides off for docking and conveniently doubles as a stand.
==
Then I have three BlackBerry cases too!
The PixelSkin for the BlackBerry Storm 2 9550
The Fitted for the BlackBerry Tour 9630
The PixelSkin for the BlackBerry Bold 9700 or Bold 2
PixelSkin for BlackBerry Storm2 9550 – Black
Lightweight, form-fitting PixelSkin is the perfect rubbery case to help protect your BlackBerry Storm2 9550 from drops and dings. The textured tile pattern provides a comfortable tactile sensation in hand, and no-slip grip. With openings to all ports, controls and sensors, PixelSkin provides convenient accessibility, a cool look and unmatched comfort!
Fitted for BlackBerry Tour 9630 – Black & White Plaid
Outfit your Blackberry Tour 9630 in form-fit fashion with a Fitted case from Speck. Fitted is the perfect way to add protection and create your own signature style. The durable, lightweight snap-together design lets you instantly turn your Blackberry Tour 9630 into a fashion statement. Soft fabric provides added comfort and extra grip in hand. Custom-fit contours and openings allow access to all ports, camera, and controls.
PixelSkin for BlackBerry Bold 9700- Black
PixelSkin's lightweight, form-fit helps protect your BlackBerry Bold 9700 from bumps and scrapes, while the textured tile pattern provides a comfortable, tactile sensation in your hand and a no-slip grip. The case offers openings to all ports, controls and sensors for convenient accessibility.
==
Then I have four protectors. These packs have three in them actually.
I have two for the iPod Touch 2nd Gen and then one for the BlackBerry Storm 9550 and one for the BlackBerry Bold 9700.
So two lucky winners of the iPod cases will also get one of the screen protectors and the winners of the BlackBerry cases will get the corresponding screen protectors.
Protects touchscreens from scratches, smudges
Anti-glare for improved visibility
Non-adhesive; easy to apply/remove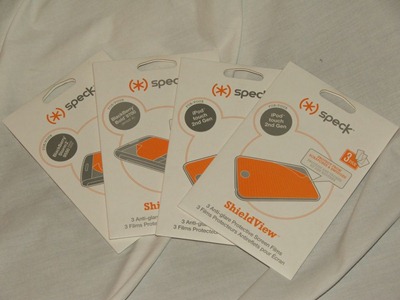 ==
Lastly I've got the SeeThru hard shell case for the Apple MacBook that's red in color.
PLEASE NOTE: This is only for the 13" White Unibody Version or the October 2009 Unibody Model. It will not fit any other MacBook!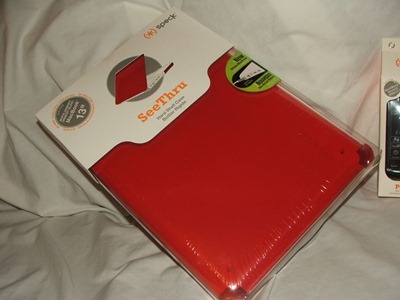 SeeThru for MacBook 13" (white unibody) – Red
"Add a splash of color to your MacBook (new white unibody polycarbonate model) with Speck's SeeThru hard shell cases! Available in clear and pink and red, our road-tested, translucent cases stand out vibrantly in the sea of same-ness. Device-specific engineering makes for a custom fit and highlights the look of your new MacBook."
Check out the entire line of Speck Products by visiting them here: http://www.speckproducts.com/products
Contest will end Sunday October 10th!
Remember, anyone in the world can win!
Remember to win you need to go HERE and Like Us, along with adding a comment to the post about the contest as to which one you'd like to win. Please let other people know about the contest by Tweeting about it and adding it to your Facebook page!