Cirago has decided to further join the USB 3.0 revolution with the introduction of their  new CST6000 portable hard drive. It's a 250gb 2.5" drive that runs on the USB 3.0 interface so it should achieve some decent speeds for all your transfer needs. Cirago even included a nice carrying case as well for added protection while you're transporting the drive.

The CST6000 comes in a yellow colored box, nothing really special.
Inside you'll find a USB 3.0 cable, a USB power cable, cloth case and the drive itself.
The enclosure is actually very nice, it's aluminum so it's tough and should help keep the drive cool. The Cirago logo is on the front and nothing is on the back. It's a 2.5" drive so it's small and portable.
On the back edge you'll find the UBS 3.0 connection and the power connector.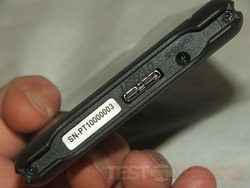 Specifications:
The search for affordable, compact, and fast storage is over. The latest portable hard drive from Cirago rapidly transfers at SuperSpeed with USB 3.0 enabled devices. Pocket-sized and light-weight, the CST6000 series allows information to move with the user, without the extra weight. With information at one's fingertips in a mini, portable handheld case, transporting large amounts of information and traveling light is easier than ever before.
Features:
*  Slim and compact solution for USB 3.0 Interface
* SuperSpeed USB 3.0 Backwards compatible with 1.1
* Higher Performance Transfers up to 5 Gbps
* Plug and Play / Easy to use
* Share any data, video, music and more
* Supports PC, MAC and Linux
* Active LED Power Indicator
* Aluminum Case for light weight and durability
Specs:
Interface: USB 3.0
Form Factor: 2.5″
Power: USB Bus Power, auxiliary USB power cable
Warranty: 1 year
Included Accessories: USB 3.0 cable, carrying pouch, quick start guide, warranty information
Dimension: 3.25 x 5.3 x 0.5 in

The carrying case is just cloth, but it's rather thick so it should offer decent protection for the drive. The only thing I don't like about the case is no pocket for the cable.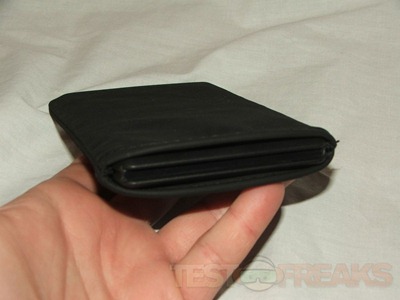 There is a small blue LED on the back of the enclosure: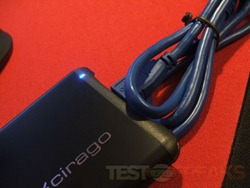 Ok, so I ran Atto Disk Benchmark on the drive in USB 2.0 and USB 3.0.
One thing I should note is that I had to use the power cable when using the CST6000 on the UBS 2.0 interface which is odd because none of my other USB 3.0 drives require the additional power on USB 2.0.
This looks rather odd to me, yes it's faster but not much or not what I would expect it to be…
I thought maybe there was something wrong with my USB 3.0 ports so I grabbed another portable HDD I've got and tested it out, and got much faster speeds.
I decided to investigate a bit further by opening the CST6000 enclosure. It's secured by Torx or Hex screws on the end and upon opening it I found a Western Digital Scorpio 5400Rpm drive inside.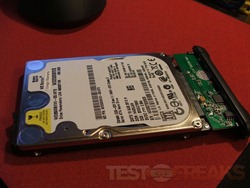 5400Rpm drives are common in portable enclosures so there's no surprise there. So I thought maybe the Cirago USB 3.0 interface has an issue so I grabbed a Samsung 5400Rpm drive to test with it just to make sure.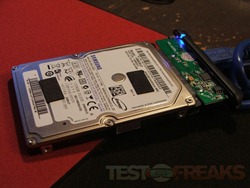 Well it turns out the USB 3.0 interface is fine, I got the expected speeds using Atto this time, the same as I got with my other USB 3.0 enclosure.
So the problem here is the hard drive that Cirago chose to use with their new enclosure. I did a bit of research and found the drive is only an SATA 1.5 interface and the Samsung drive is an SATA 3.0. They effectively slowed down the transfer rates they could achieve on USB 3.0 had they used a faster drive or faster interface actually. Not sure why they would do this, but I'll contact them and ask why and report back.
Conclusion:
The Cirago CST6000 enclosure itself is very nice, it seems well made and should protect the drive very well.
The included case offers another level of protection as well.
Regarding the speeds of this product, the interface is fast but the drive they choose to ship with it isn't, so they've effectively crippled their own product by choosing to use a slow drive with a fast interface.
On my system I couldn't use the drive on the USB 2.0 interface unless I used the power cable, not sure why this is as my other drives work just fine without the additional power.
Pros:
+Well made and nice looking enclosure
+Includes carrying case
Cons:
-Rather slow hard drive used
-Must use power cable with USB 2.0
| | |
| --- | --- |
| Grades: | |
| Overall | |
| Design | |
| Performance | |
To learn more about our review policy please visit this page HERE.