This week for the Steam key giveaway we have SkyDrift which is an indie racing game but with planes but there's a slight twist as if you can't overtake an opponent you can just shoot them down. There's much more to it than than though as the game does feature great looking graphics and three different game modes. In SkyDrift you have access to eight different planes but each planes has four different skins. Read on to see what you need to do to win your own key…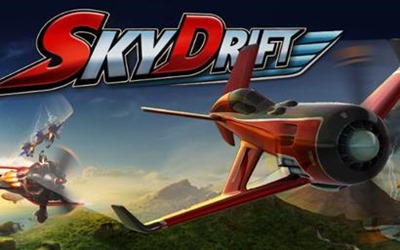 Get closer than ever before to the world of adrenaline pumping sky-racing where flyboys can test and master their flying and combat skills against the deadliest opponents! Admire amazingly detailed terrains. Unlock state-of-the-art planes and personalize them with unique racing skins.
Be the first on the single and multiplayer challenges, where possibilities are limited only by your own imagination.
The goal is simple: If you can't overtake them, shoot them down!
Key Features:
Eight Modern Planes to Fly: Choose from eight modern, state-of-the art airplanes turned into killing machines, each with four different skins for a total of 32 unique racing skins.
Six Power-ups! Capture up to two different powers in your plane's arsenal, then collect upgrades to increase the strength of those existing powers. Strategy becomes key as you must choose which powers to keep, which ones to upgrade and which ones to convert into Boost energy
Stunning Visuals: Race through scenic venues like the Grand Canyon, Alaskan Terrain and Hawaiian Islands, created with beautiful, vibrant colors.
8-person Multiplayer: Take your friends down online in this fast and furious battle.
Three Unique Game Modes: Power Race Mode is high-speed racing paired with power-ups; Speed Race Mode where players navigate the course through ring targets that accelerates plane speed and Survival Mode where pilots race against the countdown clock and each other.
Steam store page: http://store.steampowered.com/app/91100/
Main page: http://skydriftgame.com/
One winner will be picked at random via Rafflecopter random pick system when the contest ends.
Contest runs Wednesday to Wednesday, winner announced Wednesday following contest end.
The game code is for Steam so you must be a Steam user to use the code or you must install Steam.
.