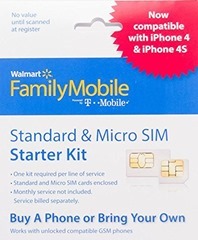 If you are looking for affordable mobile plans, Walmart Family Mobile can be the best networking solution. There is no need to sign up for a long-term contract. It is easy to get an affordable deal within your budget. Walmart depends on T-Mobile and offers competitive rates for mobile phone and cellular data.
Check this portal to get details of registration, login, and troubleshoot. For an affordable price, you can get talk texting, and web browsing features through a service plan of Walmart Family Mobile. There is no need to worry about credit checks and additional charges. Walmart offers monthly plans that can be canceled anytime without paying an extra fee.
1. Walmart Family Mobile Plans
It is easy to switch over a cellular plan of Walmart Family Mobile. Feel free to choose a starter kit for each line to connect to a reliable plan. For each line, you have to pay almost $25. The cost includes an activation code, and a SIM card for each phone. Feel free to choose starter kits at a Walmart location. Feel free to get new numbers for your new phones.
Moreover, it is possible to transfer a current number after calling the customer service department of Walmart. It is possible to bring your existing phone into the Family Plan of Walmart. This transfer will be easy with a GSM-networked phone. Fortunately, T-Mobile and AT&T use similar phones. Other carriers, such as Sprint and Verizon depend on CDMA technology.
2. Coverage
After covering the details for switching over, you have to pay attention to the network coverage of a Walmart plan. It uses T-Mobile's network that covers over 280 million people in the country.
Evaluate the coverage map of T-Mobile before selecting a plan. Remember, your area must have proper support for the network. People in rural zones should consider the coverage of a plan before investing their money.
3. Pricing of Plan
Price of a basic plan is almost $24.88 for all features. If you need unlimited data, you have to pay nearly $40 and get an extra three gigs for 4G LTE. You can get a $5 discount from Walmart for adding a line in your plan. It means the new lines may cost almost $19.88 per month.
An account holder may get five lines on his/her account. A basic plan offers incredible speed at 4G LTE. In the case of overspending, your speed may drop to 2 gigabytes for remaining billing cycle. Remember, higher-tier plans may get extra data at 4G speeds.
Final Verdict
The Walmart Family Plan can be an ideal choice for people that need an affordable plan. These plans offer unlimited data, texting, and talking options. You can get five lines on an account. T-Mobile networks provide the best speed and fantastic coverage.
It is easy to switch to a new phone because dependable and affordable options are available. You can add lines on your plan at flat rates. The data plans are cheap as compared to other prepaid phone providers.