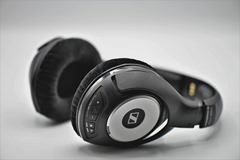 When it comes to teleconferencing, poor audio and video quality can have a devastating impact on the productivity of the meeting. Issues like low voice talkers, background noise and speaker identification can prevent participants from enjoying a fulfilling experience. One reason to not use your laptop speakers is the fact that they are so close to the screen, causing the sound waves to bounce off the display and leading to a cluttered sound. This increases distortion while reducing clarity.
To make sure you're able to hear everyone else well whenever you are on a virtual meeting and connecting through your favorite video conferencing app, we recommend you forgo your laptop's almost nonexistent sound system and get yourself a great set of headphones. Besides, headphones not only ensure you're in on every bit of the conversation, but also enable you to eradicate workplace drama due to miscommunications. In addition to that, after the meeting is over you can switch up the volume on your productivity by inspiring yourself with some power music that won't disturb your teammates.
Here are the best wireless headphones for zoom cloud meetings.
Jabra elite 65t
The headset has a couple of cool features starting with its battery which lasts for up to 5hours, combined with the charging case you can get 15 hours of playback time. The controls on the headset are also asymmetrical unlike other true wireless headphones which play a huge advantage on them. Jabra elite 65t not only has a great 4-mic sound system but also zero noise leakage. The headset is waterproof too. Packed with software, Jabra elite 65t comes with Jabra sound and the Find My headphones feature.
Plantronics C325-M
This option is both economical and high quality. Amazon describes the C325-M model as by far the best-featured zoom cloud call headphone you wouldn't think your budget could afford. Among its many features are a Digital Signal Processing (DSP) for a better audio experience, noise cancelling and SoundGuard technology, which is like PeakStop in that it protects listeners from audio spikes.
Jabra Evolve 80
The Evolve 80 offers an audio experience more immersive than most. This is thanks to it's large around-the-ear cups that cloud you in a world of sound. It features both passive and active noise-cancellation technology ensuring you are able to focus on the business at hand. Jabra also offers a noise-cancelling microphone, and PeakStop technology and HD voice.
Plantronics C725-M
An upgrade from the C325-M, the Plantronics C725-M features a padded headband for comfort as well as folds flat for easy portability between calls. In addition to SoundGuard technology, the headphones feature Active Noise Cancelling (ACN) in both the microphones and speakers whether you are just listening or talking.
Jabra BIZ2400 DUO
The headphones are made of Kevlar and surgical steel. Its noise-cancelling microphone with HD Voice ensures listeners can hear you even when you are connecting from a noisy environment. Other features include PeakStop technology actively protecting users from sudden loud noises by automatically keeping the sound level in the safe zone all the time.