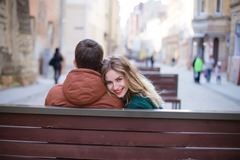 Today, dating on the network is a great alternative to real-life dates. With the rapid pace of our life, the pressure of business and other troubles, this is a chance to meet a decent man and build romantic relationships. But this is possible only on one condition – if you learn to correctly determine the type of a man. Otherwise, you will spend your precious time and mental strength on those who are unworthy and able to bring only chaos and frustration into your life. We've prepared a list of 5 types of men to avoid in online dating.
    1. A sexual addicted or mentally ill man
You will probably be surprised, but there are a lot of such people on the Internet. These 2 categories of men are very similar. The goals of these men are very diverse, depending on the degree of their "features." Someone tries to get some photos from you, preferably nudes. Someone is interested in your sexual fantasies and ideas, and other men like to send you their intimate photos. You will have no difficulty to figure out such a candidate.
    2. A gigolo or scammer
Of course, gigolo and scammer are different types of men, but they have a common goal – to trick out of your money. Gigolo is a man, usually not older than 40 years. His manner of communication, well-groomed appearance, erudition, slightly veiled sexuality, and charm are superfluous. Such a man will be very interested in you, and especially in the conditions in which you live and work, your dreams, goals, and so on, in order to have tools for manipulation. Most likely, if you match his preliminary requirements, he will want to meet with you in person to see how you live.
It's difficult to recognize a fraudster because his profile can be filled out very deliberately, and his behavior doesn't arouse suspicion. His first task is to get into your trust in order to have at least a friendly or romantic relationship so that later he can rob you off.
    3. A bored husband
This man can be of any age, but more often, he is over 30. He hangs out on a dating site not because he looks for relationships; the reason is that he is bored with family life and lacks bright colors and emotional outbursts. He can honestly admit or hide this fact. On the site, he looks for ways to assert himself, talk, flirt, or incline you to intimacy without commitment.
To identify that a man is married is very simple. He plays with your head, avoiding phone conversations, may be unavailable online in the evening, which is understandable because he cannot talk much at home. But at work, he can dissipate sorrow and feel like a macho.
    4. A time eater
These men are quite harmless, except that they steal your precious time and emotions. Such a man is almost always online; it seems that he never logs off. At the same time, he is eloquent enough and writes long letters, supporting the conversation on any topic. Such a man makes the impression of a very well-read and erudite person.
You should grow suspicious if you already communicate long enough, and a man doesn't make attempts to meet you in real life. He clearly delays the meeting, and at the same time shows interest only in letters. For those girls who feign excuses that he is just shy, busy at work, and so on – if a man wants it, he will find an opportunity to meet you! Stop doing self-hypnosis.
    5. A collector
You can't immediately recognize this man, because he is very gallant, can support the conversation on almost any topic, and discourse at ease. You can even develop quite romantic relationships and a beautiful romance, but as a result, you will only be disappointed because this man collects such relationships.
These are regular visitors on dating sites; they literally live there for years. Their profiles may be perfect. Most likely, in the profile of such a man, there are many photos where he is represented in all his glory. We recommend you to pay attention to the date of registration on the site. As you understand, if such a "good" man hasn't found his loved one in 5 years, then it's unlikely that you will be able to win his heart.
If you are a single girl looking for a relationship, study our advice, and you will surely find love on a dating site!