…and we're back with another Best of list for 2009, this time we're talking about Nintendo Wii Games. This list comprises of retail boxed games and WiiWare downloadable games as well that scored the highest according to expert and user reviews. Sure, you may not agree with all of these selections, but it's hard to argue with hundreds of scores collected from all over the world isn't it?
I really like my Nintendo Wii really, some people argue that the Wii isn't really a game console and they argue that it's just for kids, but there's no denying the Wii is a lot of fun and it does have a decent selection of games. I don't understand the arguments people put forth about the Wii not being a real game console, just what exactly is a 'real' game console anyway? The Wii has revolutionized the way we play games with their motion sensitive controllers, so much so that the other companies have decided to come out with their own type of motion sensing devices for their consoles. They say imitation is the sincerest form of flattery, so I'm guessing that Nintendo should feel very flattered that Sony and Microsoft have decided to imitate them right?!
Anyway, not on the list and not a game really, the Wii MotionPlus came out this year, and I think it deserves a mention here as well. The MotionPlus attachment adds more realism in terms of reaction times of the WiiMote controller, it allows near 1:1 reaction times with the remote and the screen. It's a shame though that there are only a limited number of game that fully utilize it, but as with any new accessory I'm sure more games will be added to the catalog that support this add-on.
The scores utilize our own scoring system from the main site, technogog.com.
The FreakScore or the technogog Score is our overall product score based on a combination of all expert and user reviews we have collected for a product.
You can read more about our ratings system HERE.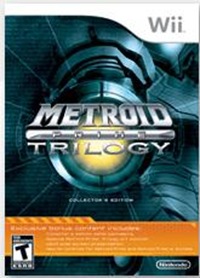 First seen: 10 January 2009
(Released Aug 24, 2009)
FreakScore: 10 out of 10
The number one rated game for 2009 is actually three games, Metroid Prime Trilogy. Metroid has been around for a long time. Many people out there I'm sure have fond memories of playing it in all of its 8-bit glory so what would a Nintendo console be without Metroid on it. It's back in all of it's glory.
All three games in the trilogy have been crafted into one unbelievable package, with a newly implemented exclusive title menu with direct access to any of the three titles. Not only that, but players can also earn awards by collecting tokens through their progress across the trilogy, making for an ideal award system. Both Metroid Prime and Metroid Prime 2: Echoes games have been updated with the refined control system of Metroid Prime 3: Corruption. Moving is done with the Control Stick and the Nunchuck controller, while the Wii Remote controller controls the Arm Cannon's crosshairs, allowing the player to smoothly and more accurately aim by pointing at the screen. The camera will move where the player points, making for more intuitive control, and allowing players to look around and attack while moving. Three different sensitivity settings allow everyone from beginners to FPS veterans to find a response speed to their liking. In addition to the new control, the Nintendo GameCube games have new features and improvements such as 16×9 wide-screen presentation, and improved HUD system to accommodate the new pointer control, some graphic improvements, and newly added new difficulty levels.
Pros: excellent presentation, toned down difficulty, smooth controls, samus master chief, the two gamecube games
Cons: toned down difficulty, no bonus features, inferior part 3, slightly repetitive for some, echoes tedious dark world
"Fact: Retro Studios does not get enough credit for the work it did on the Metroid Prime series. Stand up and remove your hats, people, because it's time to pay our overdue respects to one of gaming's most unheralded achievements." – Crispy Gamer
"Three outstanding games (two of which are vastly enhanced with dead-on motion controls) available for the price of one. We can't imagine a better deal on Wii this year. " – GamesRadar
—
First seen: 2 June 2009
(Released Nov 15, 2009)
FreakScore: 9.7 out of 10
Here's another title that brings back very fond memories of my 8-bit childhood. I can remember spending many, many hours guiding this little plumber around trying to save the princess. So for 2009 we've got an all new version of the game that for the most part stays true to its platforming roots.
Join Mario and friends for a brand new adventure on the Wii console! Discover colorful new worlds, exciting new power-ups, and a whole new way to play with your friends and family. Have fun with up to four players
Pros: just plain fun, different modes, four player multiplayer, challenging difficulty, plenty of replay value
Cons: no online capabilities, no classic controller support, difficulty ramps up fast, at times hectic multiplaying, multiplayer not developed properly
"Right here is the platformer as it's meant to be played, by the first rulers of the side scroller, and starring their very own golden boy. New Super Mario Bros for the Wii is a game that takes all the elements of the true classics, adds a few mandatory bells and whistles (it's 2009, y'all), and brings us yet another excellent outing for the Big N's mustachioed flagship." – NZGamer
"Regardless of its shortcomings, New Super Mario Bros. Wii is easily one of the best titles on the system, and an impressive addition to the series. Saving the princess just got fun again." –Thunderbolt Games
—
First seen: 7 March 2009
(Released Jun 8, 2009)
FreakScore: 9.5 out of 10
If you read yesterday's Best of 2009 list on Xbox360 games you'd know that I'm not very fond of sports games, but for some reason I do like golf. I'm not sure why I like it, I just do and I found Tiger Woods PGA Tour 10 to be on of the best gold games I've played. The addition of the Wii MotionPlus accessory really does add to the overall fell of the game, and the game is much more playable with the use of this add-on. If you're a fan of golf games then I can honestly recommend you grabbing this one, just make sure you get the bundle with the MotionPlus!
Feel the drama of playing tournament golf with Tiger Woods PGA TOUR 10. For the first time in franchise history, take aim at capturing the U.S. Open Championship on the ever- challenging Bethpage Black. Playing in front of huge galleries and hearing crowd reactions from nearby holes, take your game to the next level when it matters most as you try to hold off a charging Tiger Woods and other PGA TOUR Pros. Whether you're fighting the course, the crowd, dynamic weather conditions, or the field, feel the drama on every swing with Tiger Woods PGA TOUR 10.
Pros: real time weather, great online options, many modes, motion controls, real time weather effects
Cons: graphically or statistically, no significant upgrades, graphics are fairly average, but they are ok, putting gets too touchy
"Tiger Woods PGA Tour 10 on the Wii is an entirely different experience from it's XBOX 360 and PS3 counterparts. Released on June 8, 2009, and developed by EA Sports, PGA Tour 10 is the first iteration in the series to use the fabled, Wii Motion Plus. With graphics and audio aside, the ability to swing your club accurately (assuming the player has Wii Motion Plus attached) offers a new way to play golf and a deeper sense of realism." –Nintendo Star
"After some fairly abysmal Tiger Woods games on the Wii it's quite incredible that EA has managed to turn it around completely. This isn't just the best Wii golf game we've played, but the best golf game we've played on any system. The MotionPlus controls work brilliantly, giving you a sense of realism that is completely unmatched in other games, no matter the console." –VideoGamer
—
First seen: 3 June 2009
(Released Sep 9, 2009)
FreakScore: 9.5 out of 10
The Beatles bring back many fond memories for me, I even have a few original vinyl records of theirs and I'm old enough to remember the death of John Lennon, (I was eight at the time) but it will always be remembered as a sad day in music history. A couple months ago The Beatles Rock Band was released, and while I don't own the Wii version I do have the Xbox360 version and I've thoroughly enjoyed playing it. It is one of the best music games out there, even if you're not a Beatles fan I'm sure you'll enjoy playing this version of Rock Band.
From the early touring days in 1963 Liverpool to the immortal, final performance on the Apple Corps rooftop, fans can follow in The Fab Four's footsteps as they traverse the globe during the height of Beatlemania, unlocking real photos and videos of The Beatles – some never before seen by the public. Beatles fans will also be thrilled to hear previously unreleased authentic voice recordings from John, Paul, George and Ringo chatting between takes during studio sessions recorded at Abbey Road more than four decades ago.
Pros: fantastic track list, loads of unlockable extras, packed with subtle details, beautiful presentation, vocal harmonies
Cons:
"As mentioned above, whether or not you purchase The Beatles: Rock Band should ultimately be determined by your feelings about the band itself. If you love, like, or are even lukewarm on the band, grab it. Playing through the songs you've likely heard for your entire life gives you a new appreciation for the level of musicianship and songwriting on display. Somehow, Harmonix found a way to make the greatest band of all time even better." –Gamespy
"The Beatles: Rock Band is a shining example of what an individual band-based music game should be. Stunning presentation and dedication to the inspirational group has produced something spectacular that was clearly a labor of love for its creators. The track list could have been a good deal larger, but overall The Beatles: Rock Band is a stunning tribute to the band, and a great experience for both new and old fans." –VGChartz
—
LostWinds: Winter of the Melodias
First seen: 10 September 2009
(Released Oct 19, 2009)
FreakScore: 9.5 out of 10
LostWinds: Winter of the Melodias is the follow up to 2008's best-selling, award-winning WiiWare launch title 'LostWinds'. This all-new game is packed with intuitive new gameplay mechanics, and feels as fresh and compelling as the original. Wield your Wii Remote to use the elemental powers of Enril the Wind Spirit to protect and guide the young boy Toku – power his jumps and glides, suspend and smash new enemies, and explore all-new expanses of the stunningly presented, magical land of Mistralis as you experience Toku and Enril's continuing quest to overcome the evil Balasar.
Pros: great art style, well designed puzzles, unique environmental puzzles, beautiful graphics, clever new mechanics
Cons: disappointing ending, controls can be touchy, occasionally frustrating, too short, but that's okay
"Like its predecessor, LostWinds: Winter of Melodias is a short game, lasting around three hours. Still, it's a very enjoyable three hours than can be somewhat extended if you are the sort to go after every hidden item, which unlocks art pieces that can be viewed from the main menu. Even if you are one to scoff at how quickly LostWinds: Winter of the Melodias might last you, it's definitely one of the best games you can get for 1,000 Wii Points (US $10) on Wiiware." –GameRevolution
"LostWinds: Winter of the Melodias offers a engaging trip into a wonderful little world that manages to be quite – I won't say addictive – compelling. It's light enough for casual or puzzle gamers but hard core gamers looking for a momentary diversion from the Metroid Trilogy or Dead Space Extraction won't do much better." –Gamertell
—
First seen: 13 December 2008
(Released Sep 1, 2009)
FreakScore: 9.3 out of 10
Jump In/Jump Out of songs like you have never been able to do before in any Guitar Hero game with Party Play Mode. Shred with 4 guitars or any combination of instruments, you choose. New RockFest mode tests your skills with 4 players locally, or up to 8 players online in games like Momentum, Do-or-Die, Perfectionist, Elimination, and Streakers. Import your Guitar Hero World Tour Downloadable Content straight into Guitar Hero 5. Mii Freestyle makes it easy to create songs on the fly and record, edit, and share your own videos showing off your Mii.
Pros: new multiplayer modes, loads of good tracks, great multiplayer modes, addictive gameplay, just plain fun
Cons: same old guitar hero
"Certainly, Guitar Hero 5 is the best title in the franchise's illustrious history. Furthermore, it is undeniably the best music game ever made, as it synthesizes the best of the genre into one neat package. The only question is, is this the reawakening of a phenomenon, or just a beautiful swan song? I guess only time will tell." –Cheat Code Central
"I am completely loving Guitar Hero 5. The song selection is awesome and the new features are simply amazing. There is nothing that I don't like about this game. I recommend everyone go pick it up today! " –Game Vortex
—
First seen: 10 march 2009
(Released May 18, 2009)
FreakScore: 9.3 out of 10
Wow, I can remember many frustrating hours playing Punch Out and new for this year Nintendo has released a refreshed version of our childhood favorite Punch Out. It only took them about 15 years to do it, but they've given us a game that stays very true to the original and that's a good thing and a bad thing really. It would have been nice if they truly updated the game with more new characters and more options, but we may have to wait for a Punch Out 2 for anything like that. If you've got fond memories of playing the original versions, then you may want to grab this for nostalgia sake, but just don't expect much really new.
Little Mac is back! Everyone's favorite underdog from the 1980s joins the best of the original Punch-Out!! cast in a modern re-imagination of the series. Players will find familiar names like Glass Joe, King Hippo and trainer Doc Louis. These boxers come to life again in cel-shaded 3-D, complete with hilarious fighting animations and back stories that capture all the fun and flair of the original Punch-Out!! games.
Pros: tight controls, easy controls, amazing visuals, intense action, ridiculous two player mode
Cons: not enough content, no classic controller support, slightly lacking multiplayer, too much homage, still boldly un pc
"With the Wii's motion control, it was high time for a follow-up. The new Punch-Out!! does almost everything right, but capturing the original games' magic is simply impossible." – Games Abyss
"If you are a fan of old-school arcade sports games that are all about fun and challenge, you need to go out right now and pick up Punch-Out for the Wii. I would even say that this game is a system seller for me. The game may have no online capabilities and is a tad on the short side, but I can confidently say that this game will hold me over for the next 15 years." –Operation Sports
—
First seen: 11 February 2009
(Released Oct 4, 2009)
FreakScore: 9.3 out of 10
The one place where the Wii really shines is the sports and fitness games. This year they're released Wii Fit Plus which is more of an expansion pack than its own game really, but it does give us some new things to do to help get our butts off of the couch.
Wii Fit attracted millions of new players to the world of video games. Now Wii Fit Plus offers a range of new features and enhancements to help players reinvigorate their workouts, along with exercises and balance games designed to keep them fun. Players will find a new dimension to the Wii Fit experience as they easily set their own customized workout routines or choose 20-, 30- or 40-minute workouts based on how much time they have available. Users will also be able to choose from specialized workout routines that focus on an individual's personal fitness goals or certain target areas. And with the addition of activities like Skateboarding and Rhythm Kung Fu, players will be using the Wii Balance Board accessory in a variety of new and fun ways.
Pros: 15 extra minigames, plenty of new activities, refined interface, custom and suggested routines, calorie counter
Cons: it's still thin, gameplay wise, not enought aerobic exercises, not really a game, makes the original redundant
"Concept: Get in shape via a slew of exercises and fitness minigames Graphics: Pleasant, but nothing that'll inspire you to call your friends over Sound: New age-y music and silly sound effects get the job done Playability: Controls are easy to figure out, and there's minimal configuration between each activity Entertainment: Wii Fit Plus is essentially an expansion pack, but it's a must-buy for people who liked the first one" –Game Informer
"Wii Fit has undergone a bit of a cosmetic makeover and emerged as Wii Fit Plus, a more robust collection of mini-games utilizing the Wii Balance Board. Wii Fit Plus will not magically make you skinny; however, its offerings are fun enough to get your lazy butt up off the couch." –G4
—
First seen: 7 January 2009
(Released Jul 21, 2009)
FreakScore: 9.2 out of 10
One day a timid young boy discovers a mysterious crown and suddenly finds himself king. Use your newfound power of persuasion to charm, coerce, or just force the citizens of your kingdom to do your bidding. Find treasure, slay dragons, and expand the boundaries of your kingdom as you march towards your goal of absolute domination of the world!
Pros: epic boss battles, gorgeous visuals, beautiful presentation, user friendly menu screens, wonderfully eccentric
Cons: no motion controls, frustrating back tracking, brutally difficult boss fights, dull story, poor save system
"It's easy to dismiss Little King's Story as another kiddie game for Wii. The cute box art, saccharine character design and adorable name are enough for most enthusiast gamers to give this title a pass. That would be a monumental mistake." –G4
"Little King's Story is one of the best in the Wii's library. It is fun to play for hours on end, and offers much more depth than your average title. It has a look all its own and the highly recognizable classical music is used very well. If you're looking for something good on the Wii, I recommend that everyone at least give Little King's Story a try." –Gamernode
—
First seen: 24 February 2009
(Released Oct 27, 2009)
FreakScore: 9.2 out of 10
I'll be honest, I've never played this game, and really I have no desire to. If you go buy review scores then this is a decent game at least if you're into this kind of game. Don't get me wrong though I like the Guitar Hero games, but I'm just not into the DJ thing that's gong on here…. To each his own I guess..
Spin, scratch and mix 93 unique mixes. Featuring hot music from JAY-Z, Eminem, Queen, Black Eyed Peas, Jackson Five and Daft Punk. DJ Hero lets you show your skills and battle your friends, or go into Auto Play and let players jump in and out.
Pros: celebrity djs are cool, some brilliant mixes, packs a real challenge, great control system
Cons: obscenely expensive
"DJ Hero is one of the most novel games I've played in a while and certainly worth the price of admission. It stands out in an otherwise super crowded genre by giving you something that you've literally never played before. The game couples well thought-out gameplay with an amazing soundtrack and sturdy peripheral. Here's hoping the sequel adds a quick play mode (we know why it wasn't included in this one) and improves the multiplayer, while giving us an even more impressive soundtrack." – PGNX Media
"It's pretty safe to say that most people are getting a little burnt out on 'Hero' games, and with a ton of releases in the Guitar Hero franchise this year you can't blame the average gamer. So when DJ Hero was announced it was 'oh boy, here we go again', but wait, it's not that bad. DJ Hero is a little bit of freshness in the 'Hero' stable and like it's Guitar and Band brethren can be played not only by the more casual gamers but also the hardcore crowd. Ravers on ecstasy might have some troubles though." –Vooks
You can find all of our Nintendo Wii game reviews categorized by Popularity, Score, Release Date and even by Price on the main site HERE.